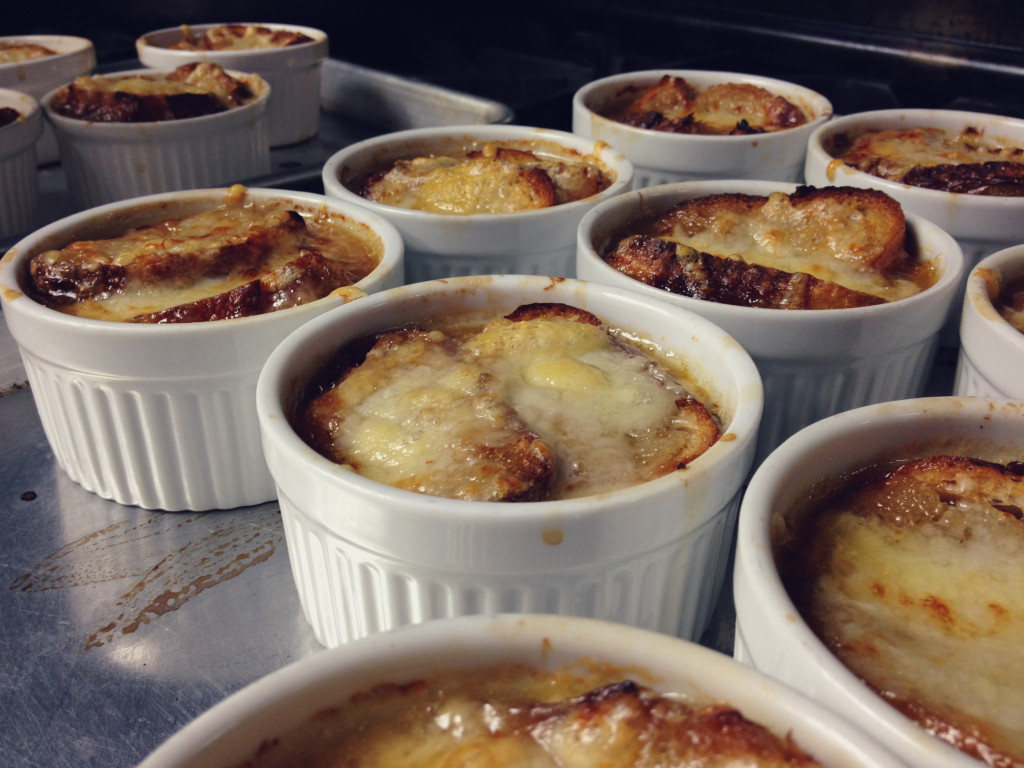 French Onion Soup
This weeks recipe is for a delicious French Onion soup that we learned to make in our Broth, Stock and Soup making class. This hearty and toasty soup is perfect for the sudden change in Southern Californian weather.
Makes 8 Servings | Cook & Prep Time: 1 1/2 hours
Ingredients:
3 1/2 oz of butter
3 lbs of yellow onion, thinly sliced
1 tbsp of flour
4 cups of chicken stock
4 cups of beef stock
1/2 cup of dry Vermouth
French Baguette
1 lb of Gruyere, shredded
Salt and pepper
Directions:
Peel the onions and slice as thinly as possible. Melt the butter in a soup pot and saute the onions, stirring frequently. Do not rush the caramelization process of the onions. You want to start with high heat in the beginning and once you see a little browning turn down the heat and saute until onions are buttery – this should take around 45 minutes.
When the onions are nicely browned, sprinkle them evenly with the flour. Continue cooking for about 2 minutes. Deglaze with vermouth.
Add stock and adjust seasoning.
Cut the baguette into think slices and toast.
Ladle soupe into individual bowls – you can use medium sized ramekins, depending on the size of your bowl you will yield more or less servings. Place bread on top of soup. Cover with cheese. Put into a 425 degrees oven until cheese is browned and bubbling.