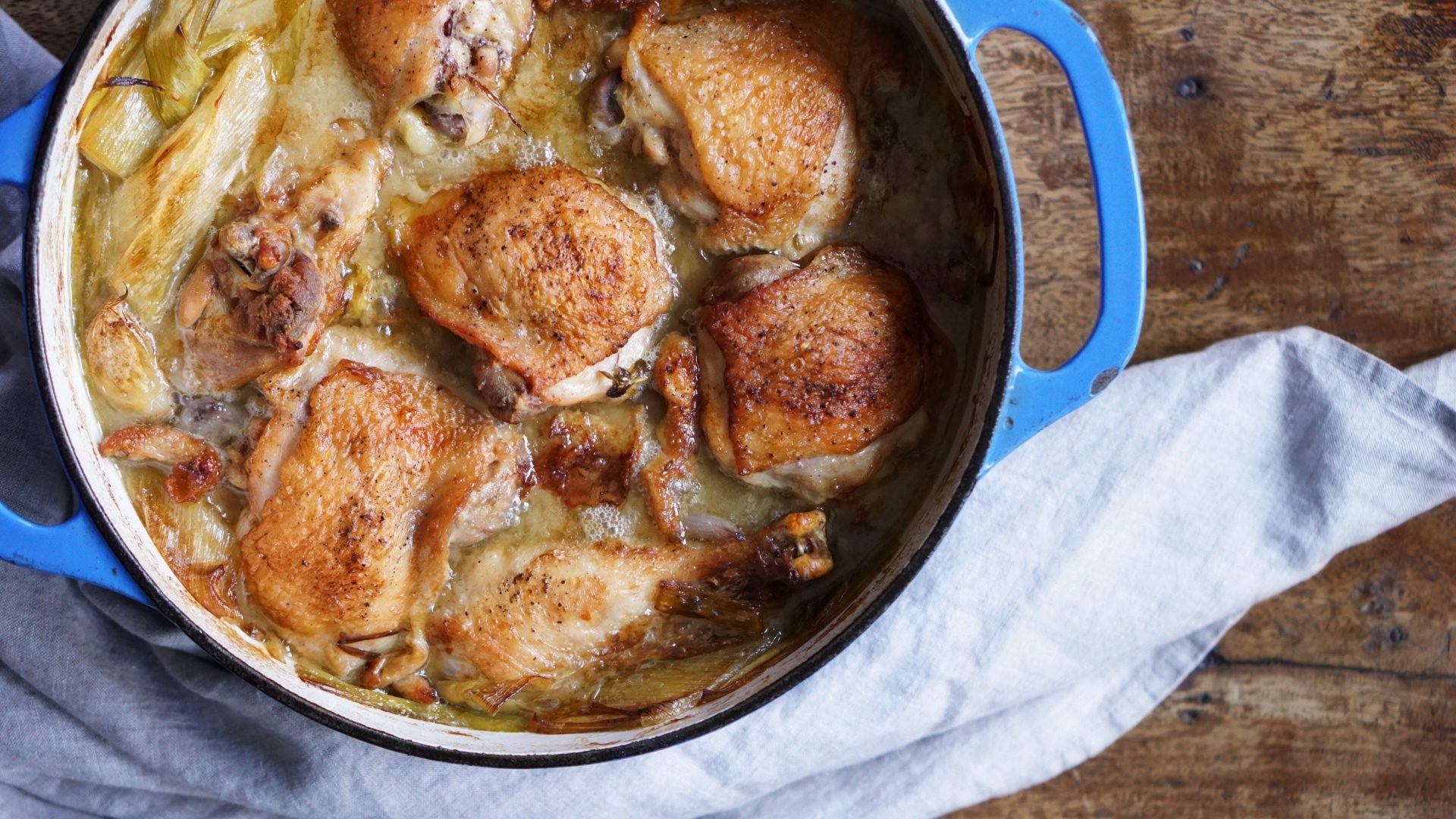 Braised Chicken & Leeks
When Tracy and I first started a food blog years ago, it was just to take pictures of food we were making for dinner parties to capture the good times. Since then, food styling and photography has become as much of a passion as cooking for us. Back in the days when we were always trying to figure out how to feed big crowds of people without being hostage to the kitchen, this Braised Chicken & Leeks was one of our go-to dishes, and is still one of my favorite things to make today.
I made this Braised Chicken & Leeks the other day for a casual dinner, and we all started wondering why dishes like this aren't served at restaurants. It's more or less fool proof, and can be made in a big batch in advance, so you're not running around trying to cook a full main course when guests have arrived. Most important of all, it's memorably delicious.
Chicken braised in wine and stock, with aromatic leeks, shallots, and thyme, until the chicken is falling off the bone. The chicken skin crisps up in the oven in the end, so it's meltingly tender but with crispy skin. The chicken and leeks are served with a dollop of rich, garlicky aioli and some crusty, olive oil grilled rustic bread to soak up the savory broth.
Serves 2-3 | 1.5 hours 
Ingredients:
Braised Chicken & Leeks:
5-6 bone-in, skin-on chicken thighs
2 leeks
4 shallots
10 cloves garlic, with skin on
1 cup dry white wine (try Sauvignon Blanc, Pinot Grigio, Pinot Gris, or Pinot Blanc)
2 cups chicken stock
4 springs fresh thyme
Kosher salt & freshly ground black pepper
Easy Aioli:
1-2 cloves minced garlic, depending on how much you like garlic
1/3 cup full-fat mayonnaise
Pinch of salt
Directions:
Easy Aioli: Combine mayo, garlic and a pinch of salt. Mix well and refrigerate for a few hours to let the flavors blend.
Braised Chicken & Leeks:
Preheat oven to 375 degrees F.
Remove tough dark green leaves from leeks. Cut leeks into two inches pieces and halved length-wise. Swish in a large bowl of water to get the grit out of the leeks. See leek cleaning instructions here. Peel shallots and slice in half length-wise.
Heat up a dutch oven over medium-high heat until very hot. Add the chicken in batches, skin side down, and sear until the skin is golden brown and the some of the fat has rendered out. Set chicken aside.
Add the shallots and leeks to dutch oven, and saute until leeks have wilted and are golden brown in spots.
Add chicken, herbs, and garlic to the pan, shifting the ingredients around so that the chicken is sitting snuggly on top of the veggies, skin side up.  You want the chicken to fit in a single layer so the skin can crisp up at the end. Use 2 dutch ovens if you're doubling the recipe for a dinner party.
Add wine and enough stock so that the liquid sits 1/2 inch below the top of the chicken, and bring to a simmer.
Place dutch oven in the oven, uncovered, for 45 minutes to 1 hour. After 30 minutes, check that the liquid hasn't evaporated too much. If the liquid falls below an inch from the top of the chicken, add more stock. After 45 minutes, check that the chicken is falling off the bone. If the skin is not crispy enough, change the oven to broil and broil for a few minutes until the skin is crispy and golden brown.
To serve: Place 1-2 chicken thighs in a shallow bowl on top of some leeks, shallots & garlic. Spoon broth into the bowl. Top with a dollop of aioli. Serve with thick, crusty bread that's grilled or pan fried with olive oil.