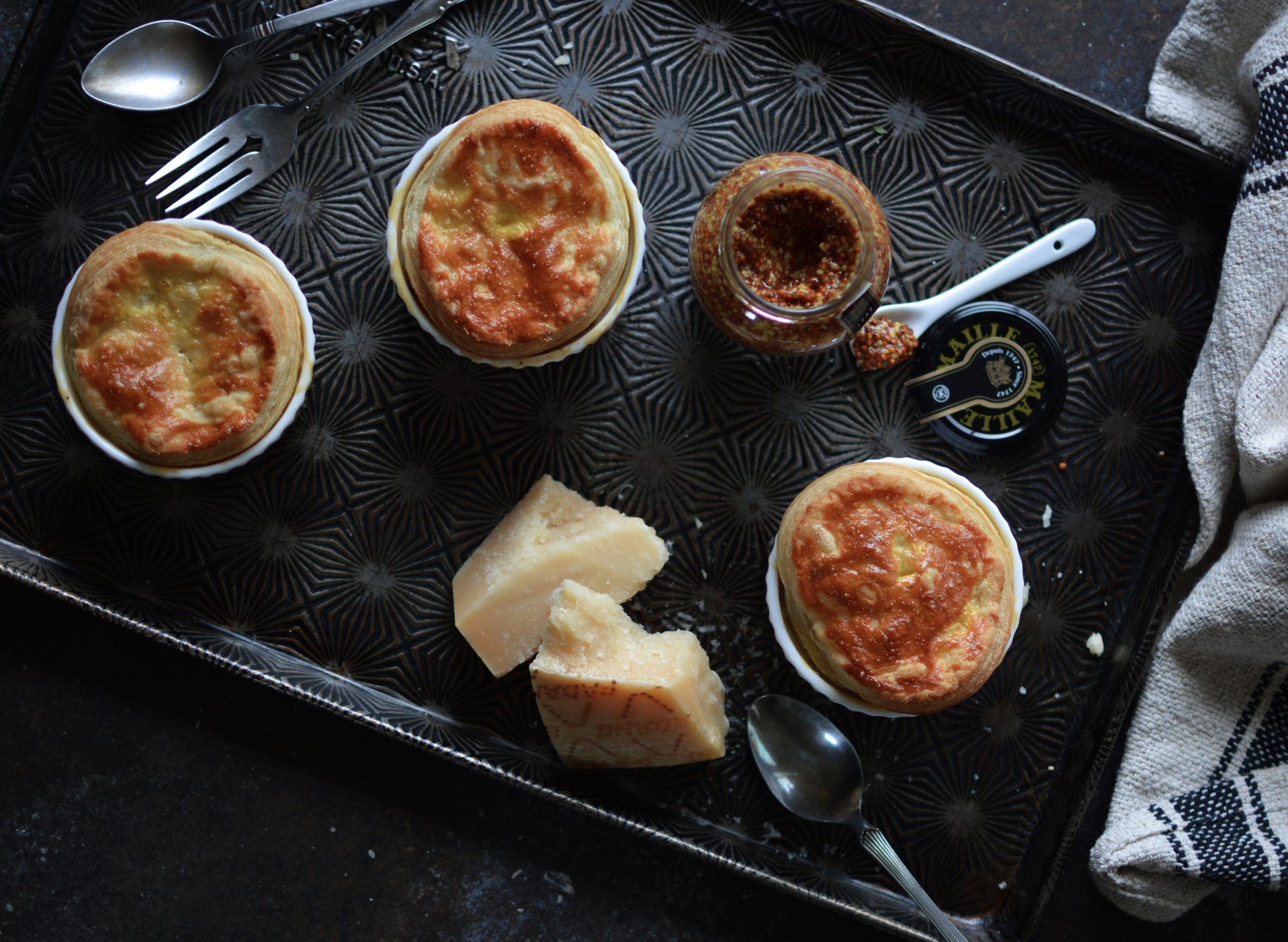 Veggie Pot Pie
My favorite thing about winter is staying indoors when it's cold and dreary, putting on netflix all day, and cooking a whole lot of comfort food! I'm currently addicted to The Big Family Cooking Showdown – if you haven't seen it – it's foodie TV guilty pleasure to the max. One of my favorite winter comfort foods is pot pie. I love pot pies because they can be dressed up or down – they're equally perfect for dinner in front of your favorite show, or served to guests for a dinner party. They're also great for freezing for a delicious homemade dinner on a weeknight, when you don't have time to cook real food.

Whenever I roast a chicken, I always use leftover chicken to make pot pie, and then use the bones to make chicken soup. But pot pie is so rich and versatile that you don't need meat at all. In this veggie pot pie, I used a mix of leeks, mushrooms, carrots, peas, potatoes, and barley, but you can substitute with your favorite veggies. The veggies are bathed in a rich, creamy sauce, steaming together underneath a buttery puff pastry. I stir in Maille Old Style, a whole grain mustard that adds a pop of acidity and brightness to cut through the richness of the sauce, and really elevates the dish.
To get you through this winter in the most delicious way, we've partnered with Maille to give away a year's supply of Maille products, including 20+ different mustards and pickles! See below for entry form.
Serves 8 (8 individual mini pot pies).
Prep & cook time: 1 hour.
Ingredients:
1 leek, chopped
2 cups of diced potatoes
1/2 cup of chopped carrots
1/2 cup of fresh or frozen peas
3 cups of mixed mushrooms, diced
1/2 cup of cooked barley
2 sprigs of thyme
Small handful of chopped parsley
1 tbsp Maille Old Style mustard
2 tbsp butter
1/2 cup of grated parmesan
1 cup of whole milk
2 cups of vegetable stock
A sprinkle of flour
1 egg
1 package of puff pastry dough, thawed if frozen
Directions:
Preheat oven to 400 degrees F.
In a large dutch oven over medium heat, melt butter. Add leeks and carrots, and saute until leeks are translucent. Add potatoes, peas, mushrooms, and cooked barley. Season with salt and pepper. Cook until mushrooms have let off water.
Add stock and milk. Using a small strainer, sprinkle 1-2 tsp of flour over mixture and stir. The strainer will help the flour not clump. Bring to a simmer and let thicken – about 5 to 10 minutes. Depending on your preference for a thicker or thinner gravy in the pie, add more flour to thicken, or add more stock for a thinner gravy.
Add cooked barley, parmesan and Maille Old Style mustard. Taste and season more if necessary. Mix in parsley.
Whisk egg and season with a pinch of salt, and set aside.
Unfold pastry dough on clean surface. Use ramekin to cut out circles so that pastry dough fits on top like little lids. Divide mixture into 8 ramekins, and top with pastry lids. Brush with egg wash. Place ramekins on baking tray, and bake for 20 minutes.