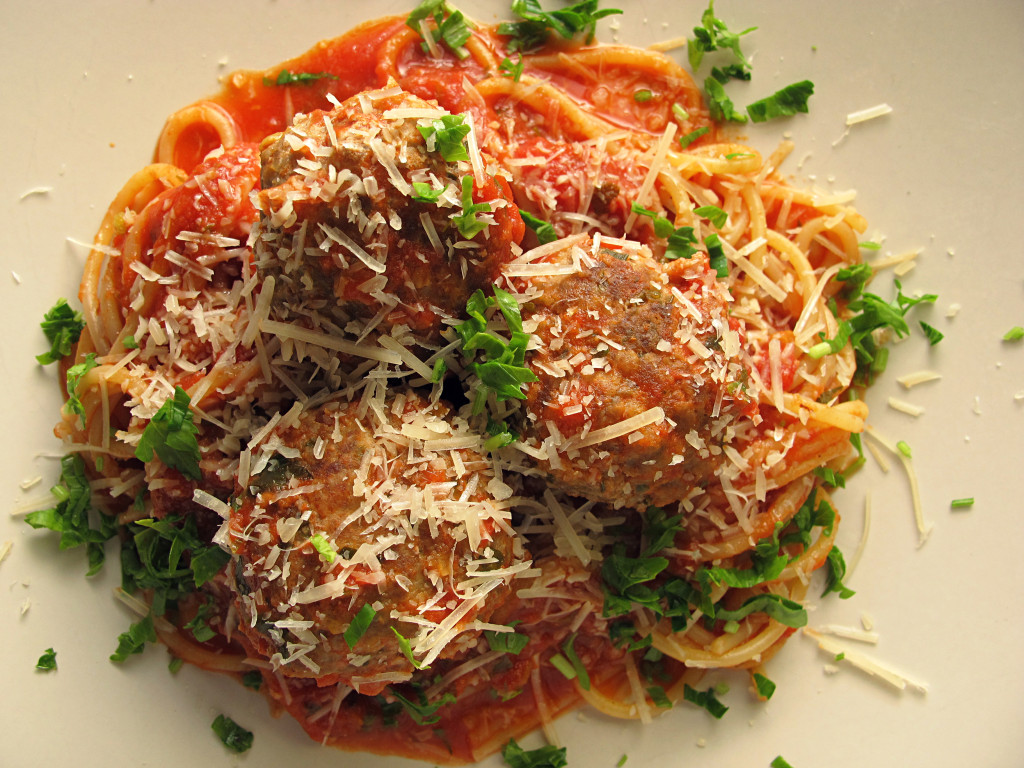 Spaghetti & Meatballs
I've been trying to cook dishes that are easily portioned and freeze well cause cooking for two ain't easy! My freezer is slowly filling up with carefully rationed meals in little Ziploc bags. Joining my collection of homemade "freezer meals" this week is spaghetti & meatballs. I've tried this recipe out a couple times with different variations each time. My friend JESPER shared his recipe with me and after reading it, I've made a couple tweaks to my own, incorporating some of his ingredients like Italian seasoned bread crumbs and scallions.
Ingredients:
Meatballs: 
8oz (0.5 lbs) of ground pork
8oz (0.5 lbs) of beef with 15% fat
1 cup of Italian seasoned bread crumbs
1/2 cup of whole milk
2/3 cups of chopped parsley
2/3 cups of chopped scallion
1 cup of finely ground parmesan (not grated)
2 eggs
4 cloves of garlic, minced
Salt and pepper to taste
Spaghetti sauce:
2 onions, peeled
2 28oz cans of whole peeled tomatoes, juice reserved, tomatoes finely chopped
1/2 cup of butter
1 red chili (optional. I love a sauce with a kick)
1/2 cup of chopped parsley
1/2 cup of white wine
Box of spaghetti
Directions:
For the sauce:
In a large pot, combine finely chopped tomatoes, the reserved juice, butter, and 2 whole onions. Bring to a boil over over medium heat. Add white wine continue to reduce for about an hour. Once the sauce has reduced, remove onions and with a immersion blender, process sauce until small chunks of tomato remain. Add parsley and continue to cook while you prepare the meatballs. For a bit of a kick, chopped up the red chili  and add it to the sauce (with the seeds for extra spice!).
For the meatballs:
In the meantime, prepare meatballs by first soaking bread crumbs with milk. Let it sit for a couple minutes. In a large bowl, combine beef and pork adding parmesan, parsley and salt and pepper.  Whisk eggs in a separate bowl and add minced garlic. Combine with the meat mixture. Add soaked bread crumbs to mixture and combine evenly.
Make golf ball sized meatballs by taking a small handful of meat mixture and rolling in the palm of your hand. It should give you around 20 meatballs.
In a large skillet, carefully pan fry meatballs so that they don't fall apart. This will seal in all the flavor of the meatball. Once the meatballs are lightly browned on all slides, add to the sauce and simmer for 30-60 minutes.
Prepare pasta by following the instructions on the box. When you are ready to serve the pasta, remove the meatballs from the sauce. I like to mix the pasta with the sauce first before serving but you can serve it anyway you want. Usually I serve 3 to 4 meatballs per plate and garnish with parsley and grated parmesan cheese.