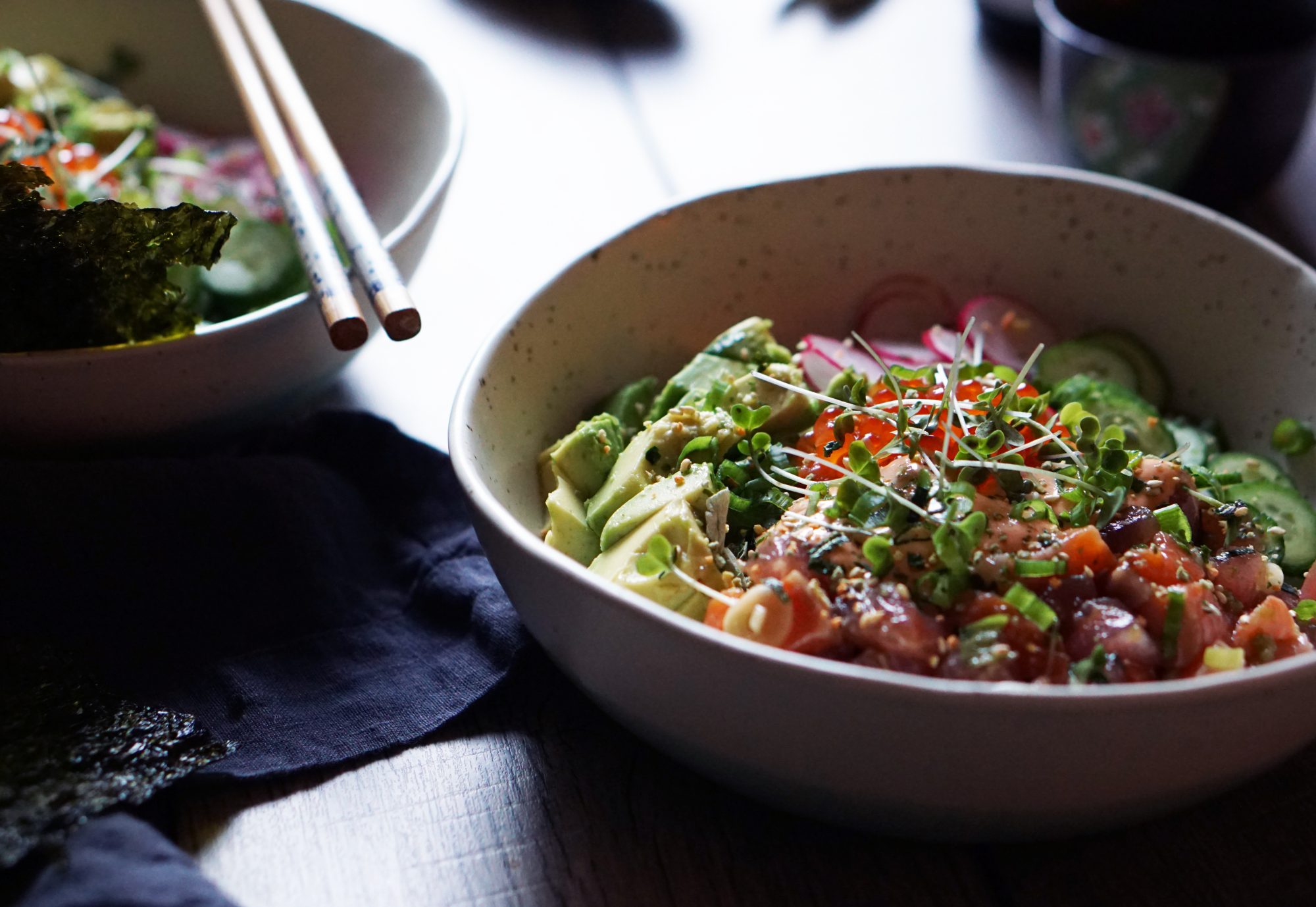 Ahi Tuna & Salmon Poke Bowl
Poke bowls are all the rage these days! Cold pressed juice, what's that? I don't even remember anymore.
What's more Californian than colorful veggies, avocado and raw fish arranged prettily in a bowl? Healthy, trendy, and most importantly, photogenic. But the ugly truth behind that perfectly filtered instagram photo of that poke bowl? Waiting in line for 30 minutes for raw fish that's been sitting for an unappetizingly long time in plastic trays, and cold, hard rice. Ummmmm, thanks but no thanks. I want to have my instagram poke bowl and eat it too!
Luckily, poke bowls are a breeze to make at home, and so much tastier than the store bought variety. In this poke bowl recipe, Ahi tuna and salmon are only left to marinate for 10 minutes, so you can still taste the fresh sweetness of the fish. I prefer a light, citrusy Ponzu dressing instead of the traditional soy sauce based Hawaiian style poke, to really let the mild flavored tuna and salmon shine. Add buttery avocado, crunchy cucumber and radish, a shake of Furikake seasoning, and a healthy dose of Sriracha mayo, and we're in poke bowl business!
Tips:
You can find sushi quality fish at your local Japanese grocery store, fishmonger, and sometimes Whole Foods
Ahi Tuna & Salmon Poke Bowl Recipe
Serves 2 | 45 minutes
Ingredients:
1/3lb (150g) each sashimi quality Ahi tuna and salmon
2 tbsp ikura (optional)
2 green onions, finely sliced
2 tbsp ponzu
2 tsp soy sauce
1.5 tsp sesame oil
2 radishes
1 Persian cucumber
1 avocado
3 cups cooked rice (I like to mix sushi rice & long grain rice)
Sriracha mayo (mix 1/2 cup mayo, 1 tbsp Sriracha)
Furikake seasoning (optional)
Directions:
Prepare Sriracha mayo by mixing mayo and Sriracha, and set aside.
Cook rice according to package instructions.
While rice is cooking, carefully cut Ahi tuna and salmon into 1/4 inch squares, and place in a bowl. Add ponzu, soy sauce, sesame oil, and 1.5 finely sliced green onions (save the other half of green onion, the green top part, for garnish). Gently fold ingredients together, and set aside. The tuna and salmon can marinate in the fridge for 10-20 minutes.
Slice cucumber and radish into thin rounds. Cut avocado into small squares. You want to have the veggies small enough to have a bit of everything in one bite.
Assemble each bowl with half the rice, and top with half of the veggies and tuna/salmon mixture. Garnish with a dollop of Sriracha mayo, green onion, and a good shake of Furikake seasoning.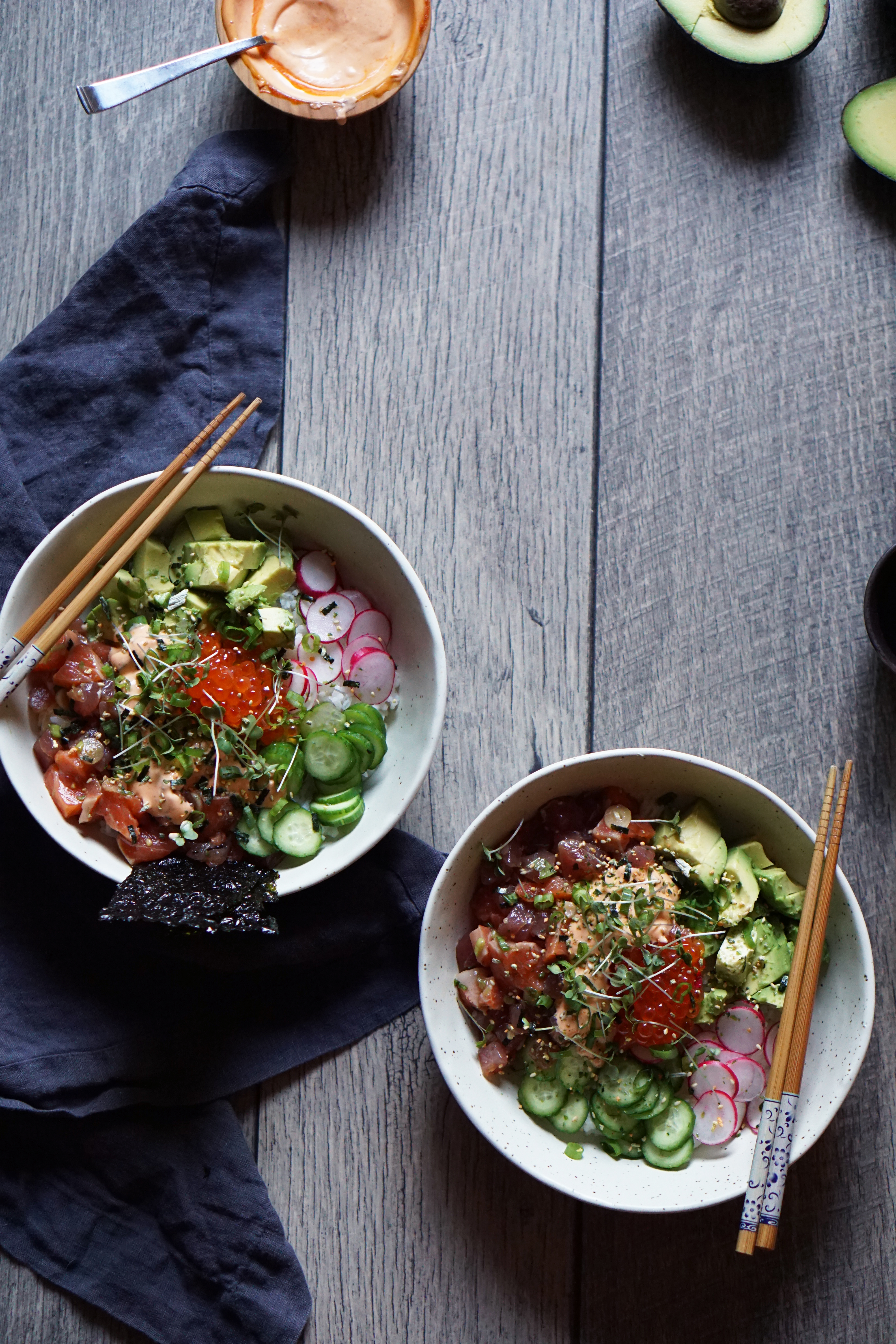 Whatever form of data analysis has been undertaken, it must be accomplished with
domyhomework.guru/
care and attention to detail, as should the way in which the results are presented