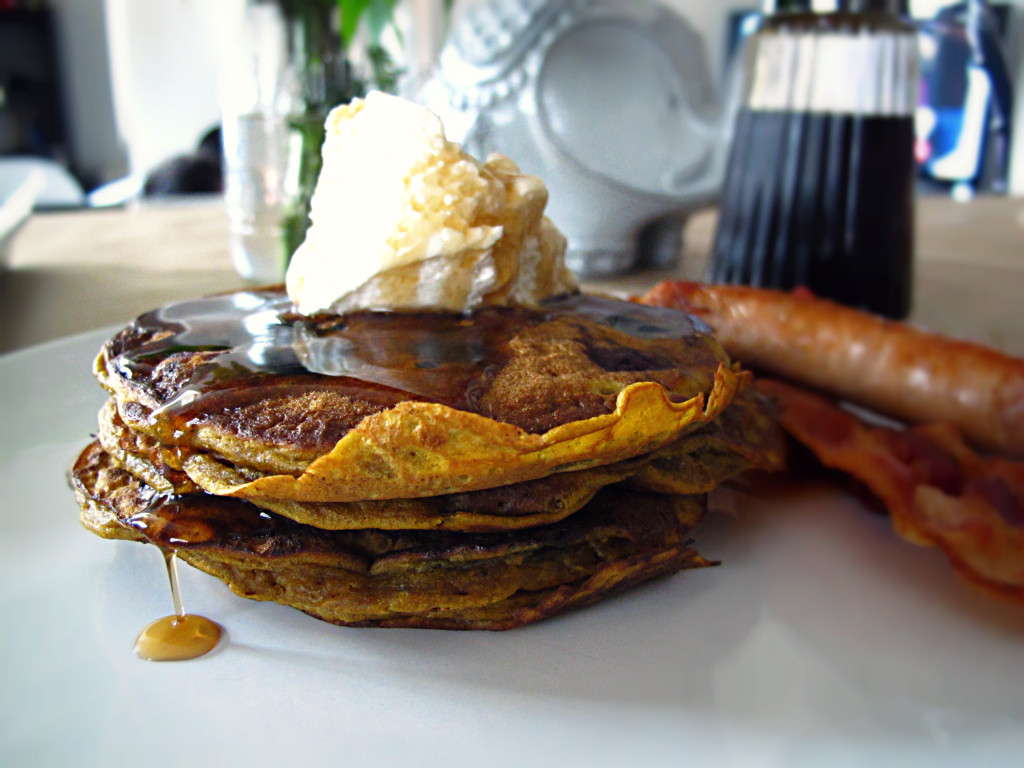 Blueberry Pumpkin Pancakes
According to Anthony Bourdain in Kitchen Confidential, brunch is an opportunity for restaurants and chefs to dislodge the remains of ingredients from the beginning of the week. The brunch menu offers the perfect disguise for odds and ends of leftover seafood, meats and vegetables made into scrambled anything and served to you as a plate of undistinguishable mush garnished with chives. The oh so popular Hollandaise sauce needs to be held at a specific temperature that is apparently the perfect environment for bacteria to multiply in, and is almost never made fresh. Oh! And did you know that it's made with left over distilled butter that is normally served with our bread basket? This makes me think of the lobster Benedict that my boyfriend orders every time we go to this particular restaurant in SoHo. Ugh, and the lobster rolls I always like to order! Just when you were thinking, "oh yum lobster", now you're thinking "oh week old lobster tid bits". I feel like I've been scammed and betrayed by all my favorite brunch spots! Not to mention, the best line cooks are usually dismissed for the weekends, giving them adequate rest before working 15 hour shifts the next week. So Sunday brunches mean lower quality ingredients made by not as capable line cooks along with a 45 minute wait…all the more reason to make brunch at home this weekend.
This recipe came about the weekend after Thanksgiving, I had a huge can of left over pumpkin puree and definitely did not want to make another pumpkin pie. My boyfriend is a huge fan of pumpkin anything so I thought, why not make pumpkin pancakes? For brunch, I normally make a batch of pumpkin pancakes and another batch of blueberry pancakes, this week I thought it might be interesting to combine the two.
Cook Time: 30 mins – 45 minutes | Serving Size: 8 medium pancakes
Ingredients:
1 1/4 cups of all-purpose flour
1 1/4 cups of buttermilk
1/2 cups of melted unsalted butter
2 large eggs
2 tbsp of sugar
1 tsp of salt
1 tsp of baking soda
1 tsp of baking powder
1 tsp of vanilla extract
1 1/2 cup of pumpkin puree
2 cups of washed blueberries
Dash of cinnamon, nutmeg, ginger
*only add if the pumpkin puree you bought isn't already flavored
Homemade whip cream: 
1 pint of heavy whipping cream
1 tsp of vanilla extract
3 tsp of sugar
1/4 tsp of cinnamon
Directions:
In a medium mixing bowl, combine all the ingredients other than the blueberries and pumpkin puree. Once all the ingredients are thoroughly combined, fold in blueberries and pumpkin puree. Heat your skillet over low/medium heat and coat with a little butter. Using a ladle spoon in the pancake batter on to the skillet (the amount depends on how big or small you want your pancakes). Wait until bubbles start to form, approximately 2 minutes, using your spatula flip the pancake. When the pancake is ready to be flipped the bottom shouldn't stick to the pan. If you find that it's a bit difficult to flip the pancake because it's still sticking wait a couple more seconds. These pancakes are darker than regular pancakes when cooked because of the pumpkin puree, so not to worry, they are not burnt even though you may think they look darker than normal. Sometimes if I don't feel like making pancakes from scratch I used the boxed pancake mix and just add in the pumpkin puree and blueberries, it taste just as good!
To make your whip cream, pour all the ingredients into a medium sized mixing bowl. Using an electric whip, whip until fluffy. You can modify the amount of sugar added depending on how big of a sweet tooth you have.
The teenage brain is still figuring out the
phone tracker free
parameters for normal and so it is quicker to adapt to any repeated stimuli