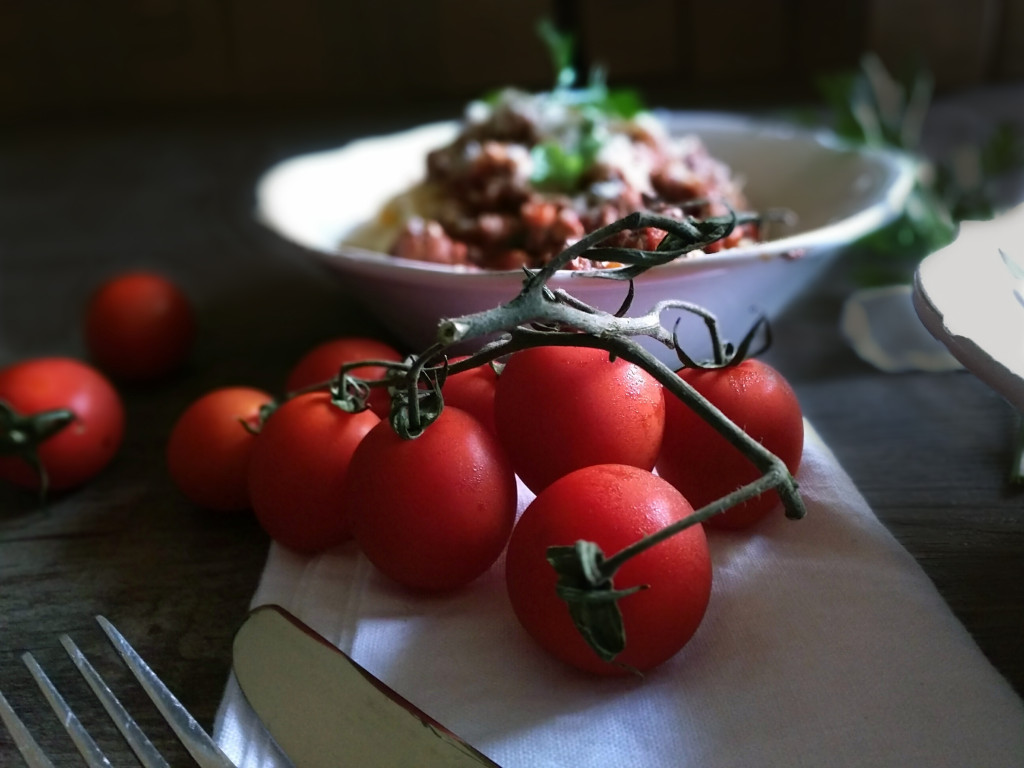 Ragù alla Bolognese
I like to spend Sundays in the kitchen, nursing my Saturday night hangover with a long and complex cooking project. I love the way the aromas of food simmering over the stove waft deviously throughout the house, tickling saliva glands, and culminating in a Sunday supper just when I've recovered enough to enjoy a glass of good wine.
One of my favorite Sunday supper dishes is ragù alla Bolognese. A quick glimpse through the countless authentic Bolognese recipes online will lead you to one conclusion: there is no single authentic recipe. In Italy, it varies by region, family, and personal preference. Outside of Italy, anything goes! If you love Bolognese, forget trying to find the most authentic recipe. Make it again and again until you've developed your favorite version, and let it become your family tradition.
Purists say that the sauce only contains a touch of tomato, and can never be served with spaghetti because it doesn't hold the sauce as well as a wider pasta like tagliatelle. Yes, my recipe has more than a touch of tomato and gasp!, sometimes I eat it on spaghetti. It has all of the classic components that most Bolognese lovers agree on, like pancetta, multiple types of meat for flavor, texture and fat, a good amount of battuto (carrots, celery, onion), great quality San Marzano tomatoes, and a touch of whole milk. I also like to add a few anchovy fillets for extra umami and depth of flavor, and more tomato because I love a really tomato-y sauce to coat the pasta. No, it's not strictly traditional, and yes, it is absolutely delicious! I make a big batch and freeze portions for decadent, home-cooked weekday meals.
8-10 servings | 1 hour prep, 4 hours cooking time 
Ingredients:
Glug of olive oil, for the pan
2 tbsp butter
1 yellow onion, finely diced
2 carrots, finely diced
2 stalks celery, finely diced
4 garlic cloves, chopped
3 bay leaves
4 oz diced pancetta
4 fillets of anchovy (packed in olive oil)
2 lb ground meat (blend of beef, pork and veal, but I usually just use beef and pork)
1 cup dry white wine
1 cup whole milk
1 1/2 28-oz cans San Marzano tomatoes (1/2 can whole or diced, 1 can pureed)
¼ cup tomato paste
1 cup chicken stock or water (I find that canned beef stock has overpowering aromatics, but you can use beef stock if it's a mildly flavored one)
Kosher salt
Freshly ground black pepper
Freshly grated Parmigiano-Reggiano
Fresh or dry pasta
Directions:
Finely dice onion, carrot and celery into even pieces.
Heat a dutch oven over medium heat. When pan is hot, add a good glug of olive oil to generously coat the pan. Add butter and melt. Add the onion, carrot, celery, and a pinch of salt. Cook 5-7 minutes, stirring often, until vegetables are translucent but not brown.
Turn heat to medium high and add pancetta. Cook 5 minutes until pancetta is golden brown.
Add the ground meat one big handful at a time, breaking the meat up with a spoon and cooking each batch until it's brown and fat has rendered out. Don't add the meat all at once because it will steam, and we want the crusty caramelization from the seared meat. Turn heat down to medium if the meat starts to burn. Add garlic, anchovy, and season with salt & pepper.
Add tomato paste, scraping for 2 minutes at the bottom of the pan until slightly brown. Add milk and simmer until mostly reduced.
Pour in the wine, scraping the bottom of the pan to deglaze the crusty bits of flavor. Simmer for 2-3 minutes until the wine has mostly evaporated.
Add tomatoes and their liquid, bay leaves, and stock. Bring to a simmer. Taste for seasoning, and add salt and pepper as needed. Reduce to very low heat, cover, and simmer gently for 4 hours. Stir every 30 minutes or so, checking that the liquid has not evaporated so much that the sauce is burning at the bottom.
To Serve:
Cook pasta in salted water until al dente. Toss pasta with sauce. Drizzle with olive oil, top with a little more sauce, and finish with freshly grated Parmigiano-Reggiano.
Written & photographed by Jen Yu