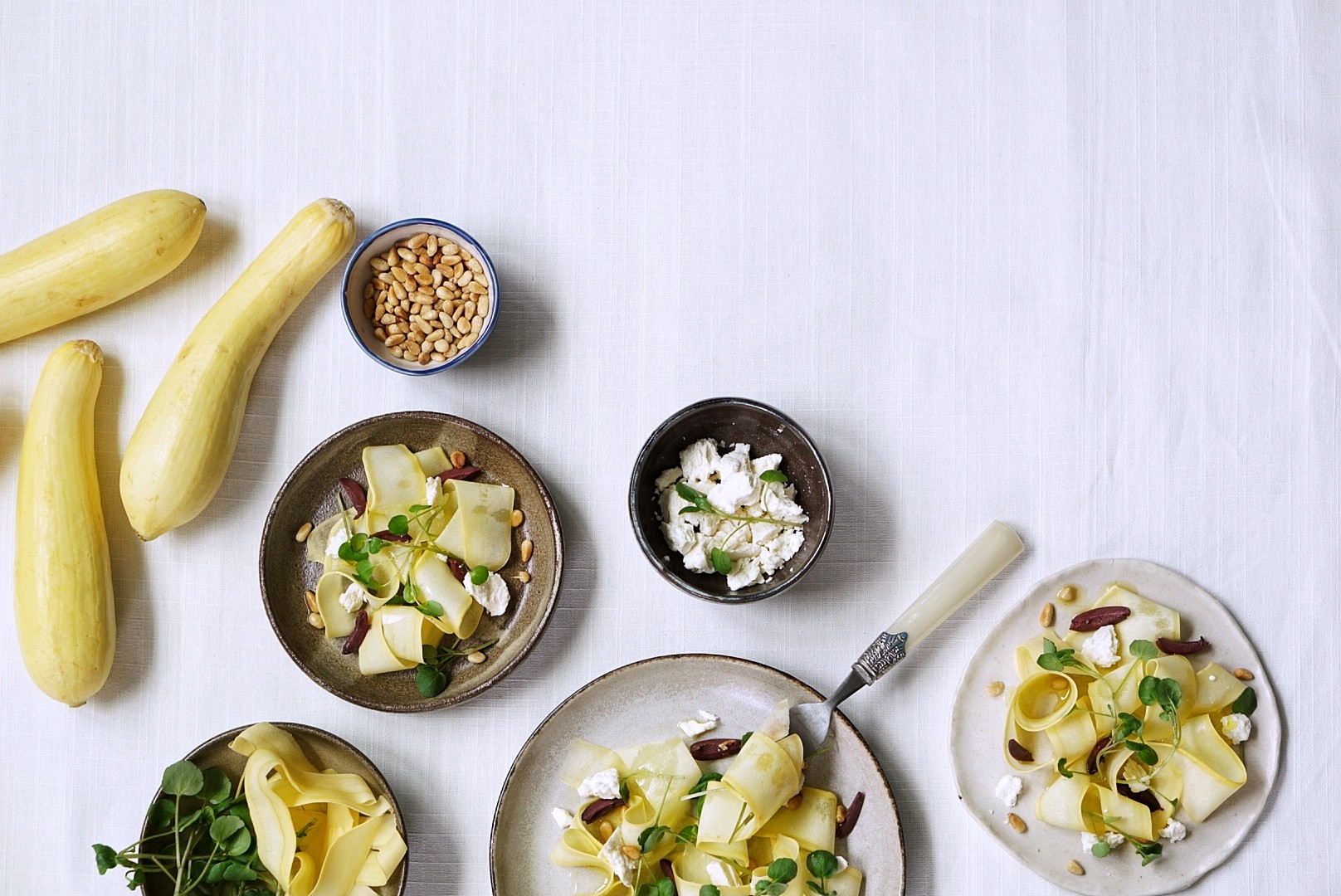 Greek Yellow Squash Salad
My favorite thing about summer is the abundance of beautiful summer produce, like juicy tomatoes, and crisp tender summer squash. This summer, we've partnered with Divine Flavor to create an easy summer recipe using their organic yellow squash. Yellow squash is similar to zucchini, but with a slightly curved shape, and slightly crisper texture. Though yellow squash is often cooked, its delicate flavor and crisp tender texture is for perfect for summer salads.
Yellow squash the star of our 5 ingredient Greek Yellow Squash Salad. Not only is it easy and tasty, but yellow squash also looks beautiful shaved into thin ribbons using a vegetable peeler. It's the perfect dish to pair with grilled fish, chicken, or pork. Then I like to sit on my balcony, close my eyes, and imagine I'm at a tiny beach front restaurant in Greece, with my toes in the sand. Sip a glass of chilled white wine, have a bite of Greek Yellow Squash Salad… mmmmmmmmm….
Ingredients:
1 Divine Flavor Yellow Squash
1/4 cup crumbled feta cheese
1/4 cup Kalamata olives, chopped
1 large handful watercress, or other salad greens
2 tablespoons toasted pine nuts
Dressing: red wine vinegar, olive oil, Kosher salt, fresh ground black pepper
Directions:
1. With a vegetable peeler, shave yellow squash into long, thin ribbons. Stop peeling yellow squash once you reach the seeds. I save the yellow squash core for cooking, like an easy stir fry!
2. Toss yellow squash with a splash of good quality olive oil and red wine vinegar. Season to taste with Kosher salt, and fresh ground black pepper.
3. Top yellow squash salad with feta cheese, olives, watercress, and pine nuts. Serve immediately.