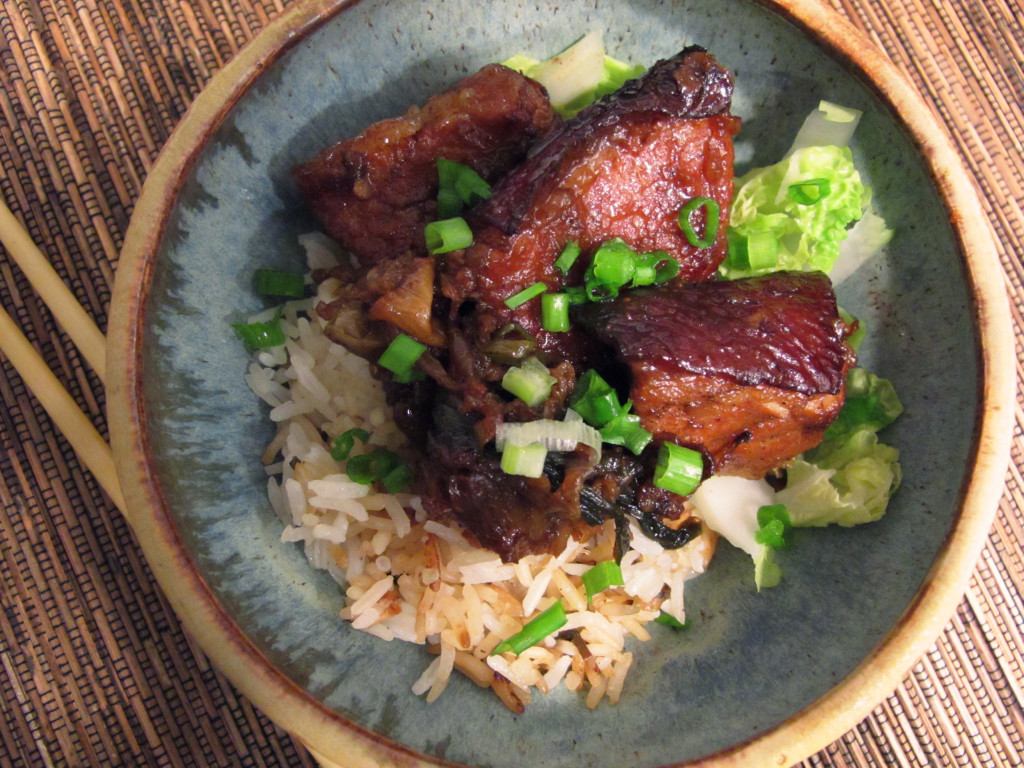 Braised Pork Belly and Cabbage in Sweet Soy Sauce (東波肉)
Jesper is a frequent visitor who lives down the street from my apartment. He's a canto gaysian with tattoos and a blonde Mohawk and is frequently seen wearing pajama pants regardless of whether he's at home or at a house party. On the weekends he moonlights as our bartender and sometimes our private chef. This week he offered to make braised pork belly in a preserved cabbage and onion stew aka Don Bo Pork Belly (東波肉) a traditional Hangzhou dish.
Serving Size: 6 | Cook time: Approx. 2 1/2 hours 
Ingredients:
2.5lbs of pork belly with bones intact (approx. 1.5lbs of actual meat)
Granulated sugar (enough to generously cover the bottom of the pot, all depends on the size of the pot you use)
1 white onion
3 cloves of garlic
1 tsp of ground star aniseed
1 cup of preserved cabbage (more of less depending on your preference, but it's a very salty ingredient and is the primary source of salt in this dish)
1 cup of rice wine or sake
3 cups of water*
1 scallion quartered
Half a cabbage coarsely chopped
1 tbsp of dark soy sauce
4 tbsp of brown sugar
1/2 tsp of ground white pepper
*Depending on the size of the pot you may need to add more or less sake and water, but generally the ratio to sake and water is 1:3. The difficult thing about cooking these traditional dishes is that you rarely use a measuring cup, it took Jesper a lot of extra effort to stop and measure everything. Just remember that more or less of each ingredient can be added and it won't really alter the taste drastically.
Directions:
Generously cover the bottom of a large pot with granulated sugar and turn on to low heat (keep an eye on it, you don't want it to burn), let it sit while you remove the bone from the pork belly. Cut the pork belly into 3 inch chunks. Once the sugar has completely melted place each piece of pork belly skin down onto the browned sugar to melt some of the fat, crystallize the skin and to give the pork some color, continue on low heat for 10 to 15 minutes.
When the skin is browned the layer of fat right under the skin is translucent. Turn the pork belly to brown the sides, 5 minutes on each side. When browned on all sides, put aside. Meanwhile, cut the onion in half and thinly slice.
Switch to a slightly smaller pot put onion, three cloves of whole garlic, a teaspoon of vegetable oil and a pinch of salt. Stir until it softens (approx. 3 minutes). Add the aniseed powder and cook for an additional 15 minutes, stirring constantly so that it doesn't burn.
Add sake, preserved cabbage and pork belly to the onions. Add water, it should cover the ingredients entirely, if it doesn't add more sake and water (this just means the pot you're using is slightly larger). Add scallions and a pinch of salt, do not stir. Cover and simmer for an hour, add dark soy sauce and 4 tbsp of brown sugar evenly over the pork, again do not stir. Continue to simmer for additional half hour. Meanwhile, steam the cabbage until soft (approx. 15 minutes).
It taste best overnight but is still really good if the dish is served immediately. Arrange the cabbage on the plate and put the pork on top along with the stew so that all the cabbage soaks up the sauce. Serve with white rice.
That explains why teenagers who take drugs are more concerned with
http://besttrackingapps.com/
doing drugs and going to parties than they are with school, sports, or positive networking