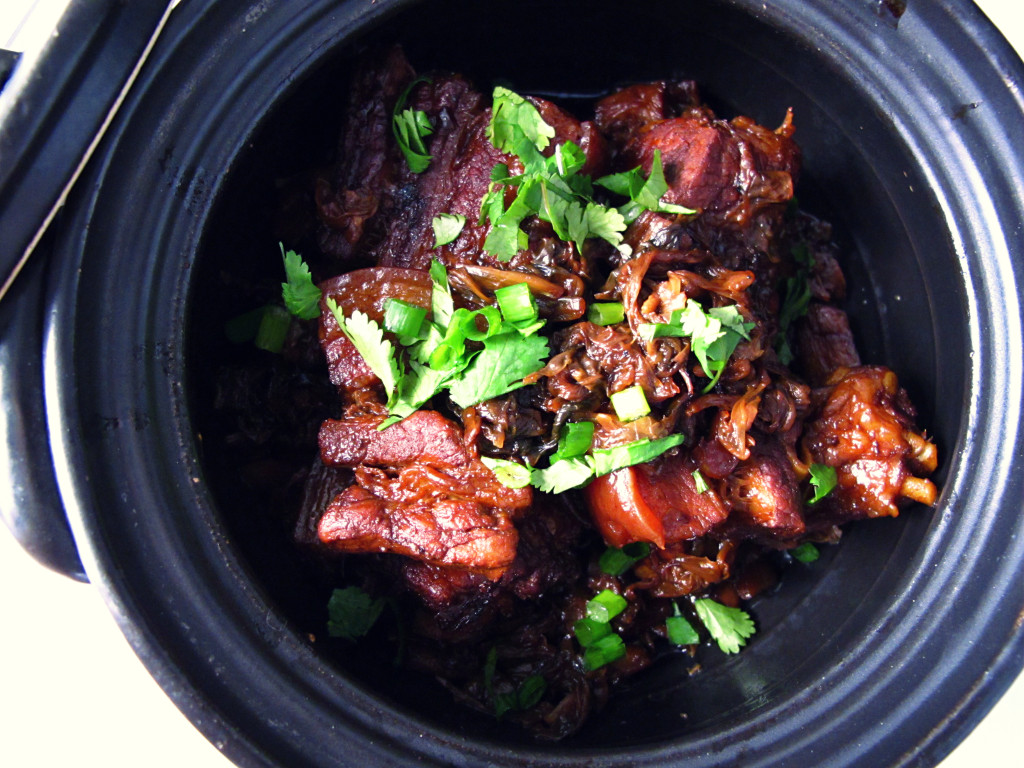 Braised Pork Belly
I've had a serious case of "writer's block" in the kitchen, which clearly has resulted in a lack of updates. I don't know why it's been such a task for me to cook lately but I really haven't found the time nor have I been particularly inspired.  I started this blog to document all the delicious meals my friends and I make on a weekly basis and I guess when I'm not cooking for others, I don't feel like cooking at all?
In the past couple of months, my friends have been leaving New York one by one. For most people, New York is just a pit stop but I've always told myself that I planned on staying for a long long time. Who knew a time would come where it was my time to leave. In a couple months, I'm going to be leaving New York to join my boyfriend in LA – never in a million years would I even think of moving to the West Coast of all places. So instead of cooking on the weekends, I've been slowly preparing my trip across the country, including learning how to drive! Which is a scary thought because for those of you who don't know me, it takes me a couple seconds to tell from left to right. Hopefully this will change – FAST!
Anyways all this moving preparation and declining number of friends to feed has really put a damper on my cooking time. It's also made me extremely homesick. When I come across a serious pivotal moment like this all I want is my mom to tell me everything is going to be okay. So today, I've decided to share a dish I documented with my mom while I was in Hong Kong this past Christmas. This is her signature braised pork belly dish. She shared this dish with me after I had made her Jesper's braised pork belly. While many of the ingredients are the same they produce a dish in the end that is vastly different in flavor. Jesper's pork belly is definitely on the sweeter side and it heavily drenched in sauce, which goes perfectly with rice. My mom's on the other hand is injected with lots of flavor but has very little sauce. It can be eaten hot or cold and can be served as a side dish.
Cook time: 3 1/2 hours | Serves: 8 
Ingredients
2 lbs of pork belly
14 oz of preserved vegetable (sweet)*
1/3 cup of granulated sugar
¼ cup of dark soy sauce
1 tbsp of light soy sauce
* If you get the kind of preserved vegetable that come in a large container you'll need to soak it in water for about half an hour to remove excess salt, rinse and wring out the water. If you get the pre-packaged kind it can be used immediately. Also, preserved vegetables can come in salty or sweet variations.
Directions
Cut pork belly into 2 inch pieces. Cut off the ends of the preserved vegetable and dice into 1 inch cubes. Pan-fry the vegetables for 10 minutes in a pan on low heat without any oil, this helps dry the vegetable out a bit and brings out the flavors.
Again without oil, pan-fry the pork belly until brown on each side. Add the soy sauce into the pan and continue to cook for another 10 minutes to coat. Set aside.
Pour sugar into the preserved vegetable and stir-fry until sugar melts. Add the pork and soy sauce. Add enough water to the pan so that it just covers all the ingredients.
Once it comes to a boil simmer on low heat for 3 hours. You can also chose to cover it with aluminum and pop it in the oven at 350 degrees for the same amount of time.
Serve as a side dish with rice. This would also go exceptionally well in a bowl of delicious broth noodles!