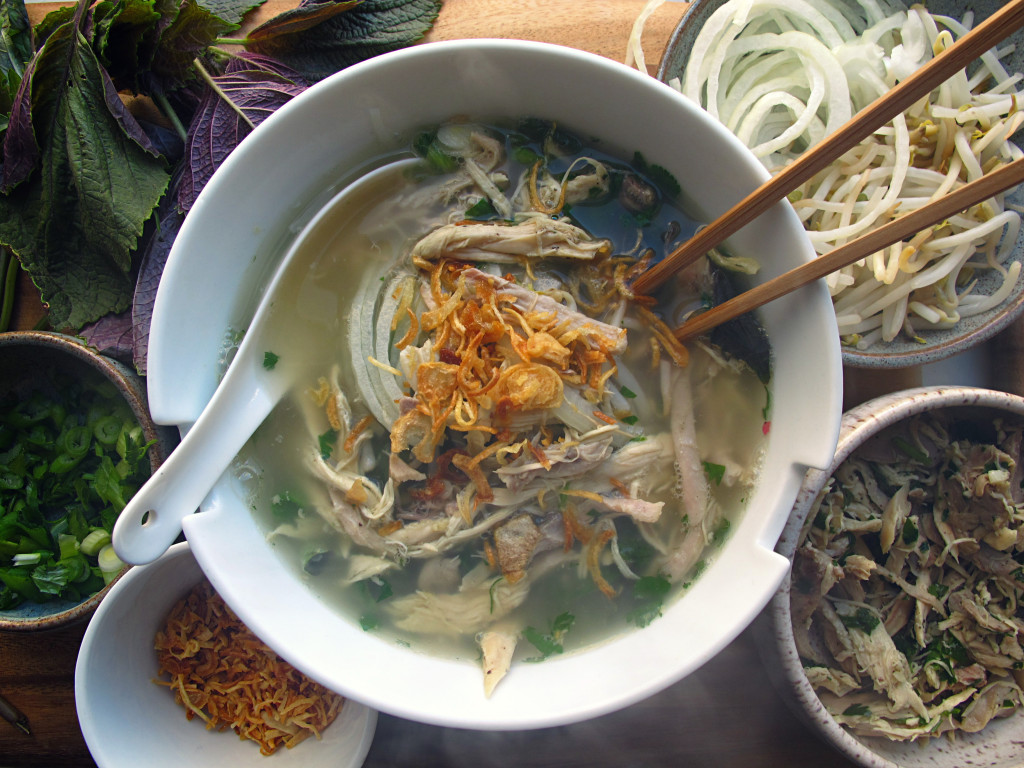 Chicken Pho
During my last trip to LA my Aunt Bo whipped up an amazing chicken pho that I just HAD to replicate and share with my roommates in New York. It's made with slightly different ingredients than the BEEF BRISKET PHO. I find this recipe easier since less ingredients are involved but it's equally tasty! I thought this would be a good way to wrap up the wintery cold season.
Ingredients:
1lb pork bone
1 2lb whole chicken
2 onions
1/2 cup of fish sauce
3 tbsp of sugar
1 tbsp of salt
2 tsp of minced garlic
Bunch of cilantro
Black and white ground pepper
Pho noodles*
*You can buy dried pho noodles and "pre-soaked" pho noodles which can be found in the fridge aisle. I highly recommend buying the "pre-soaked" pho noodles just so you don't have to go through the extra hassle of soaking them. I used the pre-soaked ones in this recipe and bought them at this little vietnamese grocery store in Chinatown on Bowery and Grand.
Garnishes:
½ lb of bean sprouts
Bunch of scallion
2 tsp of sesame oil
Asian mint leaves
Asian basil leaves
Fried red onions**
1 onion
**My family uses fried red onions that are soaked in oil – which is home made. Unfortunately I couldn't find this pre-made anywhere so I substituted for regular fried red onions which is used in Vietnamese and Thai food. It adds a good amount of flavor to the broth.
Directions:
In a large pot place pork bones and whole chicken and fill with water. Turn up heat on high until boiling and simmer on medium heat for 15 minutes. Drain water and rinse pork bones and chicken.  Remove the outer skin of two onions and place in pot along with pork bones and chicken. Fill with water and place on stove on high heat until boiling and simmer for 3 hours, remove excess fat that surfaces periodically.  At the halfway point, flavor broth with fish sauce, sugar and salt. Adjust according to personal preferences.
An hour into simmering, remove whole chicken. Cool for about 20 minutes and shred entire chicken into pieces. Throw chicken bones back into the pot to enhance the broth flavor. In a small frying pan, heat a teaspoon of vegetable oil and fry minced garlic until slightly browned. Add the fried garlic and oil to the chicken along with sesame oil, ground black pepper, ground white pepper, salt, and fish sauce.  Flavor according to your preferences – I usually prefer a very peppery taste. Chop up a hand up of cilantro and toss with chicken. Set aside.
Prepare garnishes in small bowls so that they will be ready for assembly. Blanch bean sprouts, cut onion in quarters and slice very thin using a mandolin so that they are in half moon shapes, chop scallions, chop remaining cilantro, wash mint and basil leaves and remove from stem and put all garnishes into separate bowls.
When broth is almost ready, bring a small pot of water to boil. Once water is boiling, add one portion of pho noodles into the water for 3 to 5 seconds and remove immediately. Place in individual serving bowls, flavor noodles with ½ tsp of sesame oil, ½ tsp of fish sauce and scallions. Garnish with bean sprouts, basil and mint leaves, onions, shredded chicken, cilantro and fried red onions. Pour broth on and serve immediately. Continue to assemble individual noodle bowls.
Improvising corpora for elt quick-and-dirty ways
a crazy read
of developing corpora for language teaching