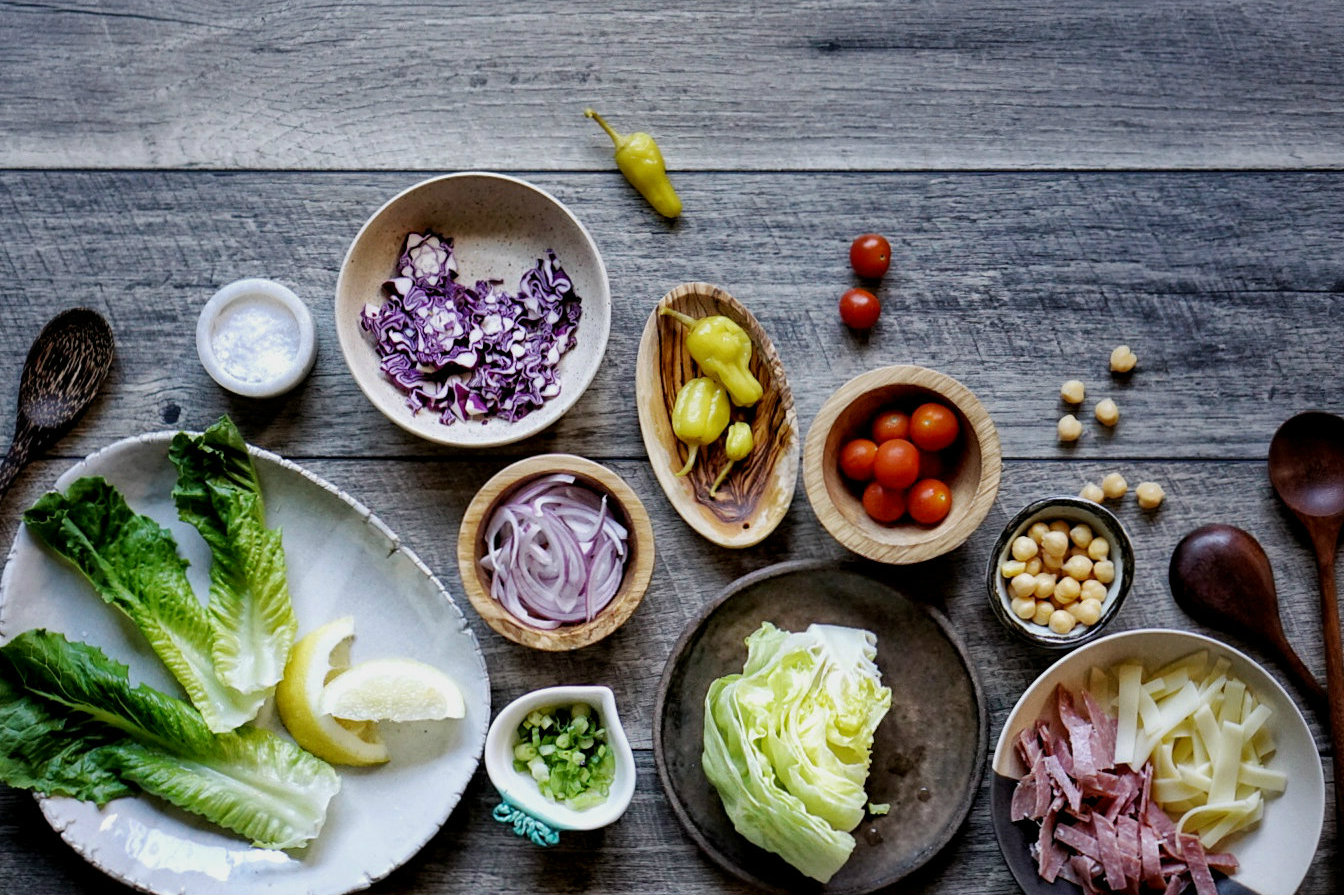 Chopped Salad
I moved to the Bay Area from Los Angeles two years ago, and one of the things I miss most is LA's salads. I thought Chinese chicken salad was a California thing, but it turns out it's a Southern California thing! Another salad that I love is the chopped salad, an iconic dish from the 1980's by owner Jean Leon of La Scala Boutique in Beverly Hills. Check out this article from the LA Times in 1989! Imagine the inside of an amazing Italian sandwich, chopped up into a salad. That's basically what the chopped salad is, but better! Crunchy iceberg lettuce, bitter radicchio, salty salami, buttery provolone and earthy chickpeas, tossed in a tangy red wine vinegar dressing. The vinegary dressing with the crunchy veggies and salty salami makes me drool just thinking about it. I love chopped salad, I crave chopped salad.
Nancy Silverton is also a fan of the chopped salad, and has created a chopped salad recipe for Pizzeria Mozza. This recipe is based on Nancy Silverton's version, with a few shortcuts to save time, and a couple of additional ingredients which add even more flavor to an already amazing dish (hello avocado!). Best of all, it's incredibly easy and quick to whip up, super tasty and satisfying, and doesn't leave you hankering for something else after.
Makes 1 main or 2 appetizer portions | 20 minutes
Ingredients
1/4 wedge of iceberg lettuce
2 leaves romaine lettuce
3 leaves radicchio
1/4 cup red onion, thinly sliced
1 green onion, thinly sliced
8 cherry tomatoes, halved
Half of 1 avocado, cubed
1/4 cup cooked chickpeas
3 pepperoncini peppers, stems removed, and thinly sliced
2-3 slices Genoa salami
2 slices provolone cheese
Small wedge of lemon
Red wine vinegar
Olive oil
Oregano
Kosher salt & fresh cracked black pepper
Tips
If you can't find good quality radicchio, substitute 1/4 cup thinly sliced red cabbage. It doesn't have the pleasant bitterness of radicchio but adds a nice crunch.
Canned chickpeas are totally fine for this dish.
Reduce amount of red onion by half if you find the flavor too strong. I like the sharpness of red onion but it's not for everyone.
Start with a bit of salt, pepper, lemon, vinegar, and olive oil, and then adjust to taste. Iceberg lettuce is so delicate that it doesn't need too much dressing.
Directions
Slice lettuces into 1/4 inch strips. Slice salami and provolone into thin strips, and separate the pieces if they're stuck together.
Add all veggies, salami, and provolone to a wide mixing bowl. Add a pinch of oregano, grind a few turns of black pepper, sprinkle 2 small pinches of kosher salt, and drizzle with a bit of olive oil. Squeeze a small wedge of lemon over the bowl, and add a small splash of red wine vinegar. Toss gently, and adjust seasonings to taste.
Pile high in a shallow bowl and serve immediately.