Coddled Eggs with Red Caviar
I have a confession to make… we are restaurant stalkers. Jen and I spend way too much time on Yelp and Instagram, stalking restaurants and looking at every single one of their 2,873 pictures. Some would think that's completely crazy, but I'm sure lots of people do it… right? We even look at photos of restaurants we've been to a million times, and fascinate over food photos where the restaurant only serves one thing. Why on earth do we go through hundreds of photos of the same fried chicken sandwich? That's something we do for fun! And that's how I came about making coddled eggs with red caviar.
Recently I started stalking restaurants that my friends in the Bay Area mention in our group chats. If I haven't complained about this enough, all of my closest girlfriends have abandoned me and moved to the Bay Area, including Jen of course. So my only way of keeping up with their recent restaurant visits is to look through every photo on Yelp. I probably thumbed through at least the first 200 photos of Tartine Manufactory, and while I haven't been to this restaurant myself, I could not stop thinking about their coddled eggs with trout roe. The glistening fish eggs were calling out to me, which was what inspired this recipe that I've now made several times. Hopefully one day I'll actually make it there and try it out myself. I have no idea how close this recipe comes to the real thing, but it's pretty damn delicious. This recipe is really not a recipe at all, you can't really mess up the measurements because there can't be too much of any of the ingredients.
Makes 2 servings
Ingredients
Finely chopped chives
Creme Fraiche
Butter
4 Eggs
Red Caviar (if you have black caviar, by all means go for it!)
Crusty bread (I used naan bread from Trader Joe's because that's what I happened to have at home, it worked great except a rustic bread would have been better so the runny eggs actually have something to cling to)
Za'atar (optional but highly recommended, not pictured here but I usually include it)
Directions
Butter the inside of two jars with lids. Crack one egg, sprinkle a little salt on the egg and add a generous dollop of creme fraiche. Top with the next egg and sprinkle with more salt. Close jar. Don't go crazy with the salt because the caviar is salty itself. Repeat with the second jar.
Place jars in a medium size pot, you want to make sure you have enough room to remove the hot jars without burning yourself on the rim of the pot. Fill with enough water to cover the jars. Bring to a simmer and cook for about 7 minutes for a runny yolk.
While the eggs are cooking, butter each side of the bread and sprinkle with za'atar seasoning. Grill bread on pan for about 1 to 2 minutes on each side.
Remove coddled eggs from the pot, and garnish with a generous amount of chives (I prefer half a tablespoon or more) and spoonfuls of red caviar. I serve my eggs with extra red caviar on the side as well!. Serve with toast.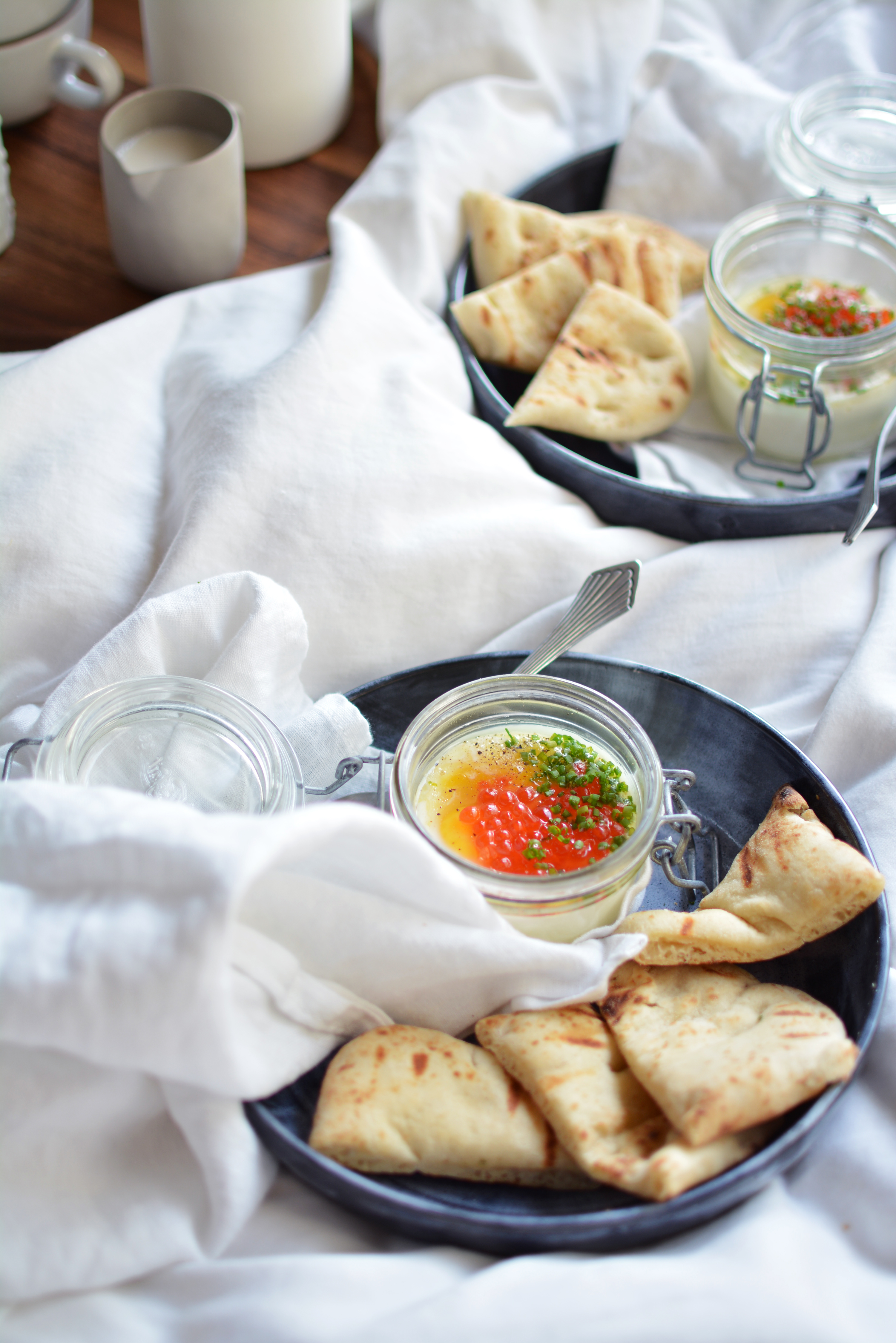 For some of our other favorite breakfast recipes click here.