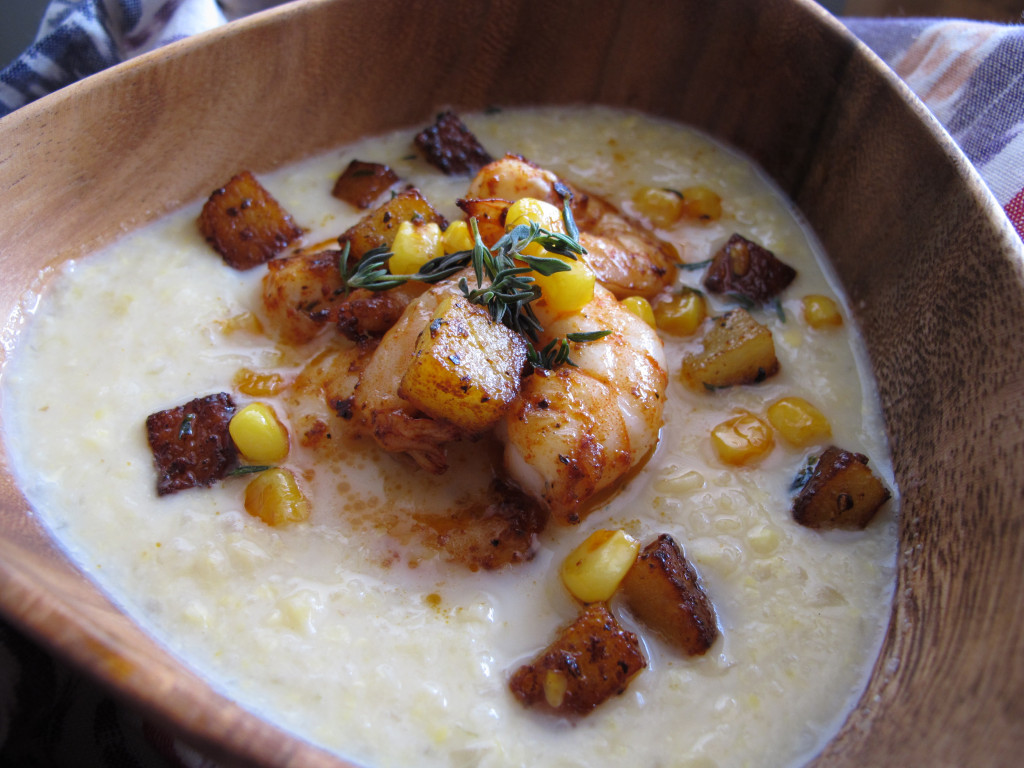 Corn Soup with Shrimp and Spiced Potato Croutons
I constantly find myself torn when cooking – I can't help but want to make delicious dishes like a hearty corn chowder with a creamy base full of bacon and potatoes but when it comes down to adding 2 cups of half and half and a pound of bacon I just can't bring myself to do it.  So – I strip the recipe of anything fattening. It sounds dull, I know, but the outcome was surprisingly refreshing – even my friends thought so. I promise.
I don't call it corn chowder because I can't justify calling it chowder without the heavy cream and chunks of potatoes but the outcome is still deliciously chunky and full of flavor. Instead of putting pounds of potatoes into the soup I make spiced potato croutons so that you can top off your soup with as much or as little potatoes you want. The spices also add a nice kick. You can also add fresh crab if you're feeling fancy!
Cook time: 30 minutes | Serves 4
Ingredients:
4 cups of corn (fresh or frozen) and an additional handful
2 cups of chicken stock
1 cup whole milk
1 onion, finely chopped
1 potato, cut into 1/2 inch – 1/4 inch cubes
1/2 lb of shrimp/ 20 pieces (more or less depending on your preference)
2 tsp of paprika
2 tsp of cumin
1 tsp of ground black pepper
1/8 tsp of cayanne pepper
1 tsp of fresh thyme (optional)
Directions:
In a large pot heat olive oil and add finely chopped onions and corn. Sautee until onions are soft. Add chicken stock and bring to a boil. Puree using a blender or an emulsion blender. Add whole milk and heat while stirring – do not bring to a boil.  Turn off heat and set aside.
In a small bowl, combine spices and dust potatoes. Marinate shrimps using the same spices and set aside. Heat pan with olive oil and pan fry potatoes for 4 to 5 minutes on one side before turning so that they brown nicely. When the potatoes are nearly done, add a handful of corn and fresh thyme and lightly brown.
In a separate pan, heat with olive oil and pan fry the shrimp for 2 minutes on each side.
To serve, ladle a generous amount of corn soup into a bowl and top with 5 pieces of shrimp and sprinkle with potato croutons.