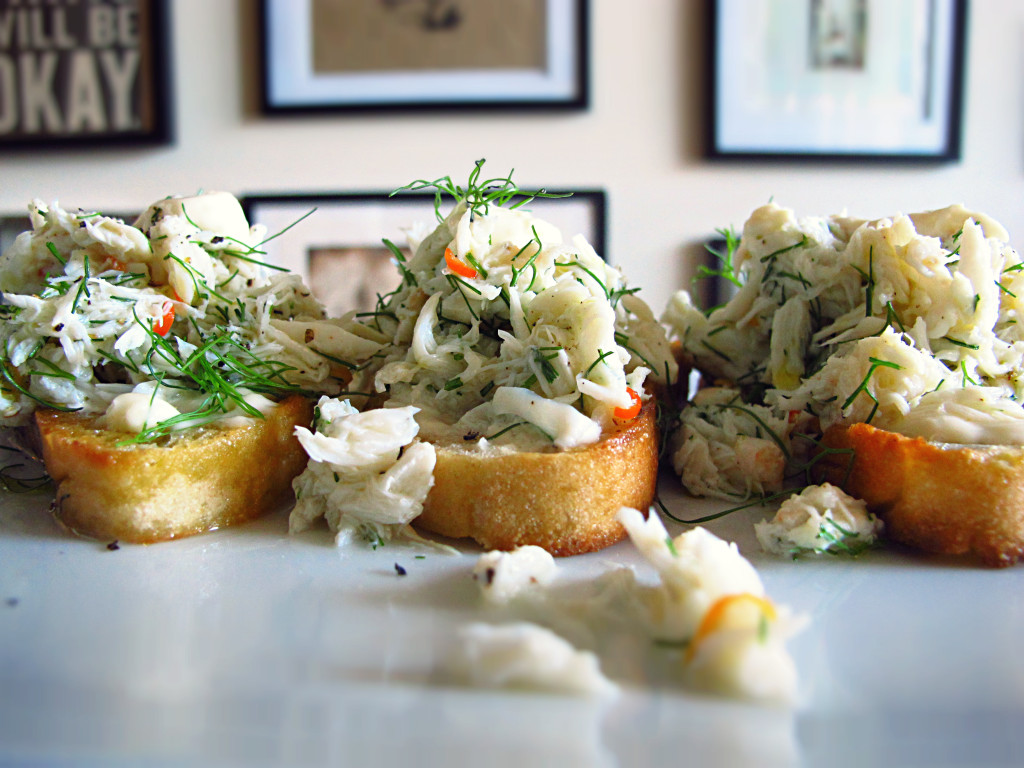 Crab Crostini with Aioli & Chopped Fennel Top
This Jamie Oliver inspired crab crostini is one of our favorite dinner party dishes! It's quick and easy to whip up, impressive, and super delicious.
Ingredients:
For the crab:
20 oz of picked white crabmeat
Handful of fennel top, finely chopped
1 fresh red chilli, deseeded and finely sliced (Fresno chilli is great for this)
1/2 – 1 lemon
Extra virgin olive oil
8 slices of rustic bread (ciabatta, sourdough, french bread are all good choices)
Fresh ground sea salt and black pepper
For the aioli:
1 small clove of garlic, crushed
1/2 tsp of sea salt
4 tbsp of mayonnaise
Directions:
To make the aioli, combine crushed garlic to mayo, mix well, and season with salt. Do this well in advance, refrigerate, and let the flavors blend.
In a mixing bowl, combine the crab, most of the chopped fennel tops, finely sliced chili, a squeeze of lemon juice and good lug of extra virgin olive oil. Mix, taste and adjust lemon juice & seasoning to your preference. The lemon juice will slowly wear away the sweetness of the crab, so prepare this just before serving and don't let it sit around for hours after you've mixed your ingredients.
Generously drizzle slices bread with olive oil, and toast in a hot pan or grill.
When ready to serve, assemble each crostini with a generous serving of crab, topped with garlic aioli, and garnish with more fennel fronds.