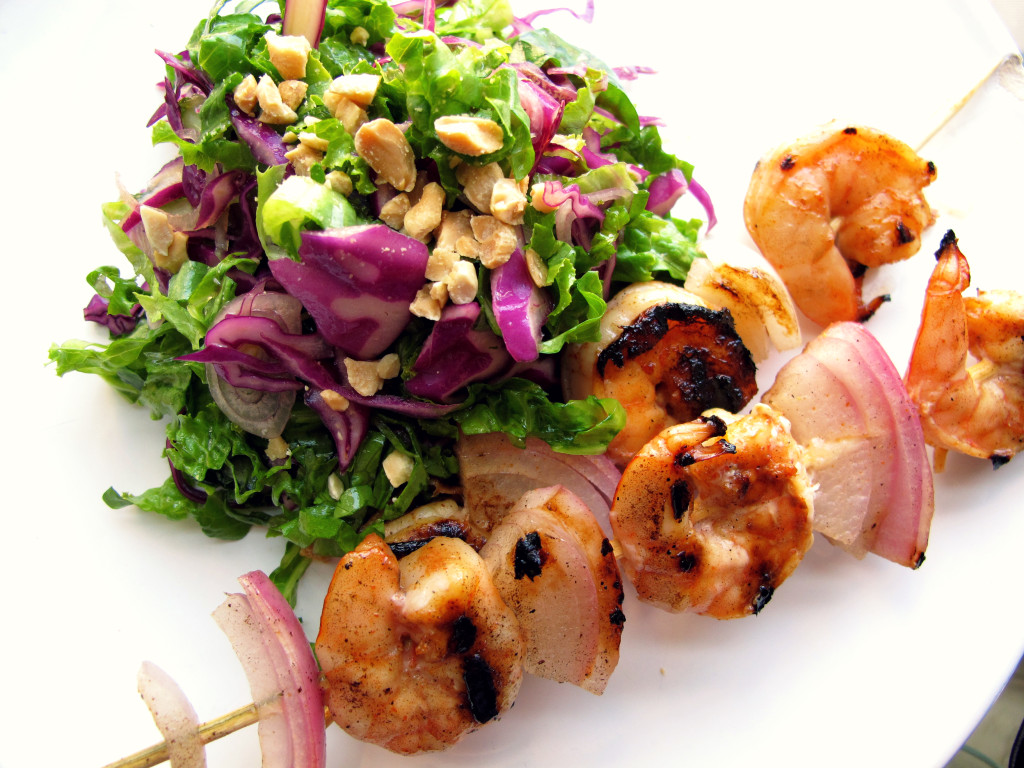 Grilled Maple Syrup Shrimp with Cabbage Salad
I haven't had much time for anything lately but one thing I always make time for is cooking. I think chopping, peeling and sautéing are good ways to relieve stress even though the Lean Cuisine commercials don't seem to agree with me. Have I found time to upload any of my recent recipes? Certainly not…but I can promise I have photo albums after photo albums of documented meals (and picnics) waiting to be uploaded.  With a serious lack of time I've discovered a great new way of preparing food…marinating. I've been marinating everything in different combinations of spices keeping all meals fairly simple. For lunch this weekend I made maple syrup shrimp skewers with a light summery cabbage salad. As a Chinese person, I REALLY hate to use the word "Asian" to describe this salad but I have to say it does have a twist of "asianess" to it.
Ingredients:
Maple Syrup Shrimp with Cayenne Pepper:
1 lb of fresh shrimp, shelled and deveined
1 tsp of brown sugar
2 tbsp of all natural maple syrup
1 tsp of cayenne pepper (adjust to your preference)
Salt and pepper to taste
1 lemon
1 red onion cut into wedges the same depth of the shrimp
Cabbage Salad:
2 cups of Leafy greens
2 cups of Red Cabbage
2 cups of Green Cabbage
2 Shallots
1 Scallion
1 handful of fresh Basil
Crushed Peanuts
Dressing:
Vietnamese Fish sauce: 1 cup fish sauce, 1 cup sugar, 1 ½ to 2 cups of water, 1 to 2 chopped red chilies (optional), a splash of fresh lemon juice
1 lemon
1 crushed garlic
1 ½ tbsp of olive oil
Salt and pepper to taste
NOTE: Vietnamese fish sauce is VERY different from regular store bought fish sauce. Vietnamese fish sauce is a combination of sugar, water, red chilies, fresh lemon juice and store bought fish sauce.  By adding these extra ingredients to store bought fish sauce we're watering it down and adding a bit of sweet and spiciness to it. No Vietnamese restaurant will ever serve store bought fish sauce with their dishes.
Directions
Marinate the shrimp with all the ingredients EXCEPT the lemon juice. Cover and leave it in fridge for about half an hour or longer. Assemble skewers by alternating the shrimp and the wedge red onions. I like the make sure the skewer goes through the shrimp twice so it's not flopping around. Heat grill (I highly recommend this GRIDDLE if you don't have an actual grill) and brush to coat lightly with olive oil or butter. Once your grill it hot place skewers on for about 5 -7 minutes each side.  Depending on how hot your grill is this time may vary so lift the skewer sticks to check on the 3 minute mark. You want your shrimp to be slightly charred on each side. When you turn the skewer on the grill sprinkle some lemon juice on top.
While you're grilling your shrimp skewers prep vegetables. You want to finely shred all your vegetables and toss together along with the crushed peanuts in a large salad bowl.
The dressing is an interesting combination of Vietnamese fish sauce, olive oil, pepper, crushed garlic, and a splash of lemon juice. I always have pre-prepared Vietnamese fish sauce sitting in my fridge, it's a common condiment I use, if you don't want to go out of your way to prepare it you can always leave it out making it less of an "asian" salad and just a regular slaw with garlic, lemon and olive oil.
For those who want to make the Vietnamese fish sauce here are the directions to my grandmother's recipe: in a small pot on low heat add 1 cup of fish sauce and 2 cups of water. Slowly add in sugar. Depending on the brand of fish sauce the amount of sugar needed will vary. Generally I use about 1 cup but this also depends on your preference. Add 1 to 2 chopped up fresh red chilies, again add according to your preference. Cool the sauce a little before squeezing in fresh lemon juice. If the mixture is too hot the lemon will give the sauce a bitter taste. You want to prepare this sauce one day in advance to allow it to cool completely OR you can throw in a couple ice cubes to cool the mixture a bit before chilling it in the fridge for 15 to 30 minutes. You should store this sauce in a tightly sealed glass jar, as fish sauce can smell quite strong.
Toss salad with the dressing. You should use anywhere between 2 to 3 tablespoons of Vietnamese fish sauce and combine with the remaining dressing ingredients.
This marinade is great with chicken, fish and other types of seafood. I think I might try it with squid next time – I'll let you know how that turns out.
The interesting kicker is that this affects teens more rapidly than adults
over at this forum