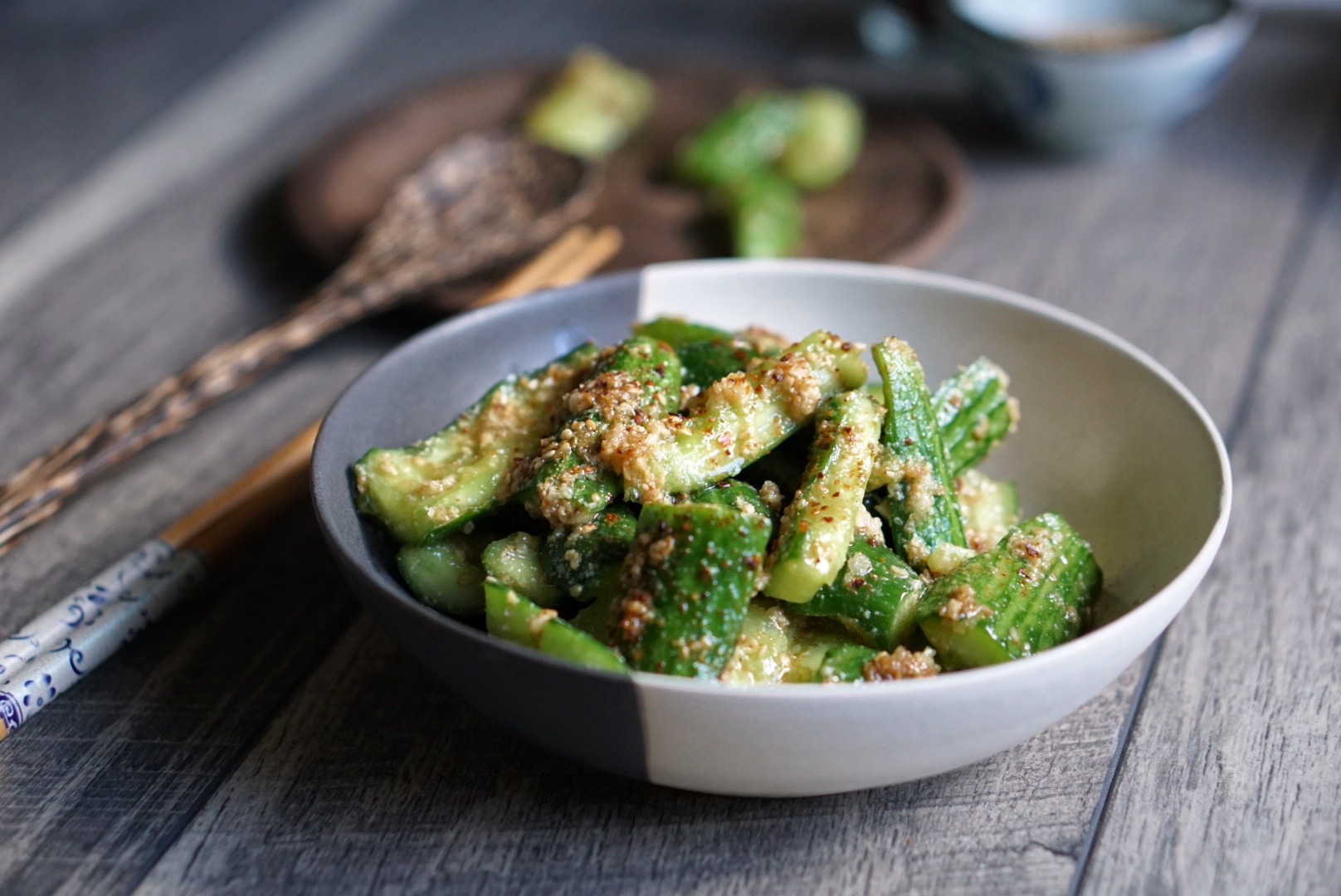 Ippudo Cucumber Salad
One of the most memorable dishes I've ever eaten is a sesame cucumber salad, years ago at Ippudo in Singapore. The dish is called "GOMA Q", and described as "Crunchy Japanese cucumber with original sesame dressing". Ippudo's ramen is always great but I've never forgotten the Ippudo cucumber salad. Fresh, crunchy, cold slices of cucumber swimming in a salty, garlicky, sesame oil bath, with a hint of spice. 香 is a word in Chinese that perfectly describes the addictive, nutty, savory sesame dressing. 香 translates to "fragrant", but there's no real English equivalent that describes the addictive deliciousness of the dish.
I couldn't find any copycat Ippudo cucumber salad recipes online, so I set out to make one. I'm happy to report that the copycat recipe is pretty much spot on! The dressing for the Ippudo cucumber salad is like crack, it's so good. I wolfed down the entire bowl minutes after taking the photos, and then made a second batch.
2 appetizers | 30 minutes
Ingredients
Cucumber
3 Persian cucumbers
1/4 tsp salt
1/4 tsp sugar
Dressing
1-2 cloves minced garlic (depending on your preference for garlic)
1 1/2 tbsp roasted white sesame seeds
1/2 tsp soy sauce
1/2 tsp fish sauce
1/4 tsp Korean chili flake (gochugaru)
1/4 tsp sugar
2 tbsp sesame oil
Directions
Option 1: Smash cucumbers with the flat side of a heavy knife, so the cucumber breaks apart (see picture). Cut cucumber into thirds lengthwise. Toss cucumbers with 1/4 tsp salt and 1/4 tsp sugar, and let it sit in the fridge for at least 30 minutes. This draws the liquids out of the cucumber and results in a crunchier cucumber.
Option 2: Slice cucumbers into 1/3 inch rounds, and do not marinate in salt or sugar. This is how Ippudo serves the dish (see picture).
Cut a 1 foot square of parchment paper, and place sesame seeds in the middle. Fold paper in half, and use a rolling pin or heavy glass bottle to crush the sesame seeds through the paper. This will take 10-20 rolls, and you should end up with a coarse sesame powder.
Mix all dressing ingredients together in a small bowl.
When ready to serve, drain cucumbers, pressing on them to get the liquid out (do this only if you marinated the cucumbers, otherwise skip the draining/pressing). Toss with dressing, and serve immediately.