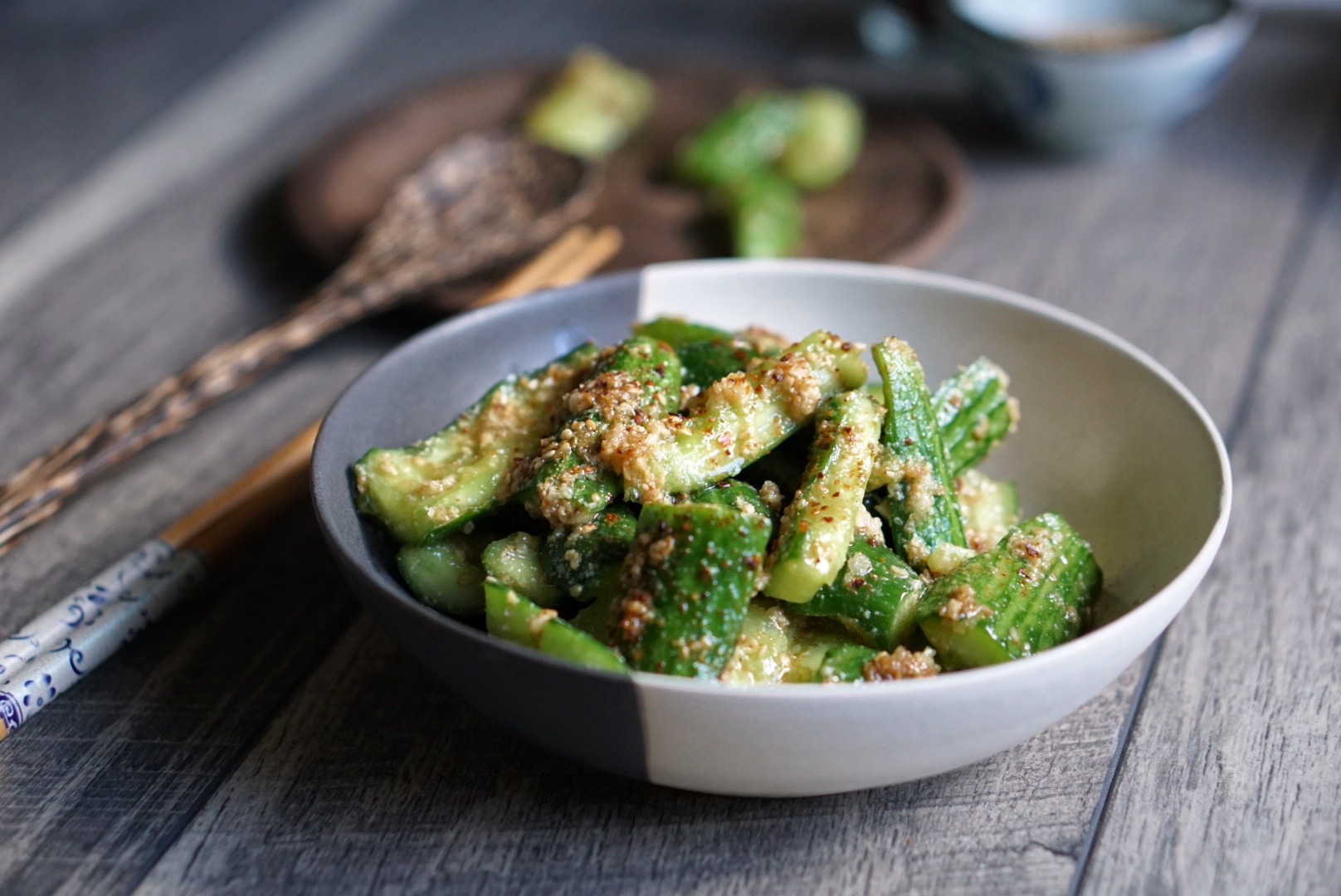 Ippudo Cucumber Salad
One of the most memorable dishes I've ever eaten is a sesame cucumber salad, years ago at Ippudo in Singapore. The dish is called "GOMA Q", and described as "Crunchy Japanese cucumber with original sesame dressing". Ippudo's ramen is always great but I've never forgotten the Ippudo cucumber salad. Fresh, crunchy, cold slices of cucumber swimming in a salty, garlicky, sesame oil bath, with a hint of spice.
I couldn't find any copycat Ippudo cucumber salad recipes online, so I set out to make one. I'm happy to report that the copycat recipe is pretty much spot on! The dressing for the Ippudo cucumber salad is like crack, it's so good. I wolfed down the entire bowl minutes after taking the photos, and then made a second batch.
2 servings | 10 minutes
Ingredients
3 Persian cucumbers
1 clove garlic, minced
1 tbsp roasted white sesame seeds
1 tsp soy sauce
1 tsp fish sauce (replace with soy sauce if you don't have any)
1/4 tsp chili flake (Korean gochugaru or Shichimi Togarashi)
1/4 tsp sugar
2 tbsp sesame oil
1 tbsp canola or olive oil
Directions
Slice cucumbers into 1/4 inch rounds.
Coarsely crush sesame seeds with a mortal and pestle. If you don't have one, cut a 1 foot square of parchment paper, and place sesame seeds in the middle. Fold paper in half, and use a rolling pin or heavy glass bottle to crush the sesame seeds through the paper.
Mix all dressing ingredients together in a small bowl.
Toss cucumbers with dressing, and serve immediately.