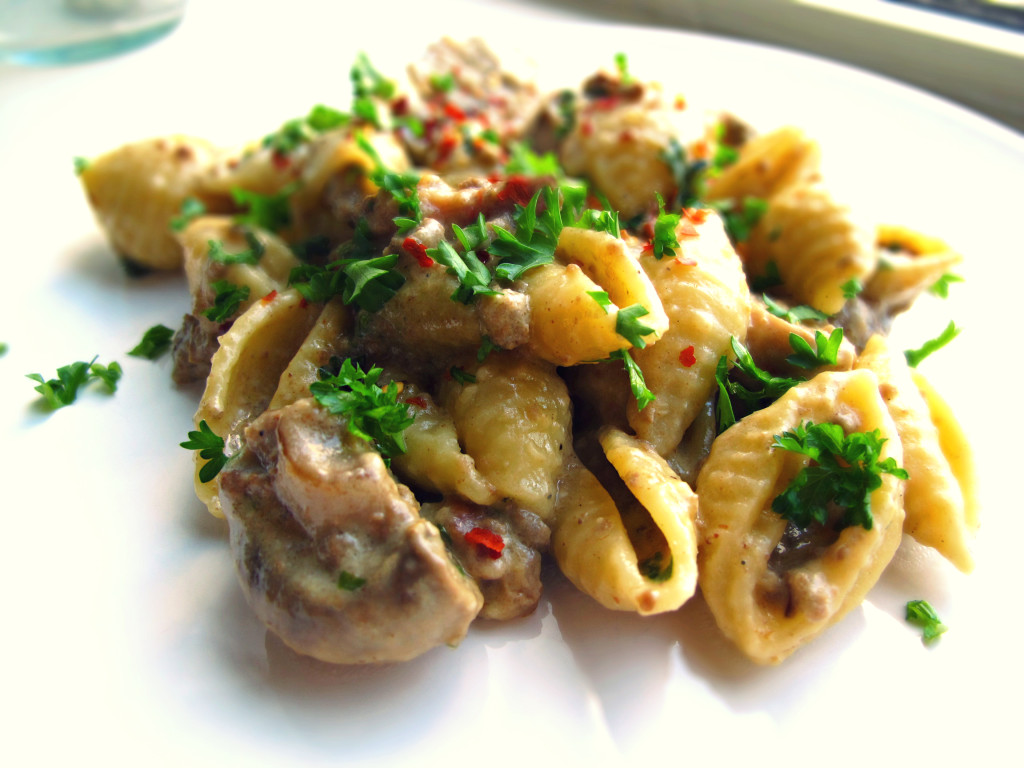 Meaty Carbonara
The great thing about sharing recipes in the kitchen is that while it may be traditional to one family it is also non-traditional to others. While we may lose tradition as we grow up and move away from home we find that the traditions we share with our family are less frequent but definitely not insignificant nor forgotten. The best way to cherish these traditions is to pass them along in hopes that someone else finds pleasure and excitement in the things that we find familiar in our lives.
The recipe this week is Jesper's take on a traditional carbonara. He suggested that we call it Jesbonara – I know, I wasn't too sure about the name either. This is Jesper's second recipe; it shows that while he is an avid supporter of my cause he's by far my most enthusiastic culinary friend. The first time he prepared this dish for my friends and me, I swore I would never make pasta again, there would be no way I would be satisfied by any other pasta dish. So when I started this blog it became one of my "must-do" entries. Unlike traditional carbonara, Jesper's recipe includes adding ground beef, mushrooms, and red pepper flakes. Carbonara is usually a really heavy sauce but the addition of ingredients actually lightens up the dish by taking the primary attention away from the main ingredient, cream.
Cooking Time: 1 hour | Servings: 6
Ingredients:
½ lb of pancetta
1lb of ground beef
1 tbsp of unsalted butter
2 pints of heavy cream
4 egg yolks
20 oz of white button mushrooms, quartered
½ cup of white wine
1 tsp of red pepper flakes, more or less depending on your preference
1 tsp of black pepper
1 lb of any pasta to suit your preference
1 bunch of coarsely chopped Italian parsley
1 minced garlic
1 cup of Parmesan
Directions:
Over medium heat, in a large pot or deep skillet, add the pancetta, black pepper and red pepper flakes and sauté for 3 to 5 minutes or until browned and fat is rendered.  Add 1 tbsp of butter and brown for another 5 minutes. Add ground beef and minced garlic. Once beef is browned, push the meet aside forming a small circle in the middle of the pot so that you'll see all the oil. Add the mushrooms so that the mushrooms will absorb all the flavor in the oil. Stir for a couple minutes. Add white wine. Stir the mushrooms around so that it will absorb the juices at the bottom of the pot. Add heavy cream and salt to taste. You don't need to add too much salt as the Parmesan will add a lot of flavor. Simmer on medium heat, reduce for 15 to 20 minutes. Meanwhile boil the pasta and beat egg yolks. Turn off heat and add Parmesan to sauce, stir. Once the pasta is done, drain and reserve 1 cup of starchy pasta water. Add pasta to the sauce and stir for 2 minutes to coat the pasta. Add egg yolks and continue to stir. The hot pasta will cook the egg yolks. Add the reserved pasta water slowly until it reaches the desired consistency. Garnish with parsley. Serve hot!
Obtaining reactions from committee members the obvious way to learn what the committee members think of the material
domyhomework.guru/
in its first full-draft form is to ask them