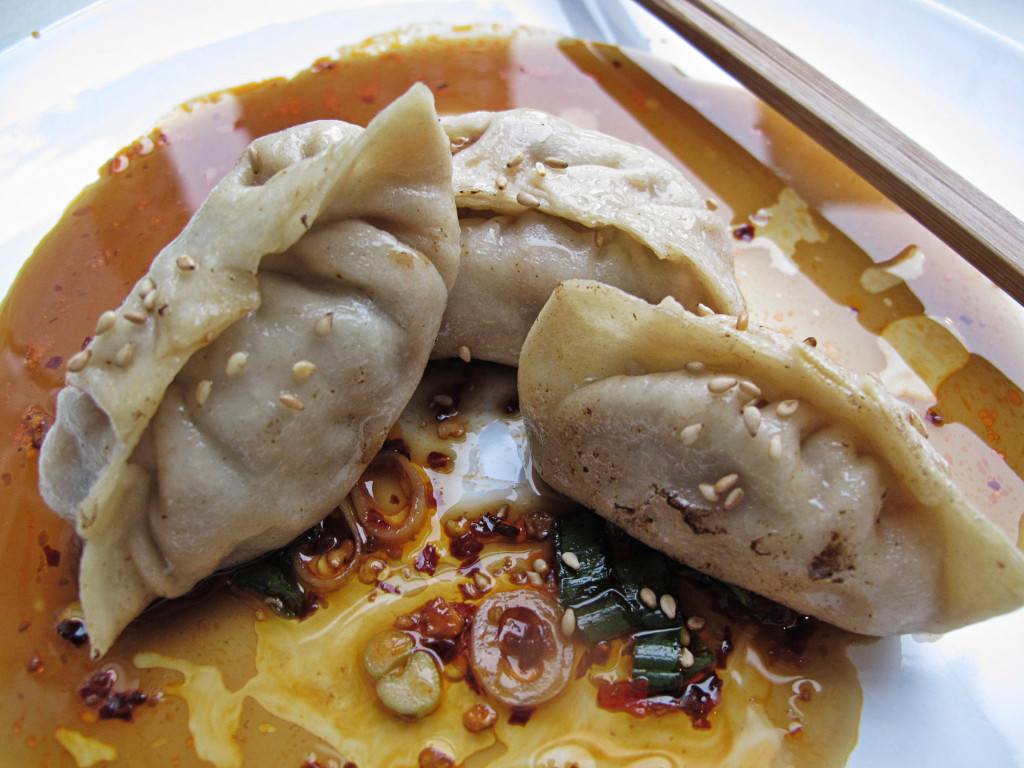 Kimchi Dumplings
Kelvin and Drew are my perfect roommates. So perfect that sometimes I float the idea of all of us living in the same building for the rest of our lives and raising our own families on separate floors. Drew is the only person I know who gets as excited as I do when it comes to electric appliances, when his new Dirt Devil arrived we tore open the box in excitement and immediately started vacuuming (I know, we are strange people). He is the only person I know who loves to clean the bathroom every Sunday – it makes him feel accomplished. In a couple weeks, Drew will be leaving to China for the whole summer, when Kelvin told me the news immediately I imagined Drew coming back to the apartment in disarray. What would we do without him?! He's equipped with everything to support a well-run household and he regularly stocks our storage closet with everything we would possibly need. Whenever I find myself saying "damn it I wish I had ____ (usually something that a regular person in their 20's would not have laying around the apartment)" I can always count on Drew to say "Oh you need plastic gloves used for marinating? We have those in the closet". We make it a habit to break all our wine glasses and when we finally run out, again we can count on Drew to say, "We have more in the closet". I couldn't ask for a better roommate. One thing that isn't compatible is Drew's love for sports, something Kelvin and I do not enjoy leading us to commonly veto his choice of TV programming unless he's watching Iron Chef. When Drew does watch sports, Kelvin will ask if he can simply fast forward to the end to unveil results not realizing that this is not the point of watching a game.
Drew has dinner at his parents' house every Tuesday and always comes back with jars of kimchi, a Korean side dish made with spicy preserved cabbage. I've yet to find a Korean mom who would be willing to teach me how to make kimchi – we will just have to save that for another entry. This week, we're making kimchi and pork pot stickers using Drew's homemade kimchi. A quick warning for those who have not had kimchi, it is not for everyone. Asian's have a habit of eating things that smell quite horrible but taste quite amazing. Kimchi is a preserved cabbage, generally the longer it's been sitting in the jar the better it tastes unfortunately the smell can be jarring for those who are new to it, so please proceed with caution. One thing I know for certain, Anthony Bourdain would try it (and probably has), so why shouldn't you?
Prep and Cook Time: 1½ hours | Makes 6 dozen dumplings
Ingredients:
½ lb of minced pork
5 cups of finely chopped kimchi
½ cup of finely chopped scallion
1½ cups of extra soft Korean tofu
1 tbsp of minced ginger
2 cloves of minced garlic
2 egg yolks
1 egg white
1 tbsp of sesame oil
2 tbsp of soy sauce
Salt and pepper to taste
Dough:
5 cups of flour
2 cups of water
Japchae (Korean Vermicelli):
1 bundle of dried Korean Vermicelli (1/2 lb or 250 grams)
4 tbsp soy sauce
2 tbsp white sugar
1 tbsp sesame oil
1 tbsp of vegetable oil
Dipping Sauce:
4 tbsp of soy sauce
½ tbsp of vinegar
½ tbsp of sesame oil
½ tbsp of chilli (optional)
1 tbsp of chopped scallion
Directions:
Prepare japchae according to instructions on the packaging. Once japchae is ready, drain and rinse. Using the same pot, heat a tablespoon of vegetable oil. Return noodles to pot and stir in remaining ingredients. Chop coarsely and set aside.
Prepare dough. Put flour into medium size mixing bowl. Pour water in a slow steady stream while mixing. When all water is mixed in pour out all the flour onto a clean surface and knead for a couple minutes. Let dough sit for around 10 to 15 minutes.
Meanwhile, in a large mixing bowl, add all remaining ingredients including the chopped up japchae and stir well.
Roll the dough out into a thin log so that it's ¾ inch thick. Divide into small pieces and roll into ¾ inch balls. Using a rolling pin press down and flatten the small ball of dough and slowly roll out into a circle, should be about 3-4 inches diameter. To ensure that the dumpling skin is circular make sure to turn the dough after each roll, continue to turn and roll until you've reached the desired size and thinness.
Spoon half a tablespoon of the kimchi mixture onto the dumpling skin, fold in half and press the sides together and pleat. Place the assembled pot stickers on a floured surface so that they don't stick. I would recommend cooking and sampling your first pot sticker and re-seasoning if there isn't enough flavor. If you find yourself short of dumpling skins and lots of extra filling, simply make more dumpling skins – this can happen depending on how thick you are rolling your skins so don't be surprised if you end up preparing more dough.
In a large skillet, heat a tablespoon of vegetable oil. Arrange dumplings on skillet with the pleated edge up. Cook on medium heat until the bottoms are lightly browned, approximately 2 to 3 minutes. Add 3 tablespoons of water and cover immediately and cook for an additional 3 to 5 minutes. Uncover and cook for another minute. Do not flip the dumplings, only the bottoms should be browned.
Research journal records a students ideas and findings during the course of a longterm research project for an education course, a student maintains a journal throughout a semester-long research project at a local elementary school