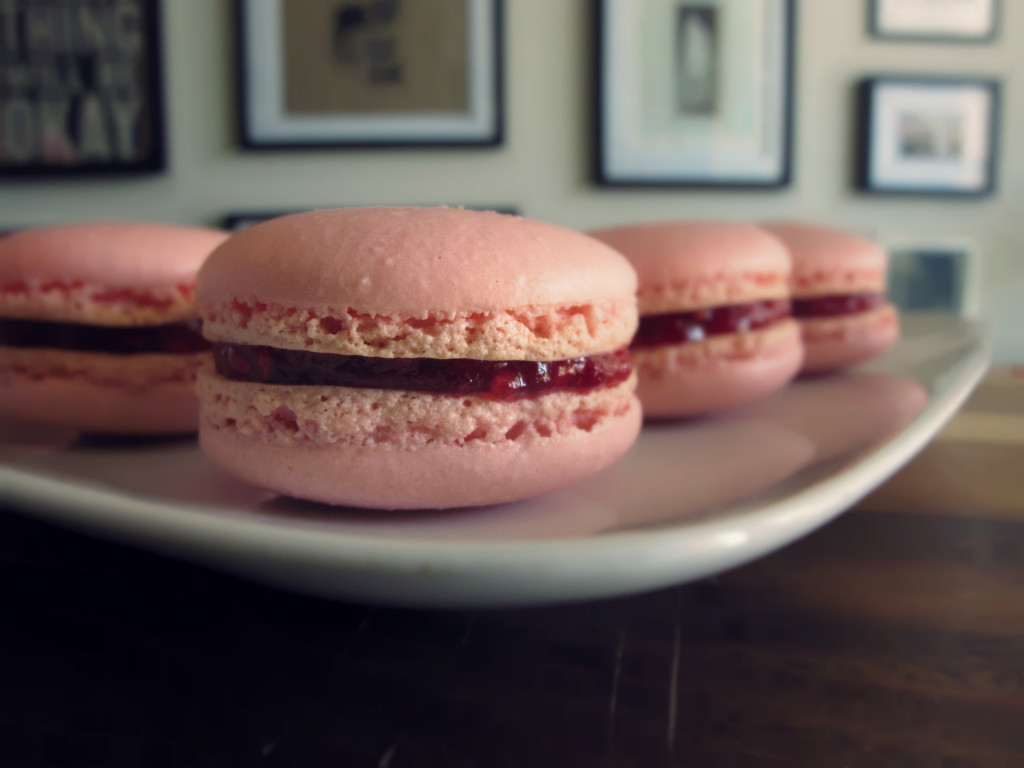 Laduree Raspberry Macarons
I can't tell you how long we've been wanting and waiting to make french macaroons and it was the first thing that crossed our minds when we got our new Kitchenaid stand mixers for Christmas. Yes, CHRISTMAS. We know, it's practically a culinary sin to leave a brand new Kitchenaid stand on your kitchen counter untouched for months. And it just occured to us that it's now almost mid May meaning we went half a year with 2 Kitchenaid stand mixers at our disposal and did not touch them once. Shame on us. In our defense, a lot of has happened since Christmas but there is no real excuse to not immediately whipping out a recipe and start mixing away!
Our first time making macaroons we thought we could whip up a batch using a hand mixer – silly us. There is no way a hand mixer can whip enough air into those egg whites!!
It was the perfect time to crack open the Laduree recipe book (which was still in the packaging from Christmas- insert eye roll here) and together we successfully whipped up a batch of delicious raspberry macarons…they had little feet and everything!
Enjoy the recipe!
Ingredients:
Raspberry Jam:
1 cup + 2 tbsp of granulated sugar (226 grams)
2 tsp pectin (powder)
3 cups of fresh raspberries (375 grams)
1/2 lemon
Macaroon Shells:
2 3/4 cups + 1 tbsp of ground almonds (275 grams, almond flour)
2 cups + 1 tbsp of confectioners' sugar (250 grams)
6 egg whites + 1/2 egg white
1 cup + 1 tbsp of granulated sugar (210 grams)
a few drops of red food coloring
Equipment:
Stand mixer with whip attachment
Piping bag fitted with a 1/2 inch plain tip
Directions:
Raspberry Jam: In a large bowl, mix together the sugar and pectin. Place the raspberries in a saucepan and puree them using an immersion hand blender. Turn heat to low and bring the puree to lukewarm. Add the sugar and pectin mixture, as well as the juice from the lemon half. Over medium heat, bring to a boil and cook for 2 minutes.
Pour jam into a large bowl and cover with plastic wrap. Allow to cool completely and then place in the refridgerator.
Macaron Shells: Combine the ground almonds and confectioners' sugar in a food processor and pulse to obtain a fine powder. Sift or strain through a sieve to remove any lumps.
In a clean, dry bowl, wish the 6 eggs to a foam. Once they are frothy, add a third of the granulated sugar and whip until sugar is dissolved; add another third of the granulated sugar, whip for another minute; finally add the remaining granulated sugar and whip for 1 more minute. Using a rubber spatula, delicately fold the sifted mixture of ground almonds and confectioners' sugar into the whipped egg whites. Add a few drops of food coloring to obtain the desired color. In a separate small bowl beat the remaining 1/2 egg white until just frothy. Then add to the final mixture, folding gently to slightly loosen the batter.
Transfer the mixture to the piping bag fitted with the plain tip. On a baking sheet lined with parchment paper, pipe small macaron rounds 1 1/4 – 1 1/2 inches in diameter. Lightly tap the sheet so the macaroons spread fully.
Preheat oven to 300 degrees. Allow the macarons to sit uncovered for 10 minutes and then place in the oven. Bake for approximately 15 minutes until they form a slight crust.
Remove baking sheet from the oven, and with a small glass, carefully pour a tiny amount of water in between the sheet and the parchment paper (lift the paper ever so slightly corner by corner). The moisture and steam that result from the water on the hot baking sheet will allow the macarons to peel off more easily once they are cool. Do not pour too much water as this could cause the macarons to become soggy. Allow to cool completely.
Remove half of the macaron sheels and place them upside down on a plate.
Spoon cooled raspberry into a clean piping bag fitted with a plain tip. Pipe a coin of raspberry jam onto the macaron shells resting upside down. Top each of the remaining macaron shells.
Keep macarons in an airtight container in the refrigerator for 12 hours before tasting. (I know it's hard to resist! But it's worth the wait!)