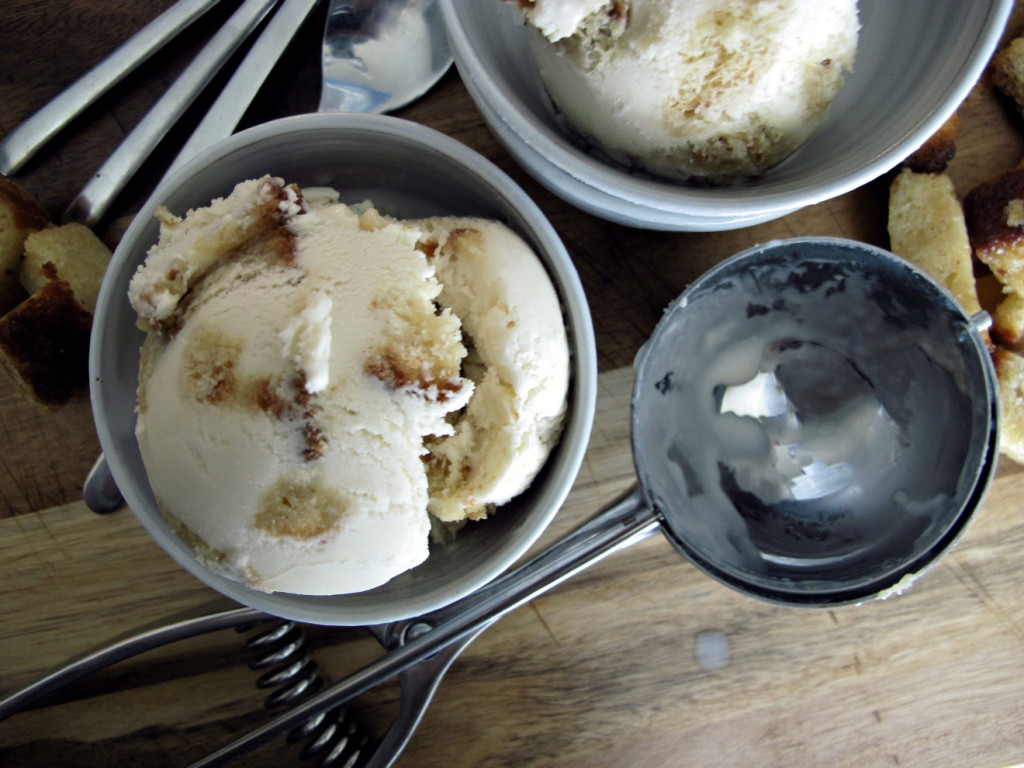 Maple Bread Pudding Ice Cream
Fall blows in with a gust of wind, casting fallen yellow and orange leaves into a chaotic spin.  Cold, plump drops of rain plunk down from the gray skies.  The colorful, flowing wardrobes of summer are stashed away to make room for rubber wellies and the wet black umbrellas of November.
Fall is a time of family gatherings and warm comfort foods that fill the belly and pacify the heart.  It's a time of bunkering down in front of a crackling fire with your lover, and wiping down wet doggie paws after a walk in the rain.  It is also a time of longing, for bright summer flowers to raise their heads to the blazing sun, and for our skin to bronze in the August heat.
The changing season inspires us to weave the warm, spiced flavors of fall into the carefree guilty pleasures that reign in the summer.  For Thanksgiving, we like to whip up a batch of Maple Bread Pudding Ice Cream, instead of the traditional heavy pies that follow a sleep-inducing turkey dinner.
We created this recipe last year, when our group of boisterous friends came over, all dressed up and ready to party, for a big Thanksgiving dinner party.  When cooking for a large crowd, we favor recipes that can be prepared in advance, and require minimal work to serve.
For this recipe, we baked a light brioche with maple syrup, vanilla, sugar, eggs and cream, to create a fluffy bread pudding that is delightfully delicious on its own.  The ice cream features cream cheese and light brown sugar, a lovely flavor base for the jewels of bread pudding.
A touch of creamy, silky ice cream after dinner is the perfect dessert, and more importantly, leaves everyone room for more wine!
Ingredients
Ice cream base:
2 cups of whole milk
1 tbsp of cornstarch
4 oz of cream cheese, softened
½ tsp of fine sea salt
1 ¼ cups of heavy cream
2/3 cups of packed light brown sugar
2 tbsp of light corn syrup
Bread Pudding:
4 large eggs
1 quart of whipping cream
1 cup of sugar
1 cup of maple syrup
1 tbsp of vanilla extract
350 grams of brioche cut into ½ inch cubes
Directions
Preheat oven to 375 degrees.
First prep ice cream base so that it can cool while you make the bread pudding. For the ice cream base, whisk cream cheese in a large mixing bowl and set aside. In a small bowl, whisk together 2 tbsp of milk and cornstarch – again, set aside. In a medium sized pot, combine remaining milk, heavy cream, brown sugar, maple syrup and corn syrup and bring to a boil for about 4 minutes. Remove from heat and whisk in cornstarch mixture. Return to heat and lightly continue to mix with a heatproof spatula until thickened. Remove from heat and slowly whisk into cream cheese until combined. Cover and refrigerate until completely cooled.
In the meantime, prepare bread pudding by combining eggs, whipping cream, sugar, maple syrup and vanilla extract. Add cubed brioche and coat brioche in mixture. Let it sit until all the liquid has been soaked up. In a 9 inch round pan, pour brioche mixture and bake for 30 minutes. Allow bread pudding to cool completely before making the ice cream.
From the moment the activity monitoring software is installed on the computer you want to track, it begins recording and relaying information directly to your mobistealth user account that you can access 24/7 from anywhere on the planet
http://besttrackingapps.com/