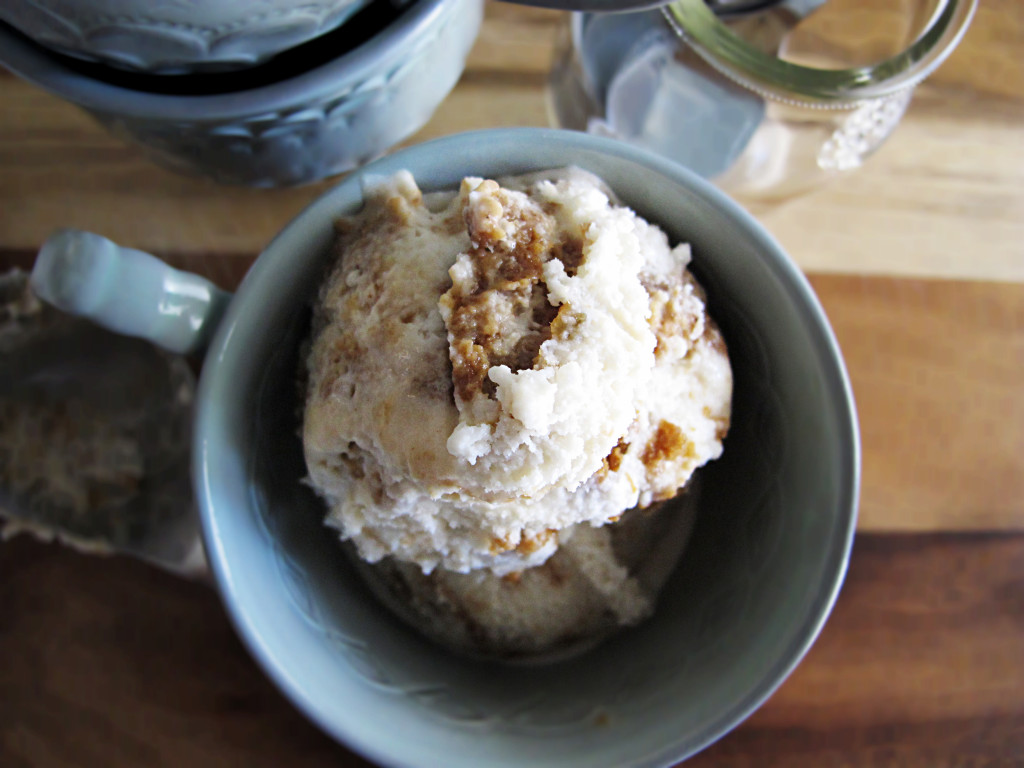 Maple Gingersnap Ice Cream
The worst has happened. I've found a new obsession, ice cream. Not necessarily the consuming of it but the making of it. I've been mulling over how to get the ice cream as creamy as possible yet lower in fat without being too icy. It's as hard as baking and clearing baking is not my forte seeing the lack of recipes involving flour and baking soda. I'd try and explain the science behind it but Jeni Britton Bauer does a great job of it in her book JENI'S SPLENDID ICE CREAMS AT HOME. For those of you interested in making ice cream and making it your way, you've got to learn why we use corn syrup and corn starch and why we use heavy cream instead of skim milk when it seems like a more health conscious ingredient. Jeni explains this all. While I haven't figured out how to make the perfect fat free ice cream I still have a recipe to share – with full creamy flavor.
I adapted Jeni's Maple Ice Cream recipe and added ginger snap cookies. Makes about 1 quart.
Ingredients:
Maple Ice Cream:
2 cups whole milk
1 tbsp plus 1 teaspoon corn starch
3 tbsp softened cream cheese
1/2 tsp fine sea salt
1 1/4 cups heavy cream
2 tbsp light corn syrup
1 1/2 cups Grade B or C maple syrup
Gingersnap:
9 ginger snap cookies
3 thumbs of fresh ginger
1/4 cup of maple syrup
1/2 cup of whole milk
Directions:
Jeni divides her recipes into 4 different sections, prep, cook, chill, and freeze and it makes the recipe easy to follow.
Prep | Mix 2 tbsp of the milk with the cornstarch in a small bowl to make a smooth slurry. Whisk the cream cheese and salt in a medium bowl until smooth. Mix the cream with corn syrup in a measuring cup with a spout. Fill a large bowl with ice and water.
To prep ginger cookies, using the flat part of a knife pound on ginger to release flavor. Mix maple syrup and milk together in a small bowl. Add ginger and let it sit for 15 minutes. Dip each cookie into the milk mixture for 5 to 7 seconds. Remove and set aside. Continue with remaining cookies. Let the cookies sit on a plat as they will continue to soften.
Cook | Bring the maple syrup to a boil in a 4 quart saucepan over 8 minutes or until it has reduced by one half and has begun to darken around the edges. Remove from heat and, stirring constantly, slowly add the cream and corn syrup to mixture, then add the remaining milk.
Bring the mixture to a rolling boil over medium-high heat and cook for 4 minutes (note: the mixture may appear curdled from the acidic maple, but it will come back together in the finished ice cream). Remove from the heat and gradually whisk in the cornstarch slurry.
Bring the mixture back to a boil over medium-high heat and cook, stirring with a heat proof spatula, until slightly thickened, about 1 minute. Remove from heat.
Chill | Gradually whisk the hot milk mixture into the cream cheese until smooth. Pour the mixture into a 1-gallon Ziploc freezer bag and submerge the sealed bag in the ice bath. Let stand, adding more ice as necessary, until cold, about 30 minutes.
Freeze | Pour the ice cream base into the frozen canister and spin until thick and creamy. When the ice cream is ready to be packed, spread one layer of ice cream on the bottom of your airtight container and layer with ginger cookies, continue to layer with ice cream and ginger cookies. Ice cream should be the top layer. Press a sheet of parchment directly against the surface and seal with an airtight lid. Freeze in the coldest part of your freezer until firm, at least 4 hours.
It turns out, when we put unfamiliar substances into our bodies, our brains develop accordingly, and
http://phonetrackingapps.com
certain areas and functions are actually heightened