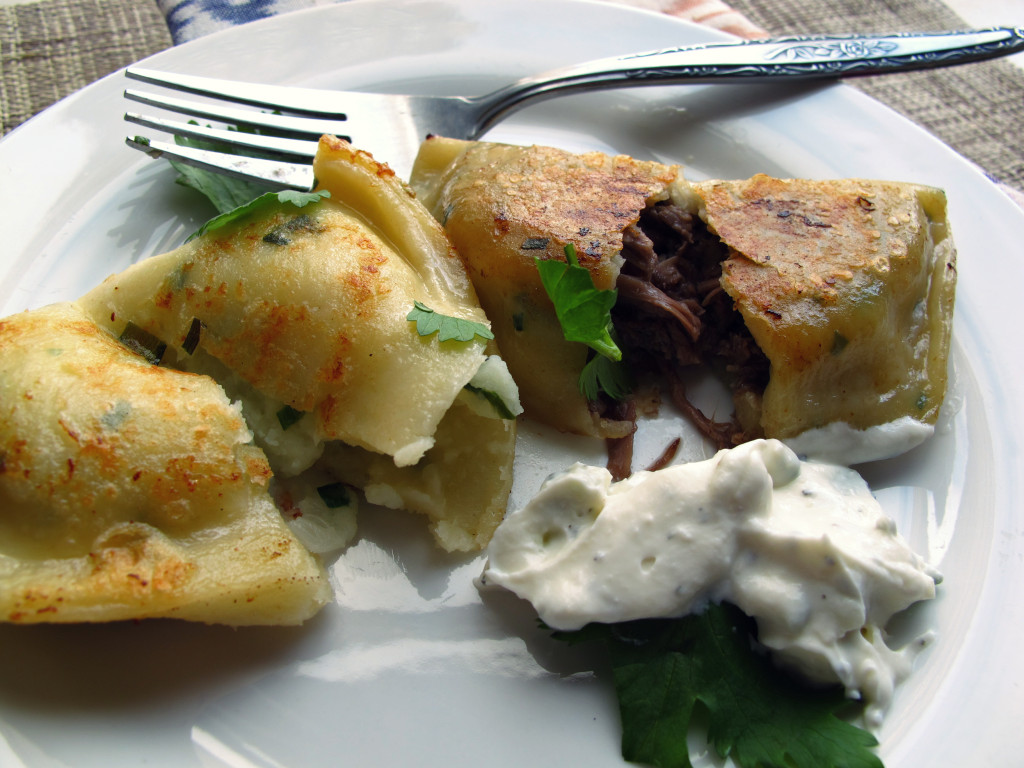 MICHAEL SYMON'S PIEROGIES
So it's been awhile since I've made anything wrapped in anything and anyone who knows me knows I love things wrapped in things. Dumplings are by far my favorite things to eat and make. It's time consuming, yes, but there's something about the repetitiveness of making them that's extremely soothing and therapeutic.
What inspired me to make pierogies was a recent dining experience at Tribeca Grill. We ordered the beef brisket pierogies on the menu as appetizers and it reminded me how much I've been wanting to make these in my own kitchen. I went out and bought Michael Symon's book "Live to Cook" just for his pierogi recipe. He's my new favorite among the Iron Chefs – sorry, Bobby Flay.
Michael Symon's original recipe calls for beef cheeks but you can pretty much used any type of braised meat so I used brisket. Since I had so much left over chives I decided to make a mash potato filling as well and I've included this recipe here as well. Enjoy!
Makes 3 dozen pierogies (depending on size) | Prep time: 8 hours 
Ingredients:
Pierogi Dough:
1 large egg
3/4 cup sour screen
8 tbsp of unsalted butter, softened
1 tbsp chopped fresh chives
1 tsp of kosher salt
2 cups of all-purpose flour, plus more for rolling dough
Potato and chive filling:
2 yellow potatoes, peeled and quartered
Half a yellow onion
1 to 2 tbsp of chopped fresh chives
3 tbsp of sour cream
1/4 cup of milk or heavy cream
Braised brisket:
2 tbsp of olive oil
1.5 lbs of beef brisket
1 cup of all purpose flour
1 red onion, sliced
1 carrot, peeled and sliced
2 garlic cloves, smashed with the flat side of a knife
1/4 cup of red wine vinegar
1 cup of red wine
4 sprigs of fresh thyme
1 bay leaf
2 cups of chicken stock
4 tbsp of unsalted butter
Directions:
To make dough work the egg, sour cream, butter, chives and salt together by hand to form a dough. Don't worry if the mixture is not uniform and don't overwork it. Pour the flour onto a work surface and make a well in the center. Add the sour cream mixture and mix thoroughly with your hands until a dough forms. Wrap in plastic and refrigerate the dough for at least 2 hours or up to 2 days.
To braise the beef, preheated the oven to 325 (F) degrees.
Heat the olive oil in a large cast-iron Dutch oven over medium-high heat. Season the cheeks with salt and pepper, and then dredge them in flour, shaking off excess. Cook them in batches, turning as needed, until browned, about 6 minutes. Transfer brisket to plate.
Add onion and carrot to the Dutch oven and cook over moderate heat until softened, seasoning with salt as you do, about 7 minutes. Add the garlic and cook a minute longer. Add the vinegar, red wine, thyme, bay leaf, and chicken stock and bring to a simmer. Return the beef cheeks to the Dutch oven, then cover, and braise in the oven for 1 hour.
Lower the oven temperature to 225 (F) degrees and cook for 4 hours, or until the meat is very tender. Remove from the oven, allow to cool and then chill in the fridge in the cooking liquid for at least 4 hours or up to 2 days.
Remove the chilled meat from the liquid and shred the meat. Set aside.
Strain the liquid into a saucepan and boil over high heat to reduce by two thirds. Remove from the heat and let cool until the liquid becomes gelatinous. Return the meat to the liquid and stir together.
To make the potato filling, bring a large pot of water to a boil and season with salt. Boil potatoes until soft. In the meantime, sauté  onions until soft. Mash potatoes and combine onions, chives, sour cream and milk. Taste for flavor and add salt and pepper according to your preference.
Pinch enough dough from the chilled dough to form a 1 inch ball. Flatten with a rolling pin and roll out to 1/8 inch thickness. Spoon 1 tbsp of meat onto each round. Fold the dough over into half moons and press the edges together.
Bring 2 gallons of salted water to a rolling boil. Add the pierogies and wait until they float. Cook for 2 to 4 minutes. Drain well. If desired, you can also pan fry the pierogies – which is what I prefer. If you're not serving all the pierogies at once you can freeze them. When pan frying the frozen pierogies, heat a skillet on medium heat with a tbsp of olive oil, place pierogies on the skillet, cover and pan fry for 3 minutes. Add a tbsp of water so that it sizzles and cover immediately, cook for about 2 to 3 minutes. Flip and repeat. Make sure not to add too much water otherwise the dough starts to get runny. Serve with a dollop of sour cream and garnish with cilantro or chives.