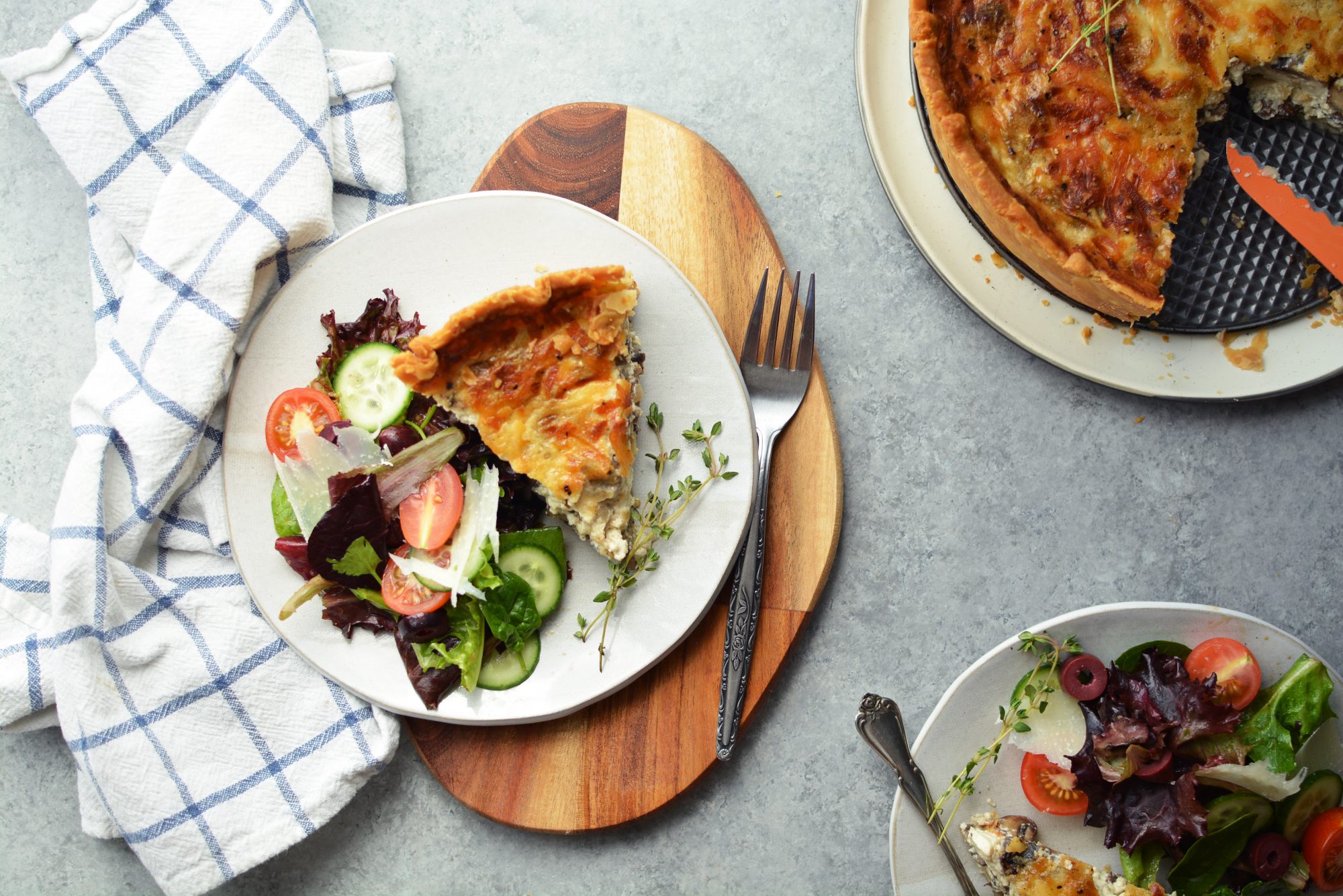 Mushroom Gruyère Quiche
Wedding and baby shower season is upon us again! If seeing non-stop engagement, wedding, and baby photos on Facebook wasn't enough already, here's a recipe for all of those occasions too, ha!
Friends ask me all the time what to make for bridal and baby showers. You want something that can be made in advance, enjoyed in a mingling environment, and is, of course, delicious. Quiche is the perfect dish for these occasions. It's sophisticated but not fussy, is perfect served at room temperature, and is vegetarian friendly.
This Mushroom Gruyère Quiche is my all time favorite quiche recipe. I started making this quiche recipe a couple years ago when I tried the quiche at Bouchon in Napa. Thomas Keller's technique has completely changed the way I make quiche. What makes his recipe so special is that he blends the eggs, milk and cream together to add air into the mixture, which makes the custard fluffy. Since it's an airy and foamy filling, the quiche ends up being 2-3 inches tall. Every time I make it aim for more height!
Recipe adapted from Thomas Keller's Bouchon Cookbook.
Serves 12 | 2.5 hours
Ingredients
Custard
8 eggs
2 cups heavy cream
2 cups milk
Dash of nutmeg
1.5 tsp salt
Black pepper
Quiche Filling:
24 – 30 oz of assorted mushrooms, sliced (I prefer mine with more mushrooms)
2 small shallots, diced
6 sprigs thyme
4 tbsp butter
8oz Gruyère cheese, grated
Crust:
2 premade frozen Pillsbury pastry shells, brought to room temperature
Special Equipment:
Rolling pin
9 inch springform pan
Pie weights, or dried beans and aluminum foil
Directions
Preheat oven to 375°F, and grease the springform pan.
Unroll the first pastry shell and lay it on a floured surface. Unroll the second pastry shell and lay on top of the first. Take a rolling pin and roll out the pastry shells so that they come together and start to form a bigger circle. Creating a larger pastry shell will give you a quiche shell that has significantly more height. Roll it out until it's big enough to cover your springform pan with 1 inch overhang. Leave the overhang as your quiche shell will shrink when you bake it. Line your pastry shell with pie weights, or aluminum foil and then fill with beans. This will weigh the pastry shell down so the bottom is flat. Bake for about 10 mins, remove the beans, and bake for another 10 mins. Before assembling the quiche, set the springform pan on a baking sheet so you can easily transfer it to the oven.
In a large skillet, melt butter over medium heat. Add shallots, thyme, and mushrooms. Season with salt. Sauté for about 20 to 30 minutes, until mushrooms are soft and have released their liquid. Set mixture aside. Grate cheese and also set aside.
Once quiche shell and filling are ready, prepare the custard. In a blender, add 4 eggs, half of the cream, milk, salt and add a dash of nutmeg and fresh ground black pepper. Blend for about 20 seconds until foamy. Line the bottom of the quiche shell with a 1/3 of the cheese, and half of the mushroom mixture, and fill with the blended custard. Top with another 1/3 of the cheese and remaining half of the mushrooms. Blend the remaining half of the custard, and pour the blended mixture over the mushrooms. Finally, top with the remaining 1/3 of the cheese.
Bake quiche for 1.5 hours, covering quiche with aluminum foil after 45 minutes so that the crust doesn't burn. After 1.5 hours, use a toothpick to determine the whether custard has set, the toothpick should come out clean. Once quiche is done, let cool at room temperature, then remove the springform cage and place in the fridge. Cool quiche completely before serving, otherwise it will be difficult to cut.
When you're ready to serve, cut quiche into individual slices and then reheat in oven at 375°F. Serve with a fresh green salad!