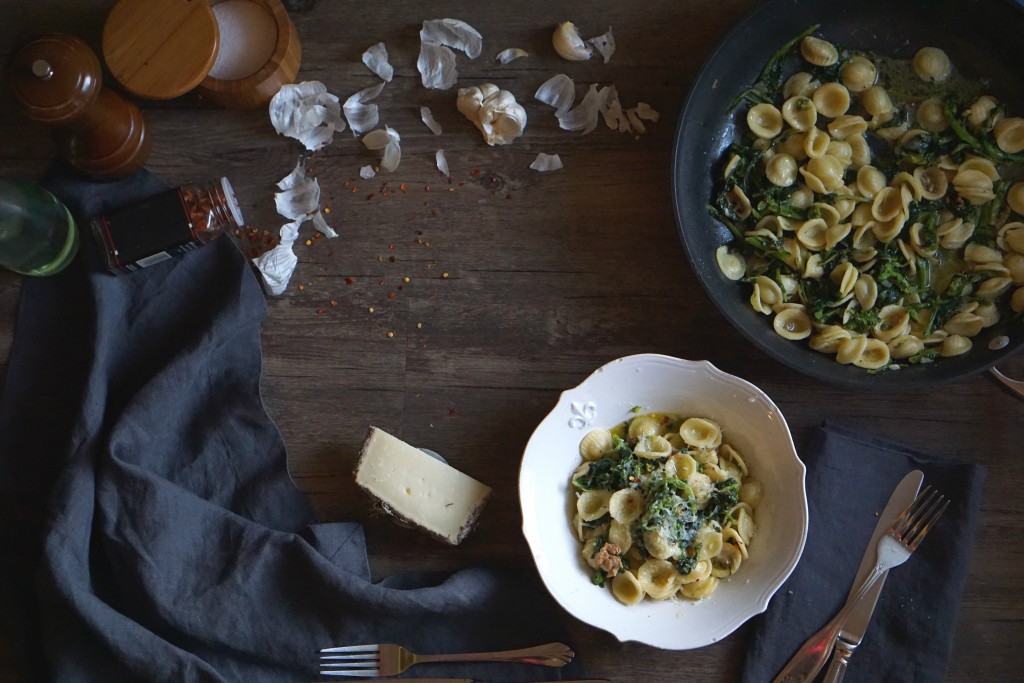 Orecchiette with Sausage & Broccoli Rabe
The first thing every Italian says about Italian food is the importance of using the best ingredients. Recipes are often simple, and require seasonal, local ingredients plucked at the peak of ripeness. Growing up in a place where pastas are always smothered in a jarred tomato or cream sauce, I didn't know what a truly great, simple pasta was until I tried Lidia Bastianich's pasta with sausage and broccoli rabe. How can so few ingredients result in such an explosion of complex flavors??
Mind. Blown.
This, I know now, is the magic of simple Italian food. Every ingredient shines on its own, but come together to form something altogether different and utterly magical. In this case, it's the pleasant bitter, savory, umami, garlicky flavors, combined with rich, unctuous textures, and a hint of dry roast spiciness.
There is no wine, cream, or tomato sauce in this dish. This sauce is made with broccoli rabe, sausage, and a good pour of peppery olive oil, enhanced with garlic, chicken stock, and pasta water. Quickly braising the broccoli rabe brings out its incredibly tasty, slightly bitter flavor, which is further enhanced by the porky richness of the sausage. The pleasant bitterness is reminiscent of clams or mussels steamed with leeks & butter in a bitter IPA, and if you haven't tried that, you haven't lived!
It's a simple dish, so every element needs to be prepared well. The pasta must be cooked very al dente, in generously salted water. It also can't sit around while you finish the sauce, so don't cook the pasta before starting the sauce. Finally, the dish is not shy in olive oil or butter, and neither should you be.
4-6 servings | 45 minutes
Ingredients:
1 lb box of orecchiette
1/4 cup olive oil
3 large garlic cloves, crushed
1 large bunch broccoli rabe, tough stems removed and roughly chopped (about ~2 lb)
1 1/2 cups low-sodium chicken stock (preferably homemade)
1 cup reserved pasta water
3 mild Italian sausages
2 tbsp unsalted butter
1 cup freshly grated Parmigiano Reggiano
Pinch of crushed red pepper
Salt to taste
Directions:
NOTE: Low-sodium stock is to prevent over-salting, as the sausages, stock, parmesan, and salted pasta water all add salt to the orecchiette. Also, homemade chicken stock is best, because it has fat and collagen that makes for a thicker sauce.)
Remove the sausages from their casings and break into small pieces. Cook in a large pan over medium-high heat, breaking up the sausage even further with a wooden spoon, until browned. Set aside.
Cook the pasta in a large pot of boiling salted water until very al dente. Drain well.
While pasta water is heating up, heat olive oil and garlic in the same pan used to cook the sausage. Cook over medium heat until garlic is light golden in color, being careful it doesn't burn. Add the broccoli rabe and crushed red pepper. Cover and steam for 3 minutes. Stir in the chicken stock, sausage, and butter. Cook uncovered over high heat until the sauce reduces slightly, about 3 minutes. If the sauce is too dry, add pasta water, 1/2 cup at a time. I like this dish a bit more brothy than what is produced by the original recipe, so I will use all the reserved pasta water, but you can play around with the recipe. Season to taste with salt.
Add orecchiette and half the cheese to the pan, tossing gently. Serve immediately, garnishing with the remaining cheese and a good drizzle of olive oil.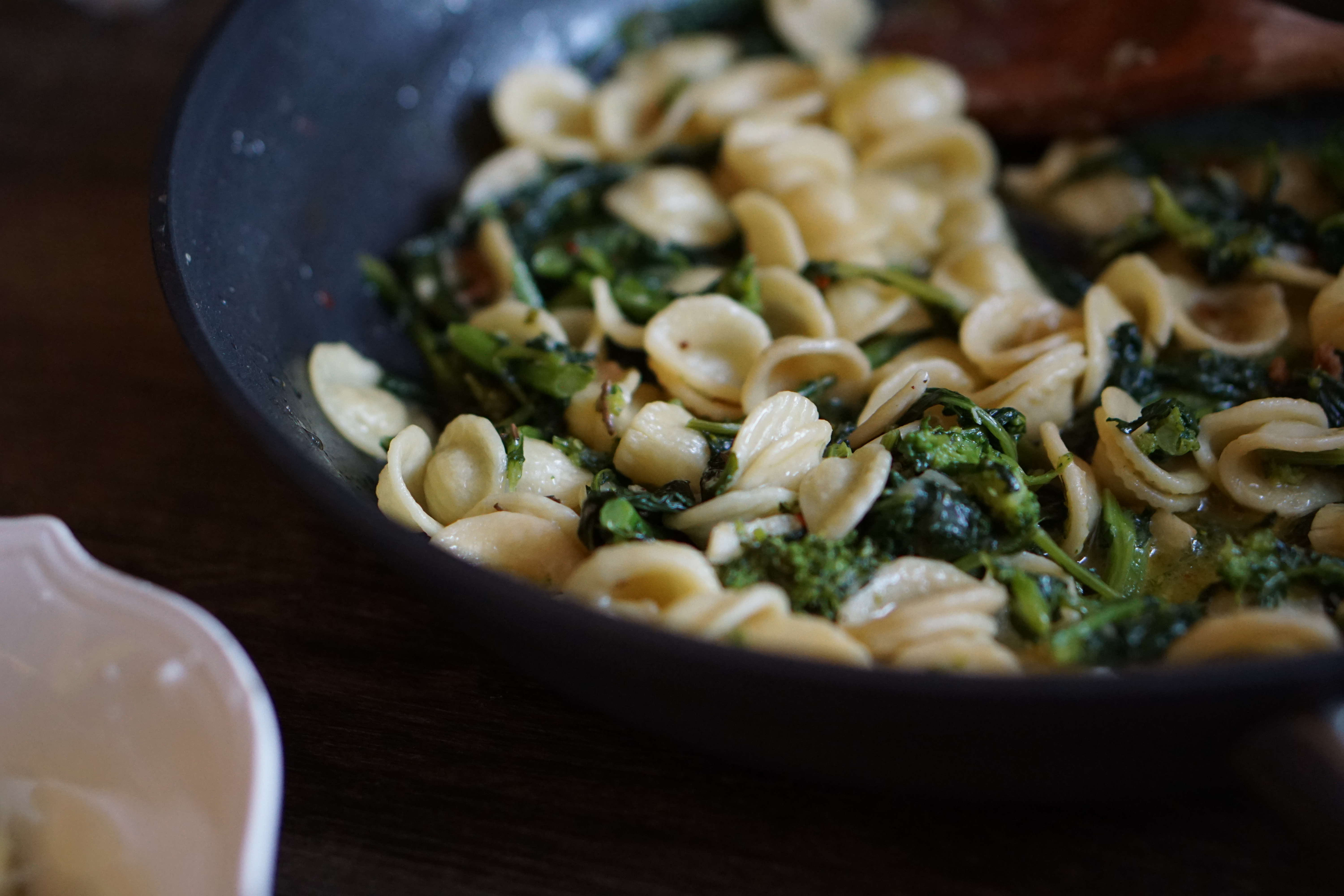 ---
Written & photographed by Jen Yu.