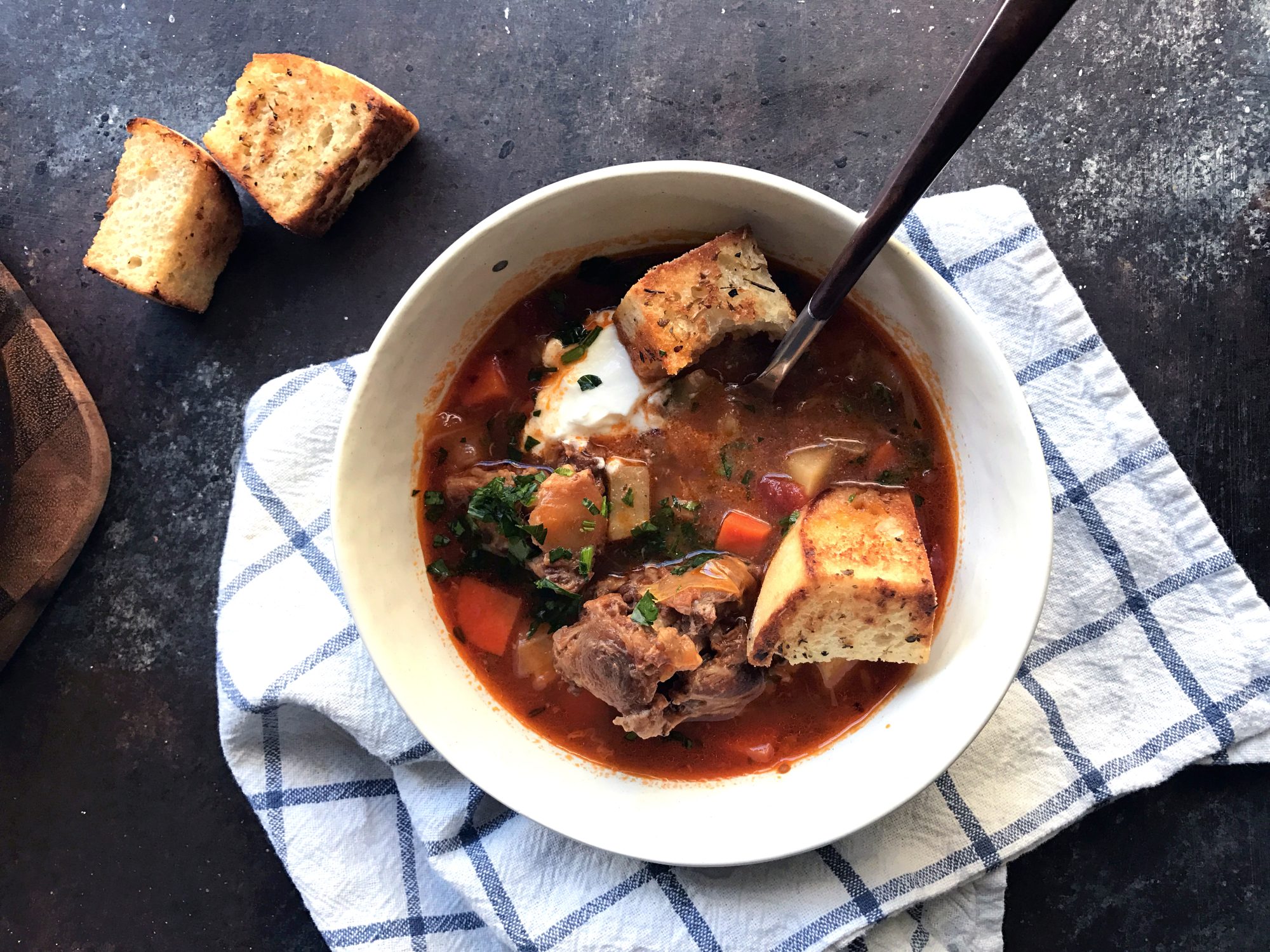 Oxtail Soup
Oxtail represents everything I love about meat – it's mostly bone, cartilage, and tendon (hello flavor!). The bone is surrounded by little morsels of the flavorful, chewy, tender meat that's characteristic of an animal's boney parts, like duck or chicken neck. Some people hate working for their food, but it makes it so much more enjoyable for me. I could sit there hacking away at a crab, or picking apart meat all night!
I love this tomato based oxtail soup because it's simple, rustic, and packed with rich umami flavors from the tomato and oxtail. We like to toast up some oregano ciabatta croutons to soak up the broth, and add a little sour cream for a Russian flair.
Serves 4 | 4 hours 
Ingredients
Oxtail Soup:
4 to 6 large pieces of oxtail (~2lb)
1 28oz can of San Marzano crushed tomatoes
3 bay leaves
2 large onions, peeled and halved
2 large tomatoes, quartered
1 large carrot
1 large potato
4 cups chicken stock
Half head of green cabbage
1 bunch parsley
Sour cream
Oregano Croutons:
Half loaf of ciabatta
1 tsp dried oregano
Olive oil
Directions
Oregano Croutons: Cut ciabatta into 1.5 inch cubes. Toss generously with olive oil and oregano. Grill or croutons on each side, over medium heat, until golden brown. Set aside.
Oxtail Soup:
In a large dutch oven, heat olive oil over medium-high heat, and brown oxtail on all sides. Add onions, tomatoes, can of crushed tomatoes, bay leaves and enough water to just cover all ingredients. Cover and simmer on low for 3 hours, or until oxtail is tender. If the liquid evaporates too much, add a bit more water. Stir periodically to ensure oxtail is not sticking to the bottom of the pot.
While oxtail is simmering, dice potatoes and carrots into bite size pieces. Chop cabbage. Finely chop parsley.
Once oxtail is tender, remove onions and bay leaves. Add chicken broth, carrots, potatoes and cabbage. Salt to taste. Simmer for about 30 minutes or until vegetables are soft. Add a handful of chopped parsley. Simmer for another 10 minutes.
To serve, ladle soup into bowls and garnish generously with parsley, croutons and sour cream.