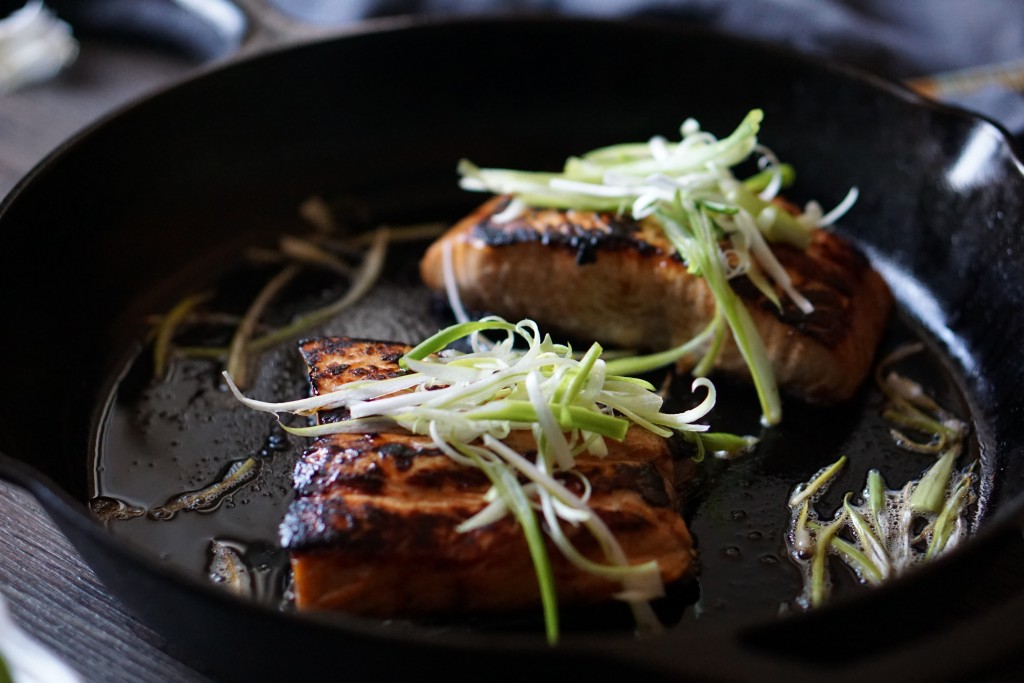 Perfect Salmon
There are few culinary crimes worse than dry, stringy, overcooked salmon. What a tragic use of a beautiful, flavorful, fatty fish… Seriously, just don't do it!!
The secret to perfect salmon is to slightly under-cook it, and take it out while it is still medium rare in the middle.  The residual heat from the cooking process will bring the salmon to a perfect doneness while you prepare the sauce. The skin will be crispy, and the inside buttery, tender, and silky.
This perfect salmon recipe is my all-time favorite quick weeknight dinner meal. I make it at least once a week, and everyone who tries it can't get enough! Drizzled with an umami-packed, sweet & savory sauce, and served with sticky white rice, stir-fried green veg, and roast seaweed, it literally is the best salmon ever!
2 servings | 30 minutes  
Salmon:
2 skin on filet portions of salmon (~1 inch at the thickest part)
1 tbsp cooking oil (Canola oil is perfect for this)
Marinade:
1/4 cup + 2 tbsp sake
2 tbsp soy sauce
1 tbsp sugar
2 tbsp mirin
1 tsp sesame oil
2 slices ginger, about the size/width of a quarter
Directions:
Preheat oven to 400 degrees F.
Combine marinade ingredients in a shallow bowl that's big enough to fit the salmon, and stir until sugar is mostly dissolved. Place salmon flesh side down in the marinade, and allow to sit at room temperature for up to 20 minutes. Remove salmon from marinade.
Heat an oven-safe frying pan on high heat. Drizzle cooking oil in the pan. Place salmon, flesh side down, and sear for a minute or so. This can get a little messy, so use a splatter screen if you wish. Flip so salmon skin is on the bottom, and place in the oven. (Note: it is easiest to do this in a non-stick pan that is also oven-safe). Roast for about 7-8 minutes, depending on thickness of salmon. 7 minutes usually gives you the perfect, just cooked through texture. Increase to 8 minutes if you have salmon that is more than 1 inch at the thickest part. If the fish is thin (<1 inch), decrease time to 6 minutes.
After 7 minutes, remove salmon and place on a plate, loosely covering with foil until ready to serve. The salmon will continue to cook after it's out of the oven, so it should not be fully cooked on the inside at this point.
In the same pan used to cook the salmon (use a glove so you don't burn yourself on the handle!), add reserved marinade and bring to a medium simmer on the stove top. Reduce by about half, until the marinade is slightly sticky and has the consistency of syrup.
To serve, drizzle sauce over salmon and steamed white rice, garnishing with a little julienned green onion if you wish. Serve with stir fried green veggies. I also love to wrap bites of rice, salmon, and avocado in Korean seaweed.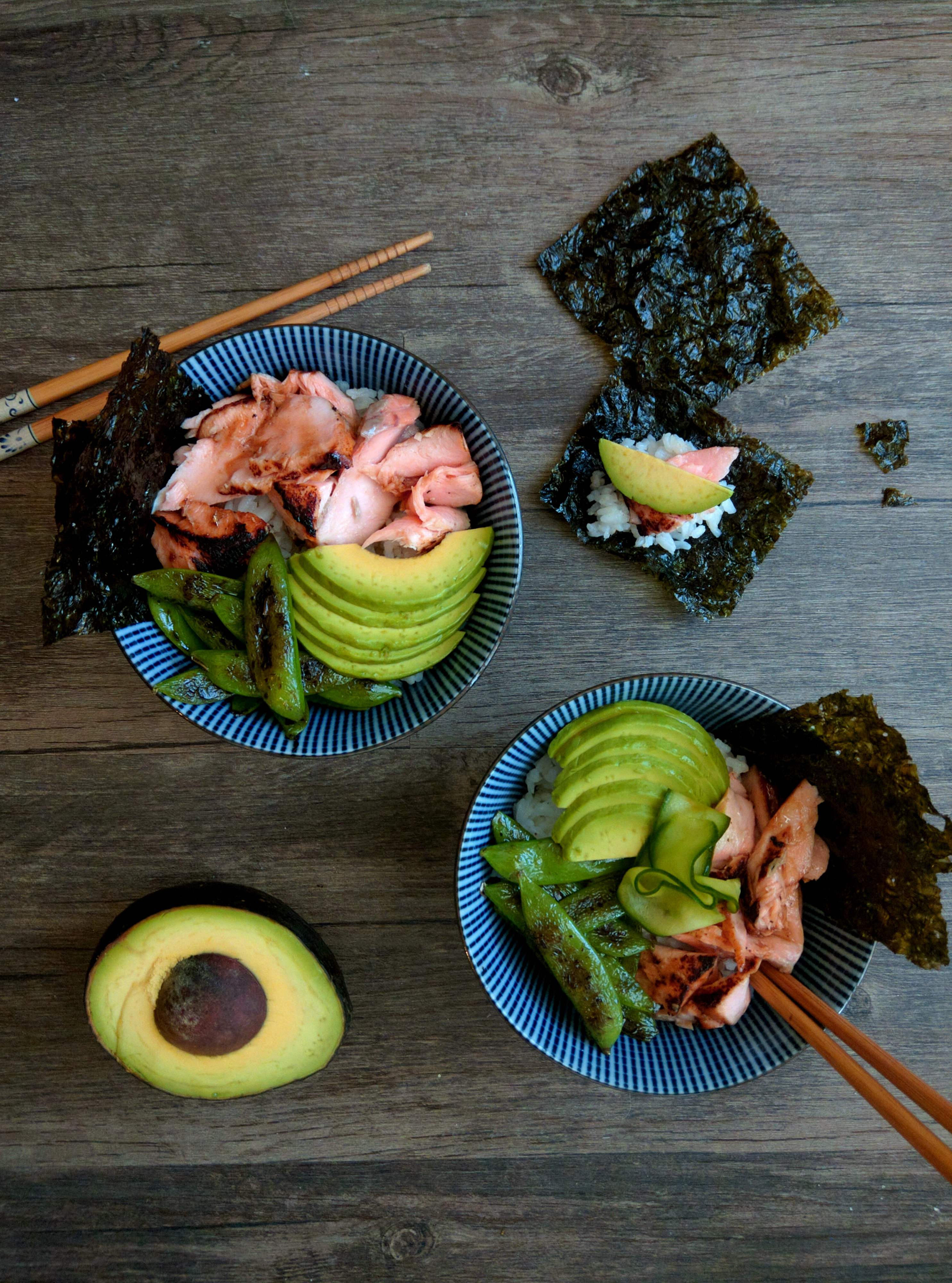 ---
Written & photographed by Jen Yu.
In the city, unexpected red lights cause collisions, and parents walking their
spyappsinsider.com/
children are run over on the sidewalk