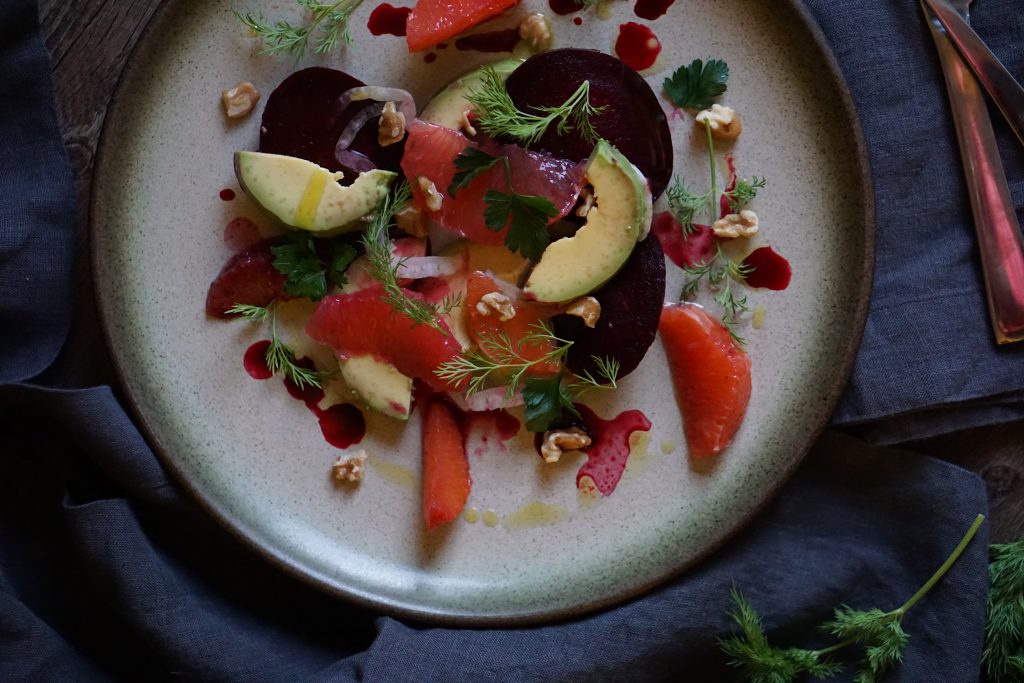 Roast Beet, Citrus & Avocado Salad
Is there anything more distinctively Californian than a big colorful platter of farmer's market vegetables, picked at the peak of growing season, prepared simply and dressed lightly with a simple dressing? Winter and spring beets in red, golden, and candystripe shades. Firm, buttery avocados with perfect pale yellow & green flesh. An abundance of locally grown citrus fruits throughout the winter months, like blood & Cara Cara oranges.
Fresh, in-season vegetables are stars of this Roast Beet, Citrus & Avocado Salad, without being stampeded by a barrage of salty/meaty/cheesy toppings that drown veggies in less sunny parts of the country.  The veggies are enhanced by a simple dressing of olive oil, sherry vinegar, and freshly squeezed orange juice, which are subtle enough to let the flavors of the veggies shine.
This is one of my go-to dinner party salads, and is a take on the recipe from the Gjelina cookbook. The beets can be roast the day before, leaving less work as guests arrive. For dinner parties, I like to arrange this salad in a huge platter, and pass it around the table family style.
6-8 side servings | 1.5 hours
Ingredients:
4 medium size beets (red, yellow or a mix)
2 navel oranges or 3 blood oranges, sectioned
3 tablespoons hazelnuts or walnuts, lightly toasted & roughly chopped
1 large ripe avocado
1/2 fennel bulb, thinly sliced. Keep fronds for garnish.
2 tbsp Extra virgin olive oil
Salt & freshly ground black pepper
1-1/2 tablespoons sherry vinegar (you can substitute white or red wine vinegar, which will give the dish a different flavor but will still be delicious)
2 tablespoons freshly squeezed orange juice
Directions:
Preheat oven to 400 F. Wash beets. Wrap beets in foil and roast for approximately 1 hour, until beets are tender when pierced with a sharp knife. Let cool, remove the skins, and cut each beet into 6 wedges.
While beets are roasting, prepare the rest of the salad. Section the oranges (see video tutorial), and set aside in a small bowl. Lightly toast nuts in a pan until fragrant and light gold in color, and set aside.
Next, make the dressing by combining olive oil, sherry vinegar, and orange juice. Season to taste with salt and pepper. When beets are ready, toss in half the dressing, and let them rest at room temperature.
Just before serving, thinly shave half a fennel bulb, and slice the avocado lengthwise.
To serve, arrange the beets on a large platter with avocado, fennel and orange sections. Sprinkle with toasted nuts. Drizzle with the remaining dressing. Garnish with fennel fronds.
---
Written & photographed by Jen Yu.