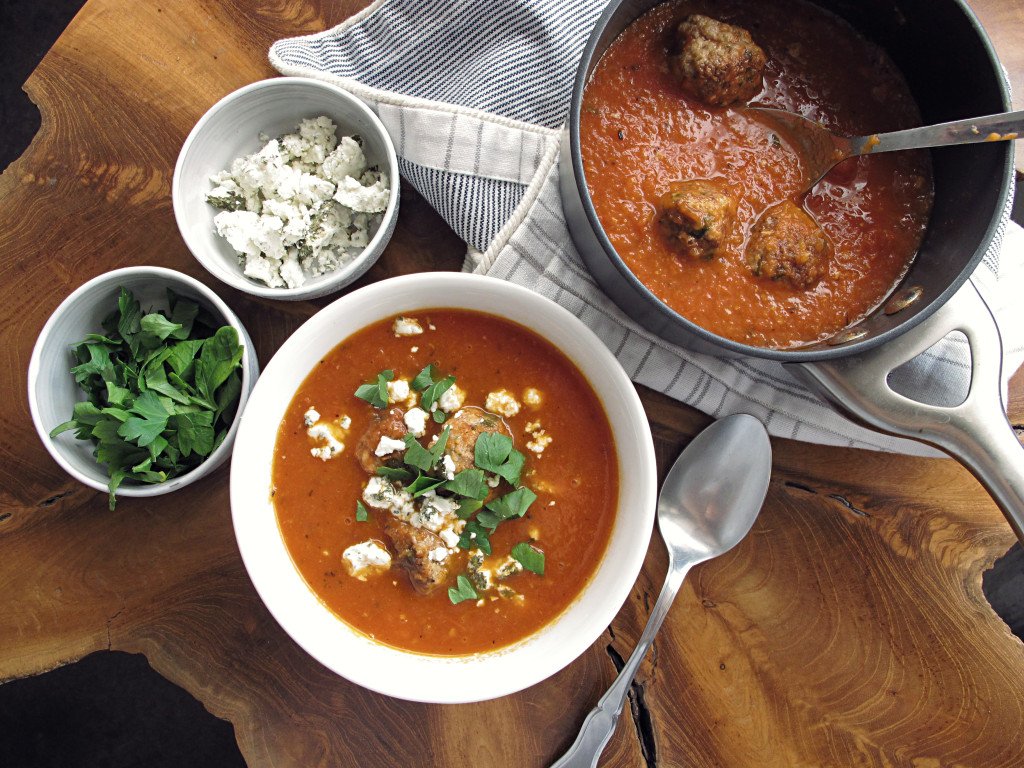 Roasted Tomato Soup with Meatballs
This soup really hits the spot. It's basically like having spaghetti and meatballs without the pasta. The idea of having to roast the tomatoes first seems like a pain in the ass but the flavor you get from it is without a doubt worth the wait and extra effort. If you're not in the mood for making soup, the pureed roasted tomatoes also makes for a great pasta sauce.
Prep and cook time: 1 hour | Serves 6
Ingredients:
Soup:
5 lbs of plum tomatoes
5 garlic cloves, peeled and minced
2 tbsp of fresh rosemary leaves, finely chopped
3 tsp of freshly ground black pepper
2 tsp of freshly ground sea salt
3/4 cup of olive oil
3 1/2 cups of chicken stock
Parsley and crumbled goat cheese to garnish (optional)
1 tbsp of sugar
Meatballs:
1/4 lb of ground pork
1/4 lb of ground beef
1/2 cup of Italian seasoned bread crumbs
1 egg
2 garlic cloves
1/4 cup of chicken stock
1/4 cup of finely chopped flat leaf parsley
1/2 tsp of salt
Directions:
Preheat oven to 375 degrees.
Cut tomatoes in half and remove the stem, seeds and membranes. I find that the easiest way to do this is using aGRAPEFRUIT SPOON. If your tomatoes are extra ripe and juicy, as you're cutting them place them cut side down on a cooling rack to drain (make sure you have a plate under the cooling rack!).
In a large mixing bowl, combine rosemary, garlic, salt, pepper and olive oil. Add tomatoes and toss until evenly coated. Line two large baking trays with parchment paper and arrange tomatoes cut side up. Drizzle any remaining olive oil mixture onto the tomatoes and pop the two trays into the oven for 45 minutes or until lightly browned around the edges – timing will all depend on your oven.
In the meantime, prep the meatballs. This meatball recipe is adapted from my Spaghetti and Meatballs, this is a simpler and less fattening version. In a small bowl, combine chicken stock and bread crumbs and set side. In another small bowl, combine beaten egg with garlic and salt. Pour egg mixture into bread crumb and milk mixture and mix well. Pour into a large mixing bowl along with pork, beef and parsley and mix well. Shape meat mixture into 1 inch meat balls – smaller or larger depending on your preference. I was able to form 24 mini meatballs. Set aside.
Once your tomatoes are ready to go, puree them in a food processor. Don't worry about the tiny charred pieces of tomato – they add nice flavor to your soup. In a medium soup pot, combine chicken stock and pureed roasted tomatoes and simmer. Season with salt and sugar – taste and adjust seasoning according to your preference. In a skillet, heat olive oil and pan fry meatballs until lightly browned. Add meatballs to the soup and simmer for another 10 to 15 minutes before serving.
Ladle soup into a bowl with 3 to 4 pieces of meatballs and garnish with parleys and goat cheese. Serve with a side of bread if you fancy!
The government is trying to appease its residents, and one can warrant that the role
http://domyhomework.guru/
of the government is to please the people