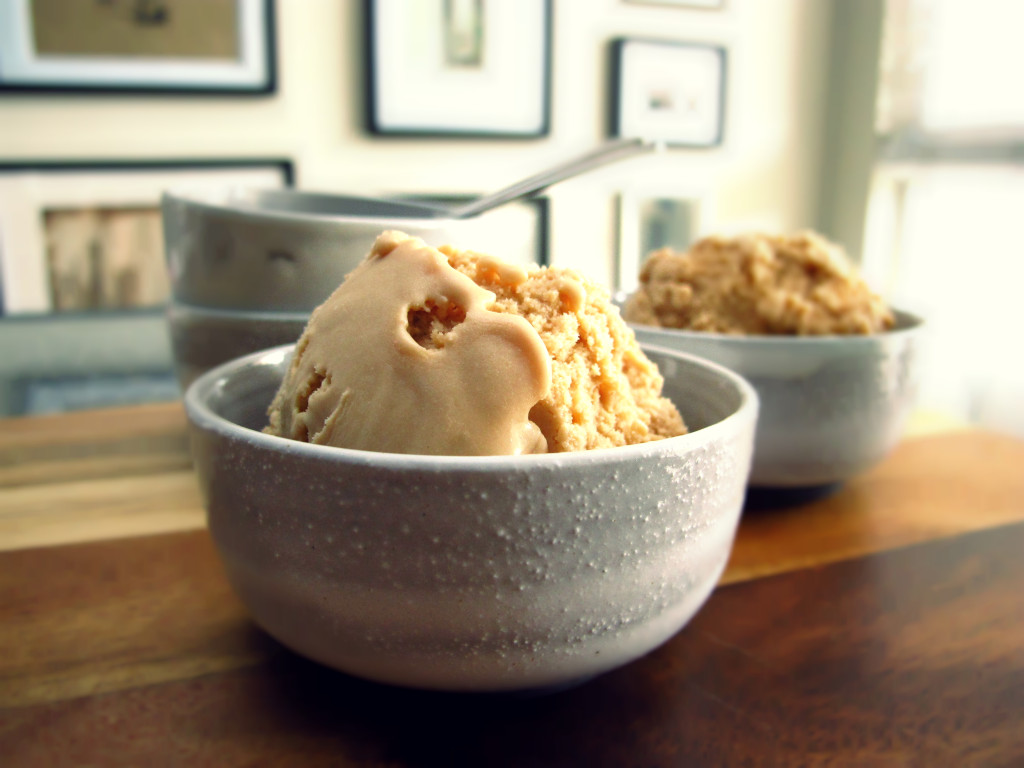 Salted Caramel Ice Cream
This salted caramel ice cream recipe is definitely a keeper. I adapted it from Epicurious and reduced the amount of sugar used and replaced heavy cream and whole milk for half and half and 2% milk. Something I learned about cutting down on calories is never use Splenda. It completely ruins the taste of ice cream since Splenda is so over powering. I haven't tried using agave or other natural sweeteners but it's next on my to-do list. In the meantime, try out this salted caramel ice cream recipe, just as creamy minus half the calories!
Ingredients:
1 cup of granulated sugar
1 ¼ cups of heavy cream
½ tsp vanilla extract
½ tsp flaky sea salt
3 eggs
1 cup of half and half
1 cup of 2% reduced fat milk
Directions:
To make caramel: Heat 1 cup of granulated sugar in a dry heavy skillet over medium heat.  Stir sugar to evenly distribute heat until it starts to melt. If you continue to stir while the sugar is melting, it will start to clump. Swirl skillet occasionally so the sugar melts evenly, until it is dark amber.
Add 1 ¼ cups of cream and cook, stirring, until all of the caramel has dissolved. Be careful as the pour the cream as the mixture will spatter. Transfer to a bowl and stir in sea salt and vanilla. Cool to room temperature.
To make ice cream base: Bring milk and cup of half and half to a slight boil, stirring occasionally.
Lightly whisk eggs in a medium bowl, then add half of the hot milk mixture in a slow stream, whisking constantly. Pour back into saucepan and cook over medium heat, stirring constantly with a wooden spoon, until custard coats back of spoon. Pour custard through a fine mesh strainer into a large bowl. Stir in cooled caramel.
Chill mixture overnight. Prepare ice cream machine. When everything is ready, remove the freezer bowl from the freezer, pour in mixture and turn on ice cream machine immediately. Keep on for at least 30 minutes. Transfer thickened ice cream mixture to a plastic airtight container. Freeze for at least 2 hours or leave overnight.
Unfortunately, those areas are the parts of the brain that
extra
are primarily reward or pleasure-seeking