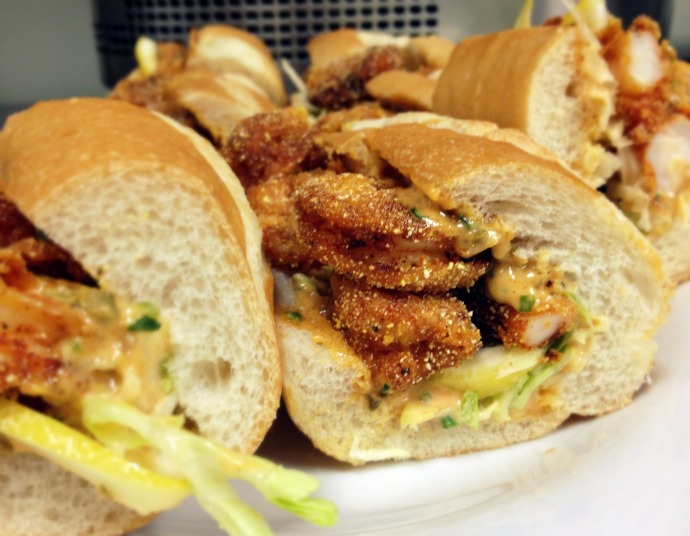 Shrimp Po Boys
We made these shrimp po boys in our shellfish lesson last week and I can't stop thinking of all the different variations to spice this yummy sandwich up even more. Surprisingly enough, the thin slice of lemon was key in bringing all the flavors together in this irresistible ensemble – you really can't go wrong with the combination of mayo, fried food and a bit of tang. Pickled daikon and carrots could make a great replacement for the lemon slice resulting in a Banh Mi Po'Boy combo and you absolutely can't go wrong there.
Ingredients:
Sauce:
1 cup of mayo
2 tbsp of capers, chopped
Zest and juice from 1 lemon
1 tbsp of minced green onion
2 tbsp of tarragon leaves, chopped
1 tsp of paprika
1 tsp of whole grain mustard
Salt and pepper
Splash of tabasco sauce
Shrimp:
2 cups of buttermilk
2 tsp each of paprika, cayenne, salt and pepper, mixed together
2 cups of white cornmeal (or yellow)
Peanut oil for frying
2 lbs of shrimp, peeled and deveined
Extra thin slices of lemon (with rind)
1/2 head of ice berg lettuce, shredded
1 french baguette, sliced open (do not cut all the way through)
Directions:
To make sauce, mix all ingredients together and refrigerate for at least an hour.
To make shrimp, toss peeled and deveined shrimp in buttermilk. Remove from buttermilk and in a separate bowl season shrimp with spice mixture. Dredge in cornmeal. Fry in oil in cast iron skillet at 350 degrees. If you have a electric fryer use that to fry the shrimp as it will regulate the temperature automatically otherwise if you are using a cast iron skillet make sure you have a thermometer so you can adjust the heat accordingly. It's crucial in deep frying that the temperature of the oil is constantly regulated.
To assemble sandwich, spread sauce on the top and bottom insides of the sandwich and layer with a bed of shredded lettuce and lemon slices then top with fried shrimp. Then cut your long sandwich into serving size pieces.
You need to work with your advisor to select a topic that will result in a thoughtful, credible, high-quality thesis within a time frame of two to possibly three semesters