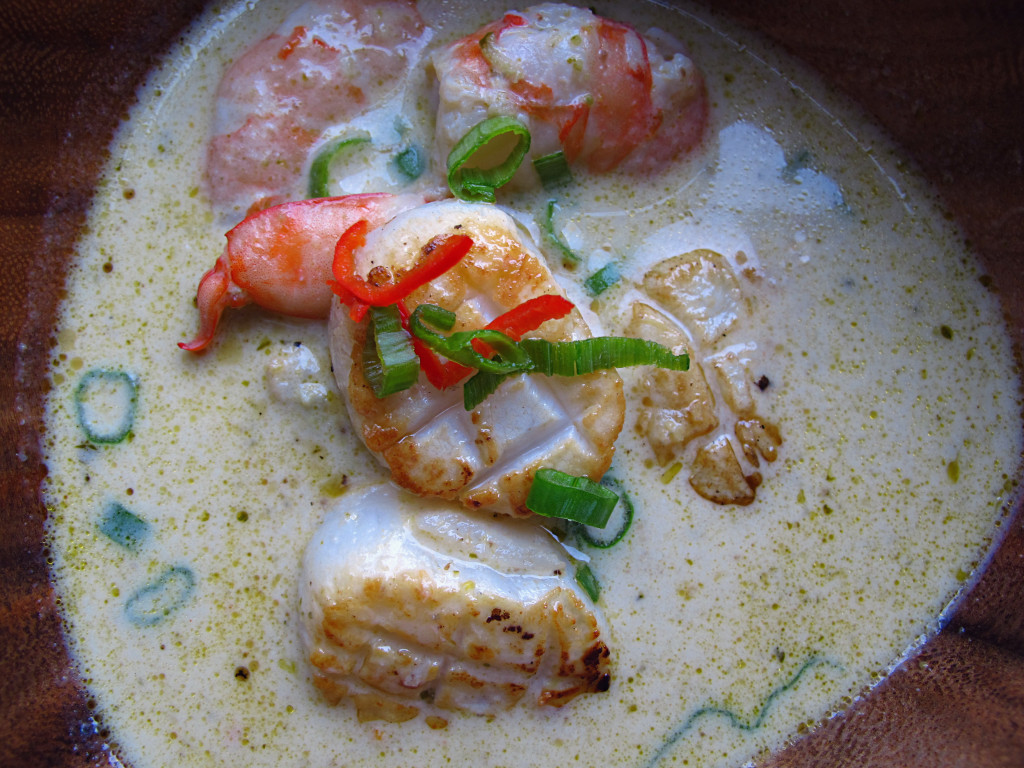 Shrimp & Scallop Curry Laksa
This is one of those recipes that I've dog eared and have used over and over again. I swear by this Jamie Oliver recipe. The original recipe calls for Kaffir Lime leaves and it's been maybe half a year since I made this recipe so I had NO clue that apparently Kaffir Lime leaves are now illegal in the country. Who knew? Of course my roommate Kelvin and I searched high and low for these lime leaves all over town and then finally we found this tiny speciality Thai store on Bayard Street in Chinatown and the cute little old man who worked there told us we could substitute Thai lime rind for the Kaffir lime leaves. Phew.
Cook time: 1 hour | Serves 6 
Ingredients:
1lb of large scallops
1lb of jumbo shrimps, peeled
2 tbsp of fish sauce and extra for seasoning
Zest of 3 limes
Lime juice from 2 limes
1 tsp of tamarind paste
2 14oz cans of unsweetened coconut milk
2/3 cups of chicken stock
1 tbsp of sesame oil
Curry Paste:
1 bunch of cilantro, leaves picked and stalks reserved
3 cloves of garlic
4 red chillies deseeded
2 tablespoons of sesame oil
Rind of 2 Thai limes
a large thumb-sized piece of fresh ginger, peeled
Directions:
Put the lime zest into a bowl with your shrimp. Squeeze over the juice of 2 of the limes and add fish sauce. Mix well, and leave to marinate for about 10 minutes.
In a pestle and mortar or food processor, add chillies, garlic, ginger, cilantro stalks, sesame oil and Thai lime rind until you have a paste.
Heat a large casserole or wok, pour in a couple tablespoons of olive oil and add the paste, stirring quickly. Cook for about a minute before adding your shrimp and all the flavorful juices from the bowl. Allow to cook for another minute, stirring. Remove the shrimp and set aside so that it doesn't overcook. Add tamarind paste, coconut milk and chicken stock. Turn the heat down and simmer slowly for about 15 minutes. Adjust flavor by adding more salt, pepper, fish sauce and lime juice.
Cook rice. Meanwhile, gently score the scallops with a criss-cross pattern. Heat a large non-stick frying pan with olive oil. Put your lightly seasoned scallops into the pan the cook for a couple minutes on each side until golden. Before serving, heat shrimps by adding them to the curry. Arrange half a cup of cooked rice in a bowl and spoon the curry over the rice. Arrange 3 shrimps and 3 scallops over the curry and garnish with cilantro, scallions and slivers of red chili.
Jensen used the example of cannabis and the cannabinoids that our brains naturally produce
visit this page