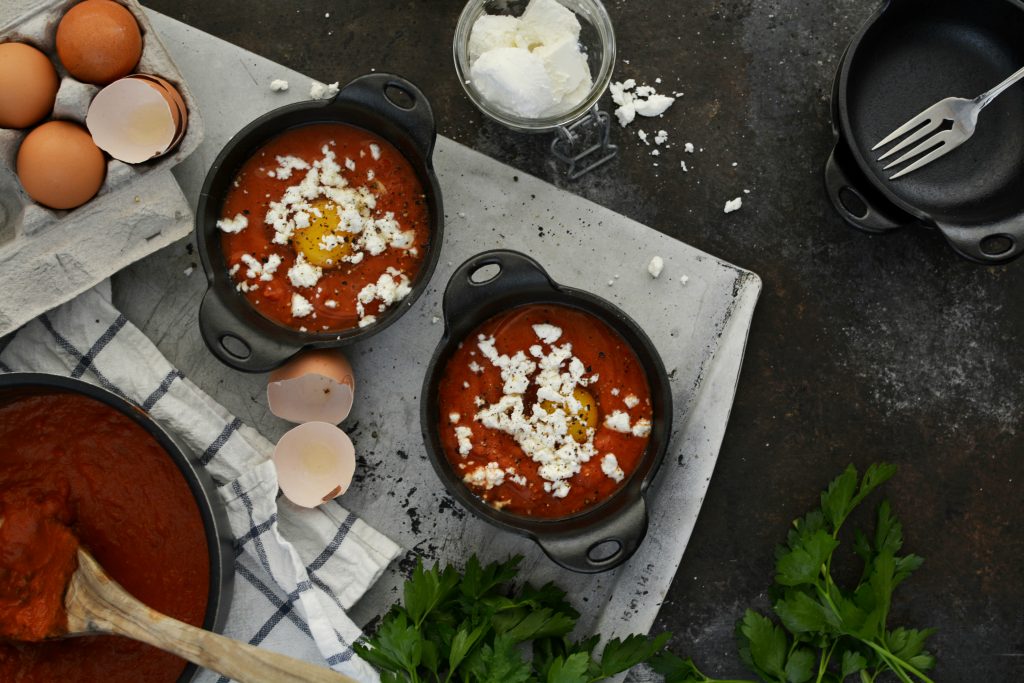 Spicy Baked Eggs with Goat Cheese
There's nothing more satisfying than waking up in the morning, after a long night out with one drink too many, to a steaming skillet of rib-sticking comfort food. Easy to make, quick to get on the table, delicious, and without the knee-wobbling queasiness that follows a greasy diner breakfast, these Spicy Baked Eggs with Goat Cheese are the perfect baked egg dish.
Serves 4 | 30 minutes
Ingredients:
1 28oz can of crushed San Marzano tomatoes
4 large eggs
4 cloves of garlic, thinly sliced
Red pepper flakes (optional)
4oz goat cheese
Loaf of crusty bread
Softened butter or olive oil
Parsley, finely chopped
Your favorite hot sauce (optional)
Salt and pepper to taste
Directions:
Preheat oven to 400 degrees F.
In a saute pan, heat olive oil over medium heat. Add garlic and a good pinch of red pepper flakes. Saute for one minute, until garlic is fragrant. Be careful not to burn the garlic, because it will make the dish bitter. Add crushed tomatoes, season with salt and pepper to taste, and simmer for 10 to 15 minutes.
Stir in a small handful of crumbled goat cheese. Divide spicy tomato sauce into four individual cast iron skillets (or individual baking dishes). Make a hole in the middle of each bowl, and crack an egg into the sauce. Top with generous sprinkle of goat cheese.
Place skillets in the oven and bake for 7 – 8 minutes (7 minutes for runnier eggs), until whites are set and yolks begin to thicken but are still runny. While eggs are baking, cut 8 thick slices of bread into thick slices. Spread a generous amount of butter or olive oil on bread, and grill or toast in a pan until crispy.
When eggs are ready, remove from oven. Garnish with parsley, freshly cracked black pepper, and hot sauce.
---
By Tracy Chow
Both, of course, involve communicating useful messages from
my response
one person to another