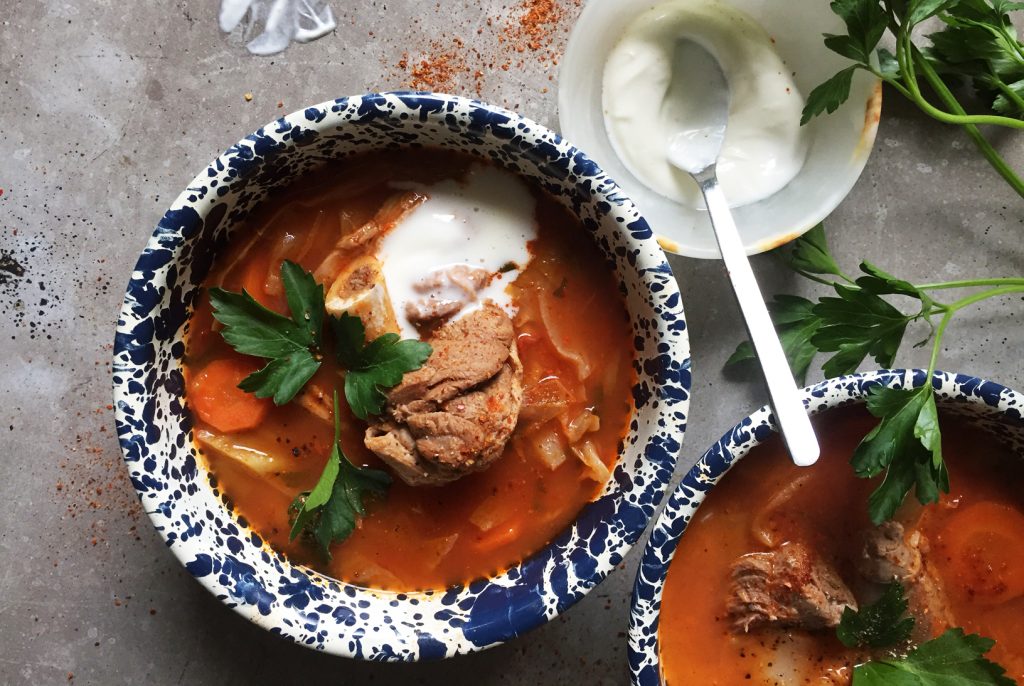 Spicy Tomato Lamb Shank Soup with Cabbage & Rice
One of my favorite meals in the world is a big, soul warming bowl of soup. Sometimes I like a delicate, herbal, brothy Asian soup. Other times, I want a old school, hearty, stick to your guts type of soup. When it's cold as hell outside, it's time to whip up a big, steaming pot of the latter, not to mention the added benefit of heating up your apartment with a little stovetop action. Add lamb shanks, cabbage and rice, a little spice, and you've got a complete meal in a bowl!
This Spicy Tomato Lamb Shank Soup with Cabbage & Rice is inspired by the flavors of Eastern Europe and Russia – sweet and tangy tomato, earthy cabbage, hearty rice, simmered in a flavorful soup of lamb shank and chicken stock. It's quick to prep, but simmers for 3 hours over the stove, until the lamb is falling off the bone tender. The cabbage, carrots and rice are added at the end so they don't become mushy.
4 servings | 30 min prep, 3 hours cooking time 
Ingredients:
2 lamb shanks
Quarter wedge of cabbage, shredded
2 carrots, sliced 1/4 inch thick
Handful of parsley, chopped
4 cups chicken stock
4 cups water
1/2 cup of uncooked wild rice
1 28 oz can of San Marzano crushed tomatoes
Salt and pepper to taste
Pinch of sugar
Red pepper flakes (optional)
Creme fraiche or sour cream for garnish (optional)
Directions:
In a large pot, bring water, chicken stock and lamb shanks to a boil. Simmer for 1.5 hours, skimming the surface occasionally to remove impurities and excess oil.
Meanwhile, wash rice and cook in a rice cooker, using slightly less water than you typically would so that the rice is al dente. When the al dente rice is eventually added to the soup, it won't become overcooked and soggy. Set cooked rice aside.
Add crushed tomatoes to the lamb soup, and simmer for another hour.
Add a pinch of sugar, salt, and red pepper flakes, adjusting seasoning to taste. Add carrots, cabbage, and rice and simmer for another half hour. Taste and add more salt and pepper if necessary. Finally, stir in a generous handful of chopped parsley.
To serve, ladle soup into large soup bowls, garnish with a big dollop of creme fraiche and more parsley.
---
Written & photographed by Tracy Chow and Jen Yu.
What drives the message home is that there are real life examples of these tragedies happening every
free cell phone spy
day