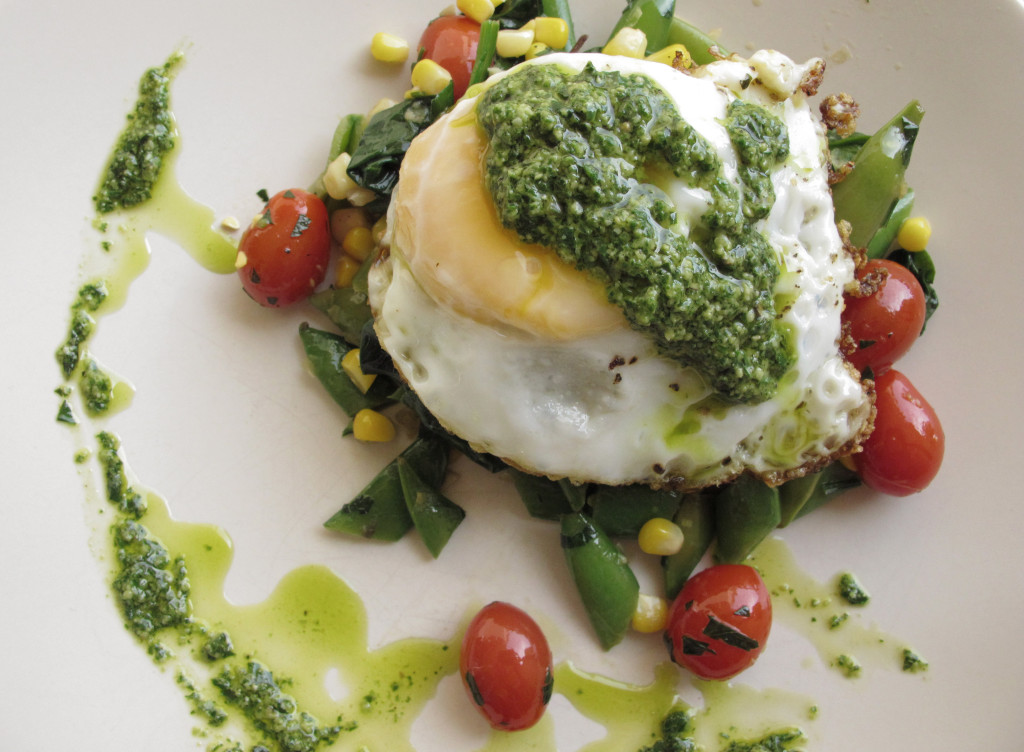 Spring Vegetable Hash with Pesto
Huckleberry is a brunch hotspot staple on Santa Monica Blvd. in LA. On weekends, throngs of hung over college students and families with young children flock to this spot for a famous pastry, green eggs & ham, or my favorite, a vegetable hash with eggs. They've served different variances of a spring vegetable hash over the years, including a Corn, Cherry Tomato, and Spinach Hash recipe that is featured in the Huckleberry cookbook. Our Spring Vegetable Hash with Pesto is a take on their recipe, with snap peas for a sweet crunch, and a touch of pesto to kick up the spring flavors of the veggies. It's an easy, healthy and light brunch dish that's quick to whip up, and healthy to boot!
Makes 6 – 8 servings
Ingredients:
2 cup of sugar snap peas, cut into thirds
2 cup of cherry tomatoes
3 ears of fresh corn, kernels removed
2 bunches of spinach
2 cloves of garlic, finely minced
Salt and pepper to taste
6 -8 eggs for frying (I serve only 1 egg per serving but feel free to bump it up to 2 per serving if you fancy!)
Pesto:
4 cups of basil leaves
1/4 cup of grated Parmesan cheese
2 gloves of garlic
2 tbsp of pine nuts
1/2 cup of olive oil
Pinch of salt
Directions:
In a food processor, add basil, pine nuts, parmesan and garlic and blend the mixture. Add olive oil at a slow and steady stream. Season with salt. Make sure to put your basil at the bottom of the food processor and remaining ingredients on top, this will help weigh the basil leaves down.
In a large pan, heat 2 tbsp of oil add sugar snap peas and corn and sauté. Add garlic and continue to cook until fragrant. Add cherry tomatoes, season with salt and sauté for another couple minutes. Add spinach. Once spinach has wilted try a piece of snap pea for desired doneness. I like my snap peas nice and crisp.
When vegetables are cooked to your preference heat another pan with oil and fry eggs. Make sure you heat the pan enough so that when the eggs hit the pan they start to sizzle. If the heat is too low your eggs will stick, if too high the edge of your egg whites will blister and brown before the egg is properly cooked. For over easy eggs that do not require turning, add a couple drops of water to your pan and cover the pan for about a minute to steam your eggs. You want the eggs to be runny in the middle so make sure not to overcook them.
When eggs are ready, plate a generous serving of vegetable hash topped with an egg and garnished with pesto sauce.
You will most likely have extra pesto sauce – to store pesto sauce properly make sure you cover the sauce with plastic wrap so that the plastic is touching the surface of the pesto this will prevent the pesto from turning color too quickly.