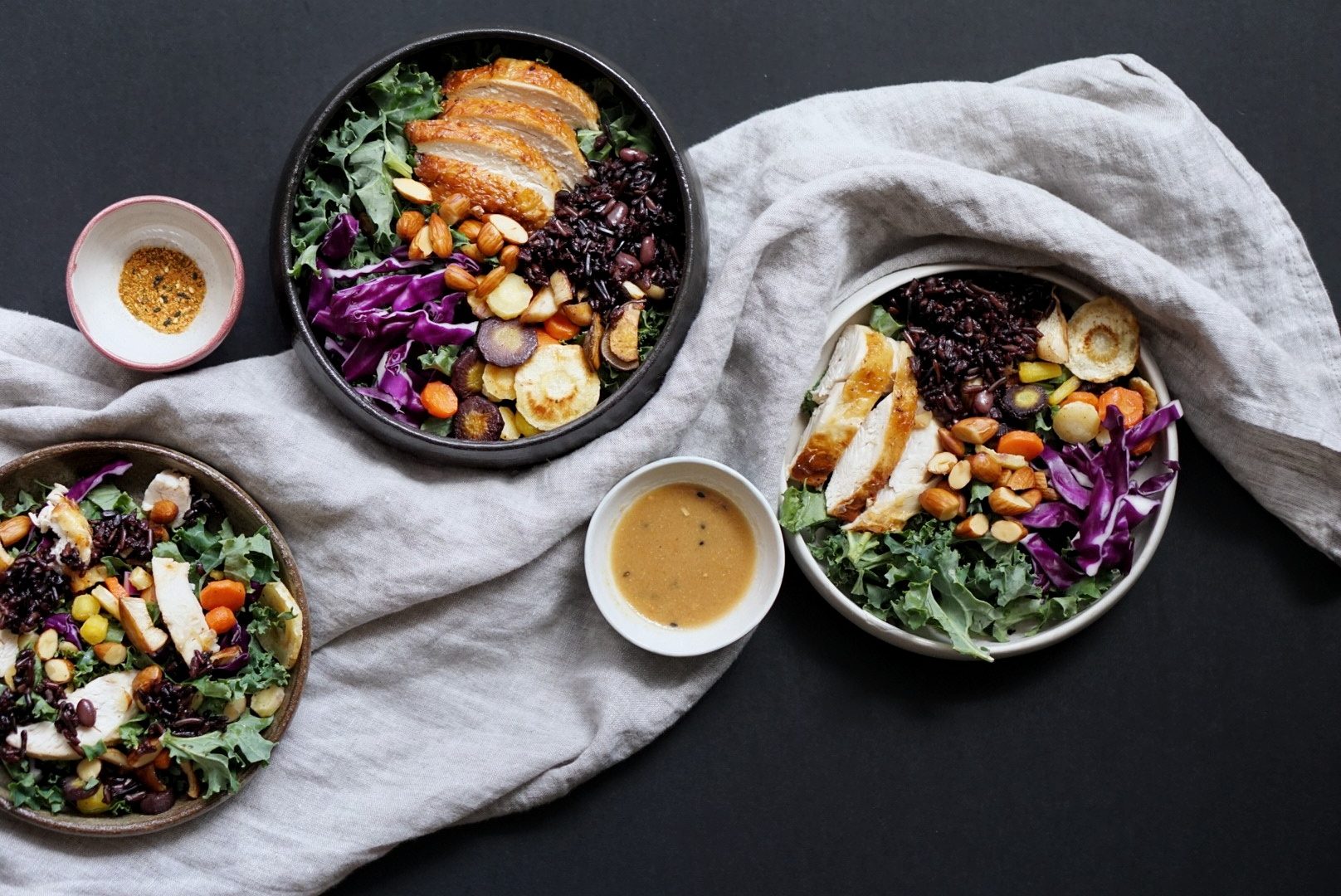 Sweetgreen Miso Bowl
I love salads with Asian inspired dressings, and recently had the most delicious "miso bowl" salad at sweetgreen. It had shredded kale, warm wild rice, roast vegetables, red cabbage, roast chicken, almonds, and miso sesame ginger dressing. Yes, sweetgreen managed to make kale super tasty! With warm wild rice, roast chicken, and roast veggies, the sweetgreen miso bowl doesn't leave you feeling like you ate a salad for lunch. It's a seasonal dish, so I had to recreate the sweetgreen miso bowl recipe at home, so I can have it anytime!
I made a few tweaks to make this sweetgreen miso bowl recipe easier (and tastier!) for the home cook, while maintaining the heartiness and flavor of the original dish.
I used a mix of red rice, black rice, wild rice, and a few navy beans, but you can use any type of whole grain rice. I like the texture and flavors of mixing whole grain rice, wild rice, and beans.
I used a store bought roast chicken to save time, but find that store bought roast chickens are usually overcooked with stringy chicken breast. This would be a great dish to make with leftover homemade roast chicken.
Though the sweetgreen miso bowl doesn't have mushrooms, I love the texture and umami flavor of king oyster mushrooms, and added some to my sweetgreen miso bowl recipe.
You can use any mix of sweet root vegetables for the roast veggies – carrots, parsnips, and sweet potato are great choices.
Serves 2
Ingredients:
Salad
3 cups shredded kale
1 cup chopped red cabbage
1 cup cooked wild rice, warm
1 1/2 cups chopped roast chicken breast, warm
1 cup roasted carrot and parsnip coins, warm
1/2 cup roasted king oyster mushrooms, warm (optional)
1/4 cup roasted almonds, roughly chopped
Miso Sesame Ginger Dressing
1 tablespoon shiro miso (white miso)
1 tablespoon soy sauce
1 tablespoon rice vinegar
1 tablespoon mirin
1/2 teaspoon shichimi togarashi or other finely ground chili flake (optional)
1/2 teaspoon sesame oil
1/2 tablespoon finely minced ginger
2 tablespoons warm water
1/4 cup canola oil (or other neutral flavored oil)
Directions:
1. Preheat oven to 450 deg F. Peel and slice carrots and parsnips into 1/4 inch coins. Slice mushrooms into 1/4 inch pieces. Spread carrots, parsnip, and mushrooms onto a baking sheet. Drizzle with olive oil, and season lightly with salt and pepper. Roast for 1o minutes, until vegetables starting turning golden brown.
2. Cook rice according to package instructions, and keep warm.
3. Add all miso sesame ginger dressing ingredients to a jar, and shake well.
4. Toss all salad ingredients with desired amount of miso sesame ginger dressing.