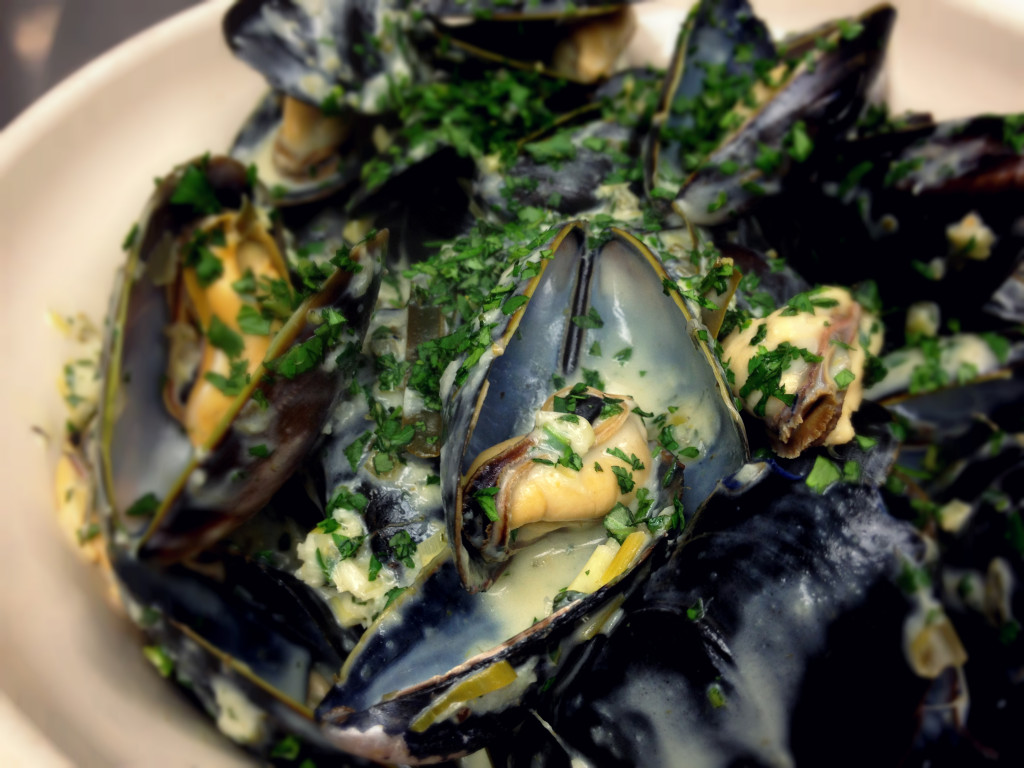 Thai Green Curry with Mussels
Next time you decide to make mussels seriously consider this recipe – it's an easy alternative to a broth based mussel dish and can be served with rice or bread.
Serves 4 – 6
Ingredients:
2 tbsp of peanut oil
1 1/2 Thai green curry
2 Scallions, finely sliced
2 inch piece of ginger, grated
1 stalk of lemongrass, cut into 2 inch slices on a bias
4 whole kaffir lime leaves (sliced)
2 cloves of garlic, minced
1 can of coconut milk
Juice of 1 lime
2lbs of mussels
2 tbsp of cilantro, minced
2 tbsp of Thai basil, sliced
Directions:
Heat oil in a 6 quart stockpot on medium heat.
Combine the curry, scallions, ginger, garlic, lemongrass and lime leaves in the stock pot and saute for 1 minute. Add coconut milk and lime juice. Bring liquid to a boil, add mussels and cover tightly.
Steam mussels until cooked through (about 5 minutes). When the mussels are ready, their shells will open wide up. Add cilantro and basil and toss mussels in steaming liquid.
Serve hot with a large bowl of rice or some bread.
Note on mussels: When you purchase your mussels, make sure to unwrap the packaging as soon as possible so that they can breath. If you're not cooking them for awhile you should store them on ice in a strainer – make sure any water is draining and that the mussels aren't sitting in water.  
Mussels are easy to clean and unlike clams do not ingest a lot of sand and grit. Before cooking put mussels in a large bowl of fresh water and let it sit for 15 to 20 minutes to remove any sand. Then simply remove the beard by pulling it off the mussel. Removing the beard kills the mussel so you'll want to perform this task right before you put them in the cooking liquid.
Another
http://firstessaywritinghelp.com/
former student has adopted a personally awarded doctorate, encouraging subordinates and new acquaintances to use it as part of everyday address