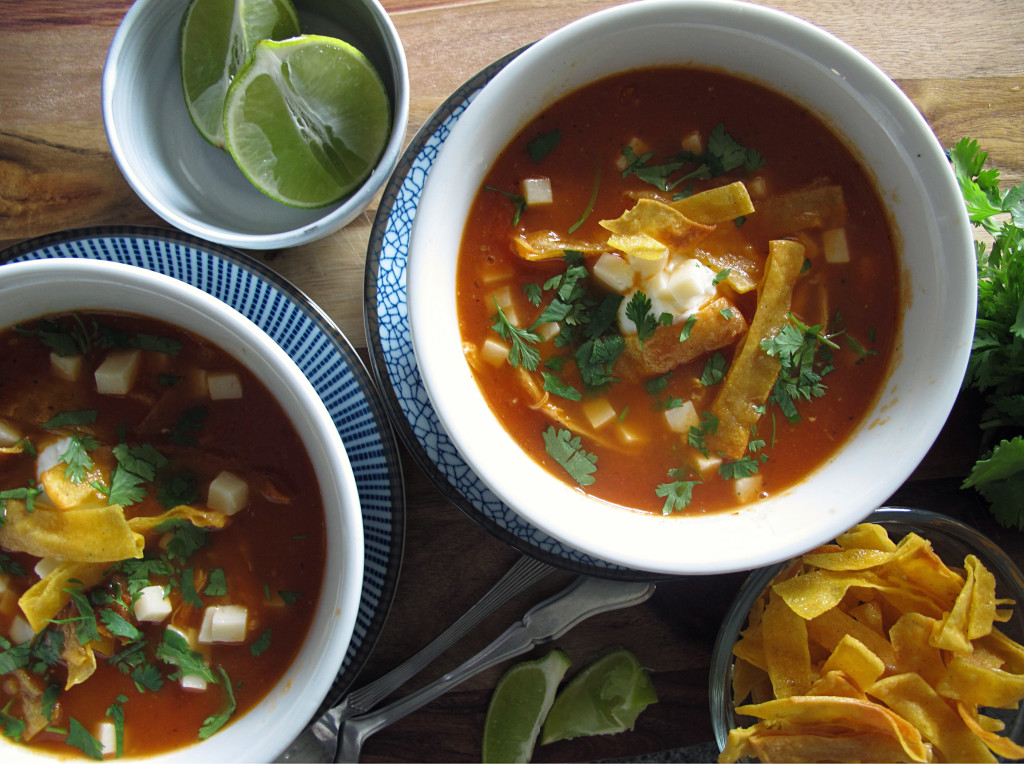 Tortilla Soup
I don't know about you but I've never had the desire to ever order tortilla soup due to the sheer boringness of the name. It's completely non descriptive. Apart from tortillas it doesn't tell you what else is in it. The first time I had it was in Los Cabos a couple months ago with my boyfriend. He ordered it as his starter and I was totally sitting there thinking "What a boring appetizer…I'm going to order something stuffed with cheese!". When it arrived at the table I was convinced I was the one with the boring app. The name tortilla soup does not do this soup justice. There is so much to this soup that it's absolutely surprising to me that no one thought of a more descriptive name for it. There's the tang of the sour cream and lime, the spiciness of the abobo pepper and cumin, and the crunch of the tortilla strips to the soft melted pockets of Manchego cheese. And all they were able to come up with was "tortilla soup"? I may never get over this. This soup is superb.
Serves 6 | Adapted recipe from Sunday Soup (a great soup recipe book, I haven't been disappointed with any recipe from the book so far)
Ingredients:
1 chipotle pepper in abobo, seeded and finely chopped
1 chopped onion
2 cloves of garlic, minced
2 tsp of ground cumin
1 1/2 tsp of dried oregano
1 28oz can of diced tomatoes, drained
6 cups of chicken stock
2 chicken thighs, poached with salt and shredded (the original recipe called for cubed chicken breast, but I prefer dark meat over white. I also prefer shredded chicken over cubed.)
1 medium yellow bell pepper, stemmed, seeded and cut into julienne strips about 1 inch long by 1/4 inch thick
2 tablespoons of fresh lime juice
Garnish:
Six 6 to 7 inch corn tortillas
1/2 cup of sour cream (I use fat free)
1/2 cup of chopped cilantro
6 thin lime wedges
1/2 cup of crumbled or cubed Manchego cheese
1 avocado cubed
Directions:
In a small pot, bring water to boil and add chicken and salt. Boil for about 15 minutes. Set aside to cool and shred.
In a heavy soup pot, heat olive oil and cook onions until soften, stirring often for about 10 minutes. Add minced garlic, stir, and cook for another 1 to 2 minutes. Add chopped chipotle, cumin, oregano, tomatoes and chicken stock. Bring mixture to a simmer and cook for 15 minutes. Puree the soup using an immersion blender (or regular blender/food processor if that's what you have at home).
Bring pureed soup to a simmer and add yellow peppers and shredded chicken. Cook for about 10 minutes. Add lime juice and salt. Season as needed.
Stack tortillas and cut into 2 inch by 1/4inche strips. Heat skillet with oil, when hot add 1/3 of tortillas. Let it sit for 2 minutes and toss to brown the other side. With a slotted spoon, remove tortilla strips from oil and transfer tortilla strips to a paper towel. Repeat with remaining tortilla strips.
Ladle soup into bowls and garnish with sour cream, cubed avocado, Manchego cheese, tortilla strips and chopped cilantro. And enjoy!
Other students are asked to comment and to
buy essay online safe
critique the strength of these sources, and to suggest others where appropriate