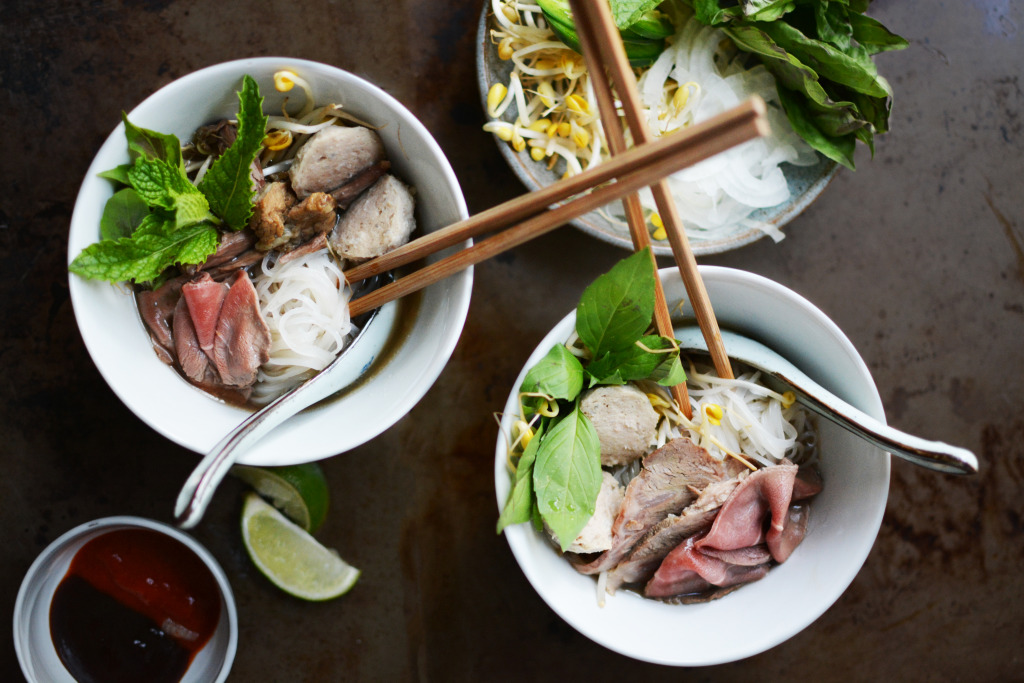 Vietnamese Pho
Sometimes I feel like I'm 30 going on 60.
I'm a total hotel snob, a sunscreen nazi, and I think pot-lucks are the worst (just provide all the food or don't bother with the party, what kind of host are you!). My favorite nights are those where I get a full 8 hours of sleep, my hangovers have become 2 day events, and my FOMO has steadily become FOGO. Dinner is no longer the eat-some-bread-before-blacking-out pre-game, but it is the main event, and alcohol must be thoughtfully paired with each dinner course. When friends come over, I just want to feed them like an Asian grandmother. Eat, eat!
What really seals the deal is that in truth, nothing makes me happier.
I love nothing better than throwing an elaborate dinner party with candle lights, flowing cocktails, a well-designed and perfectly cooked menu, curated dinner party music, and maybe even a bartender! I happily slave away over the stove all day, making runs to at least 4 different grocery stores, and making each dinner party a bigger affair than the last. The more painstaking and complicated the recipe, the better!
Vietnamese pho is one of those recipes, with beef broth slowly simmered for two days, fragrant spices and aromatics roasted over fire, and hours spent hunched over the pot skimming away impurities. Making pho at home results in a much more flavorful, aromatic, and healthy version than you would get in a restaurant. And you won't be reaching for that water glass all night long after slurping down a big bowl of salt and MSG.
This night, we had our rambunctious friends over for a pho party. We laid out platters of bean sprouts, Thai basil, lime wedges, jalapenos, and sauces. Guests assembled their own bowls of pho, and we topped it off with big ladles of steaming hot fragrant broth.
Enjoy with an ice cold beer.
Makes 6 servings | Cook time: 8 hours
Ingredients:
Spice bag:
3 Caradmon Pods
6 Star Aniseed
3 sticks of Cinnamon
3 tsps of Fennel Seeds
3 tsps of Coriander Seeds
Soup:
8lbs of Beef Bone (knuckles are the best)
2 lbs of Oxtail (optional)
1 lb of chuck
2 yellow onions
Ginger roughly the size of your hand
1/4 cup of fish sauce (you may need more)
Salt to flavor
Garnish/Assembly:
1 package of pho noodles
Half a lime per serving
Purple Basil (or regular depending on what you can find)
Handful of mint leaves
Thinly sliced onion
I bag of bean sprouts
Thinly sliced raw beef (purchase shabu shabu beef to make it easy)
1 bag of beef balls (optional)
1 jalapeno pepper
Hoisin sauce and Sriracha
Directions:
Fill a large stock pot with water and bring to a boil. Once water is at a rapid boil, add beef bones, chuck and oxtail. Boil for about 10 minutes to remove all the impurities.
While bones are boiling, char the onion and ginger. This adds complexity and depth of flavor to the broth. There are three ways of doing this.
Directly over the stove: char whole onion and ginger over the stove using tongs. This is a slow process and takes about 20 minutes.
Torching: Blister the entire onion and ginger using your torch. This takes about 5 minutes.
Oven: Cut the onions and ginger in half length-wise, and place cut side down on a baking sheet. Turn on your broil and place close to the flame. Char for about 15 minutes.
The onions and ginger should be charred and blackened completely. Once blackened, cut onion and ginger in half lengthwise and set aside.
Once bones have been boiling for 10 minutes, remove from stockpot. Wash bones and meat thoroughly to remove any impurities stuck in between the bones. Place bones back into the clean stock pot, along with the onions, ginger and spice bag mixture. Immerse with water and salt generously. Bring stock to a boil on high heat, then reduce to medium heat to simmer slowly over 8 hours.
After 1 hour: remove the chuck and set it aside. Thinly slice when cool enough to handle.
After 2 hours: remove the onions and ginger, otherwise your broth will be too sweet.
You will need to skim the broth every so often as it simmers. This removes impurities as well as fat.
At the 4 hour mark, start flavoring broth with fish sauce,. Don't add the fish sauce all in at once, but add a bit at a time to taste.
At the 5 hour mark, start tasting the broth to determine how much more time it needs. If the stock needs more flavor, you'll want to add some water to replace the evaporated amount, and continue simmering to draw out flavor from the bones. Make sure you're adding a 2 cups at a time and no more than that to prevent over-dilution.
Around the 5 hour mark, remove the oxtail and extract the meat. Discard the bones and set the meat aside for assembly.
A couple notes:
Use a spice bag so that you can skim the broth without removing all the spices.
I simmer the broth over two days to develop a deeper flavor. The intensity of flavor varies by Pho restaurant, so you may want to simmer for longer or shorter or with more or less spices, depending on your preference. My mom's side of the family grew up in Saigon, and I prefer a very deep cardamon flavor.  My spice bag outlined above is for a deeper flavor. You'll notice other pho recipes with about half of the spice mixture.
Creating the perfect broth for pho is all about your own preferences, so flavor it slowly over time with fish sauce, salt and spices. If at the mid way point you feel that it doesn't have enough spice flavor, add a bit more to a new spice bag.
Once your broth is ready, it's time for assembly! It's also fun to let your guests assemble their own bowls. Set out bowls of garnishes with thinly sliced onion, bean sprouts, mint and basil leaves, thinly sliced jalapeños and wedges of lime.  Prepare the pho noodles according to the package directions (this will vary depending on whether you got fresh or dehydrated noodles). Place a serving of the noodles at the bottom of the bowl, have your guests garnish their bowls before topping it off with ladles of hot broth. Ladling in the broth at the very end will warm up and partially cook the garnishes. Squeeze the wedge of lime over the broth and serve with hoisin and sriracha sauce!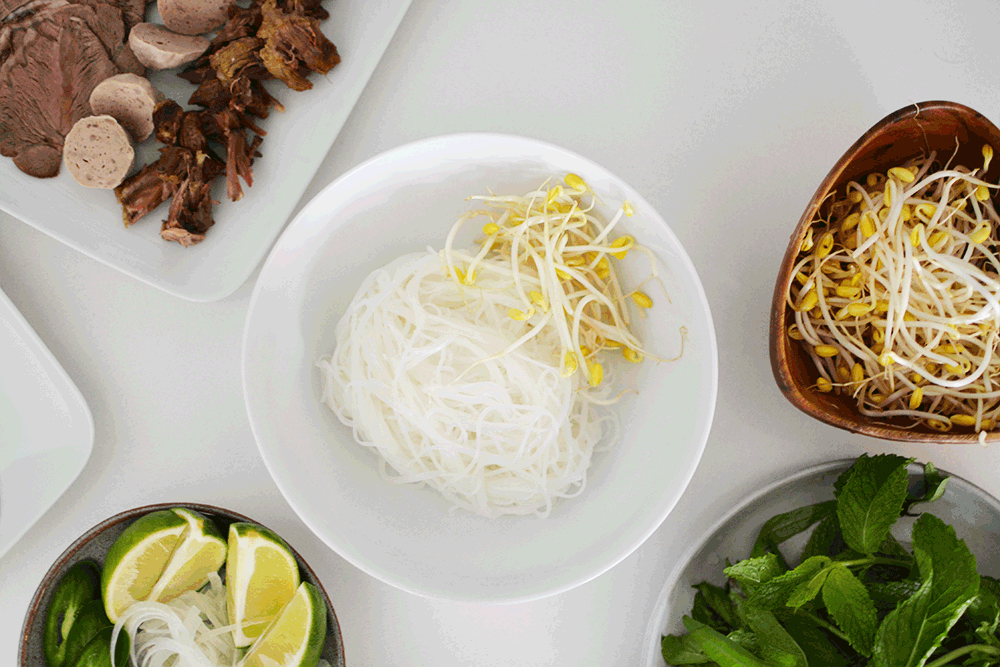 Written and photographed by Tracy Chow and Jennifer Yu.