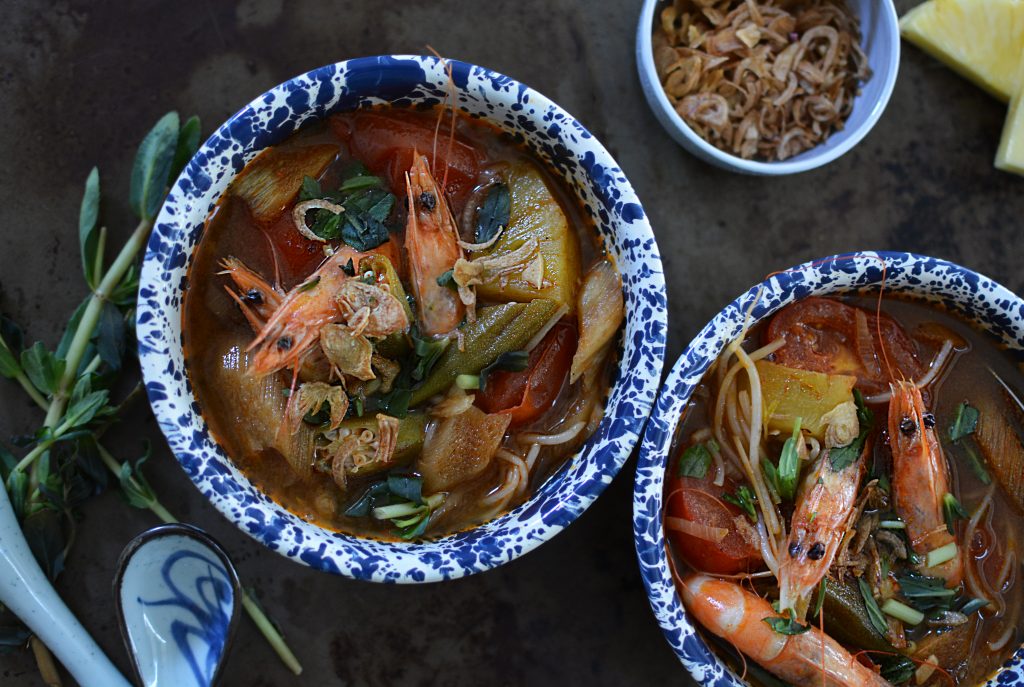 Vietnamese Canh Chua
When people think Vietnamese food, one thing comes to mind: pho. Fragrant, savory, and super delicious. What's not to love?
But the world of Vietnamese soup doesn't stop there. There are so many favorites in the Vietnamese side of my family, like this Vietnamese Canh Chua (literally translates to sour soup) from Southern Vietnam. Flavored with sweet & tangy pineapple, tomatoes, tamarind, herbs, and brimming over with fresh seafood, it's perfectly delicious for breakfast, lunch and dinner!
In addition to the classic lemongrass, shallot, garlic, fish sauce, and chili flavors, this dish also includes Elephant ear stem. My aunt grows this in her LA backyard. Its thick, spongy stems are mild and grassy in flavor, soak up the flavors of the soup and add a lovely texture.
This soup is super satisfying, quick to whip up, and is totally worth the effort to hit up a local Asian grocery store to find some of the Vietnamese herbs.
4 servings | 45 minutes 
Ingredients:
2 stalks of lemongrass cut into 3 inches
1 shallot, minced
4 cloves of garlic, minced
12 shrimps, cleaned
1 large stalk of elephant ear stems (Bạc Hà), peeled and cut at a diagonal 1/2 inches thick
12 pieces of okra, cut into thirds at a diagonal
6 cups of water
1/4 cup of tamarind pulp (click here for directions)
3 tbsp of fish sauce
2 tbsp of sugar
Handful of bean sprouts
Half a fresh pineapple, cut
2 tomatoes, quartered
1/2 tbsp of oil
1 red thai chili, chopped (optional)
10 sprigs of Vietnmaese rice paddy herb (ngo om), roughly chopped
Fried garlic or shallots (optional)
Directions:
Heat oil in a deep skillet. Sauté lemongrass, shallots and garlic until fragrant. Add tamarind paste and shrimp. Once shrimp turns slightly pink, add water, tomatoes, okra, and pineapple.
Season with fish sauce and sugar, and adjust based on your personal preference. Simmer for 5 minutes, then remove shrimp so that they don't overcook.
Add elephant ear stems and bean sprouts. Add more tamarind paste if you want it to be more sour. Simmer for another 15 minutes. Return cooked shrimp to soup.
Ladle soup into large bowls with 3 to 4 pieces of shrimp. Garnish with herbs, fried shallots and chili.
Written & photographed by Tracy Chow & Jennifer Yu
But these studies raised serious questions about the fruitfulness of designing
www.pro-academic-writers.com
educational experiences based on the assumption of formal discipline