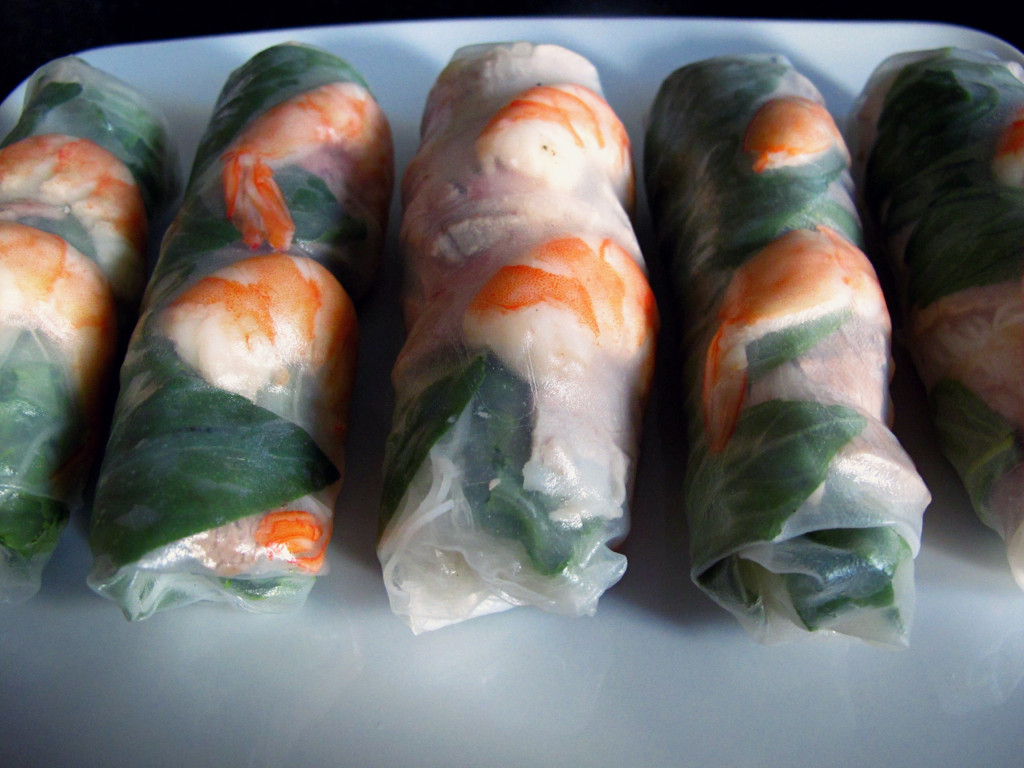 Vietnamese Summer Rolls
Elaine is the unofficial roommate, the "Joey" of our group, and she comes and goes as she pleases while providing us with a daily dose of D-list celebrity gossip. Without her we'd know nothing about the Jersey Shore or the Real Housewives of Orange County. Without her we'd be watching commercials as oppose to switching in between shows. Elaine is the kind of foodie who only loves chocolate when she's on her period and prefers Stove Top Stuffing and boxed mashed potatoes to "normal" food. She's the kind of person who will eat anything and everything including onion bagels with peanut butter – and actually prefers it that way. When she's over at my place, I love to feed her the kind of food that normal people eat.
Elaine recently left on a family trip to Korea and has now returned home. And since we can't live without her, my roommates and I decided to drive to VA to pick her up and bring her back to the city. Otherwise she'd never return. We obviously love her more than she loves us. Elaine probably enjoys being at home more than anyone I know. After five years of New York City life, she finds comfort in her family back in Virginia, where she can take her dog Ruby for walks, drive her car, hang out with high school friends and have dinner with her family at night. Having been away from home for over 5 years, I too find myself longing to be at home. This is especially true when my mom calls me during a traditional Vietnamese family dinner and all I can hear is the roaring laughter in the background. My mom's side of the family is Vietnamese Canto, so when I lived in Los Angeles with her relatives all I ate was Vietnamese food. Today I'm making Vietnamese Summer Rolls for Elaine, her favorite! Unfortunately, this is the only Vietnamese dish I know how to make – hopefully that will all change very soon.
Prep Time: 1 ½ hour | Serving size: 15 to 18 rolls
Ingredients:
1 lb of medium sized shrimp
1.5 lb of pork belly
4 cups of shredded lettuce
Large bunch of Asian basil
Large bunch of Asian mint
3 cups of Vermicelli
18 sheets of summer roll sheets
Dipping Sauce:
½ cup of Hoisin sauce
2-3 tbsp of water
2 tbsp of crushed peanuts
Directions:
Prep all ingredients. First, boil pork belly in a pot of water for half an hour. Cook vermicelli according to instructions on the package. Wash and shred lettuce. You can also use chives and bean sprouts but I've left them out in this recipe, however they are commonly included. Wash basil and remove from stems. Boil shrimp and cut lengthwise. Slice pork belly very thinly. Fill a shallow bowl with warm water, dip summer roll sheet into the water and rotate it around, drench completely in water. Place on a big plate and start assembling the roll by first laying two slices of shrimp with the pink side facing down. Overlapping the shrimp, layer on the 2 basil leaves and 2 mint leaves (you can add more depending on your preference) and 4 slices of pork. Add a small handful of vermicelli and shredded lettuce. Fold in two opposite sides so that the ingredients are perpendicular to the fold and then start rolling from side closest to the lettuce allowing all the ingredients to be beautifully displayed once completely assembled.
To make sauce, heat Hoisin sauce in a saucepan adding water depending on the thickness desired. When ready pour into a small bowl and sprinkle crushed peanuts.
A body paragraph comprises a topic sentence plus supporting details