Yamakase
Yamakase is an 11 seat sushi bar on a non-descript corner of Culver City in Los Angeles.  Garnering both rave reviews and negative press, it's hard to know what to expect from the enigmatic restaurant that exclusively serves a 4 hour, 20+ course omakase meal at a minimum price tag of $200 per person (excluding tax & tip).  The restaurant does not have an alcohol license, nor can you bring your own drinks.
Though branded as an "invitation only" restaurant, anyone can request an invite using the link on Yamakase's website.  It's hard to get a weekend seating, but fairly easy to get a weekday seating.  Off we went on a Wednesday night!
Entering the restaurant, my first impression was that it was shabbier than you would expect from a self-described fine dining establishment.  You're warned to arrive on time, but when we arrived sharply at 7pm, we sat around waiting 20 minutes for the first course to be served.  Chef and Co-owner Yama San walked in looking like a shaggy-haired, slightly disheveled rock star who had just woken up from a long night of partying, and wasn't quite ready for the show to start (I'm not joking).  A man of few words, Yama San was soft spoken when introducing the dishes, but offered no more conversation than that.  Not your typical high-end sushi experience, but sometimes the best food is served in the worst places, so we weren't dissuaded.  Oh, and the bathroom sink was broken so everyone had to wipe their hands with damp towels for the duration of the 4 hour dinner.
The food ranged from culinary masterpieces to "why would you put those ingredients together?!".  On the spectacular end, the Spanish bluefin tuna was by far the best I've ever had in my life.  Incredibly meaty, firm, and flavorful, marinated with a little umami-packed sauce, and finished off with caviar and Japanese chives.  Simple, inspired, and perfect.  The Japanese toast, glazed uni, white truffle paste, blue crab, frozen toro dish was another highlight. The sweetness of the blue crab and uni went perfectly with the Japanese toast, and the frozen toro was like a buttery sorbet.
However, many of the dishes in the middle of the meal were much too large and heavy, catering more to the American palate than focusing on the delicacy and seasonality of Japanese ingredients.  I suppose that is to help justify the hefty price of a meal in an otherwise uninspired location, but I would have preferred a greater variety of seasonal sushi and sashimi-based dishes, and fewer heaped with truffle cheese and foie gras terrine.  It sounds crazy to complain about the quantity and heaviness of the ingredients (I had the same reaction when I read a similar Yelp review before going to the restaurant), but it is just too much and too heavy. For 20 courses, I would also have expected more variety and more unusual ingredients, but after the first 7 or 8 dishes, you notice that the same ingredients are repeated in the rest of the dishes.
1. Chilled Hokkaido uni, tofu, abalone, Japanese chives.  Light, fresh, clean flavors, altogether a super delicious dish.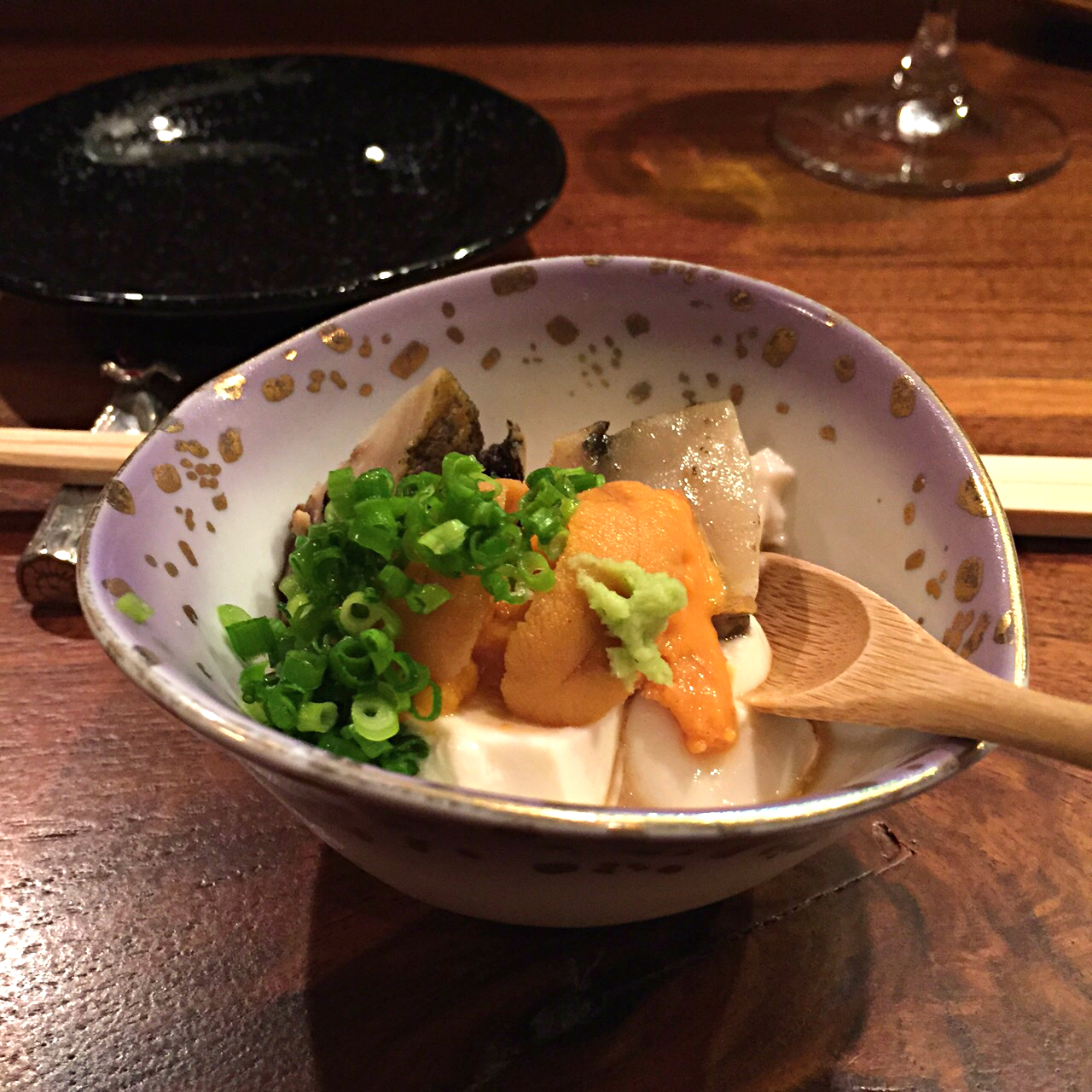 2. Mantis shrimp (shako), kuruma shrimp (Japanese tiger shrimp), baby green peach, scallop.  The baby green peach was flowery and fragrant, almost perfumed in its delicate fruit flavor.  The scallop was fresh, firm, and meaty, but the shrimp were rather dry and unremarkable.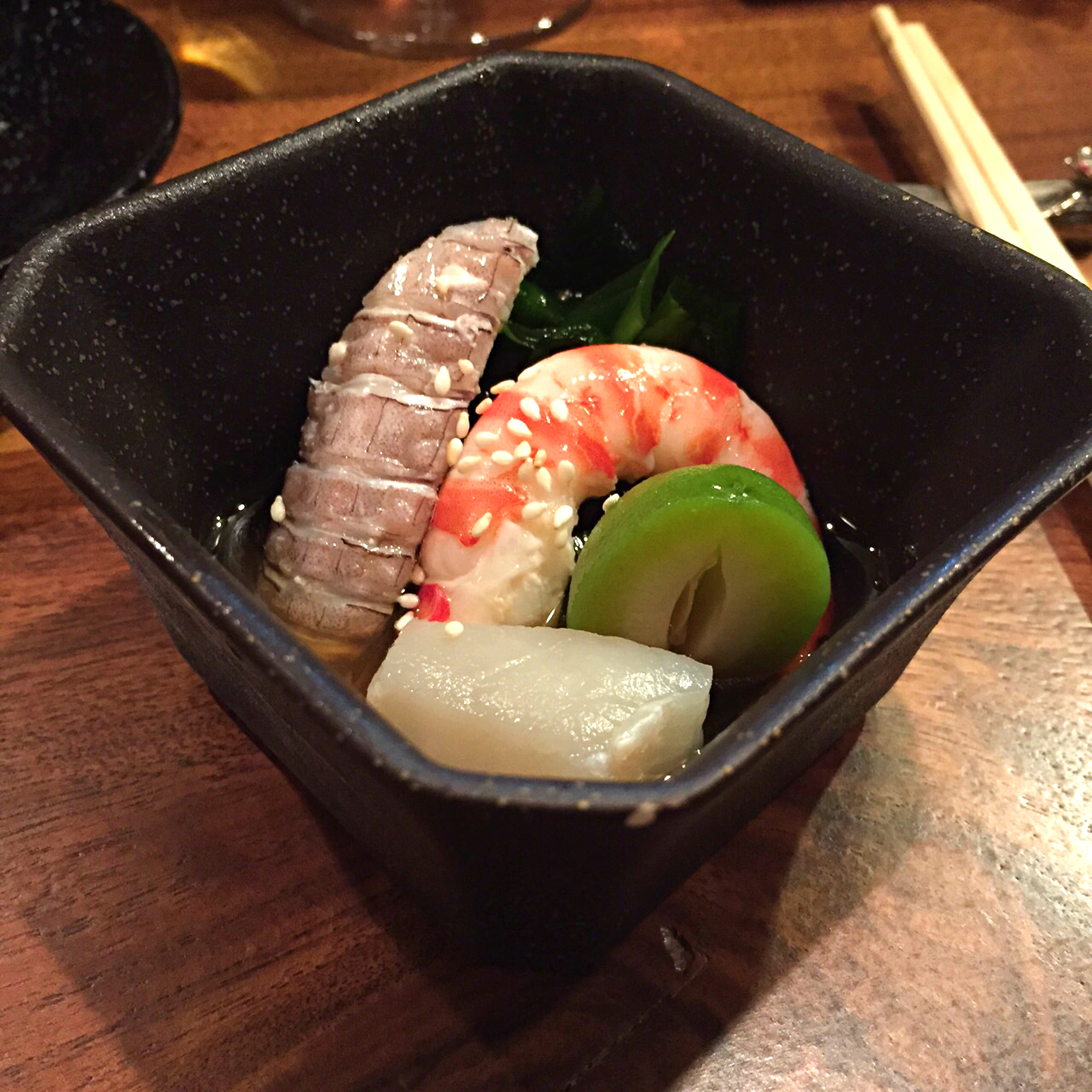 3. Baby eel served with a creamy sauce. We don't have a photo of this but you can find one here. The baby eel are tiny, 2-3 inch long, thin and clear fish with a slippery texture.
4. Firefly squid (hotaru ika), baby ice fish steamed wrapped in shiso, uni. The hotaru ika is a seasonal spring dish served in Japan, and this version was really delicate and light.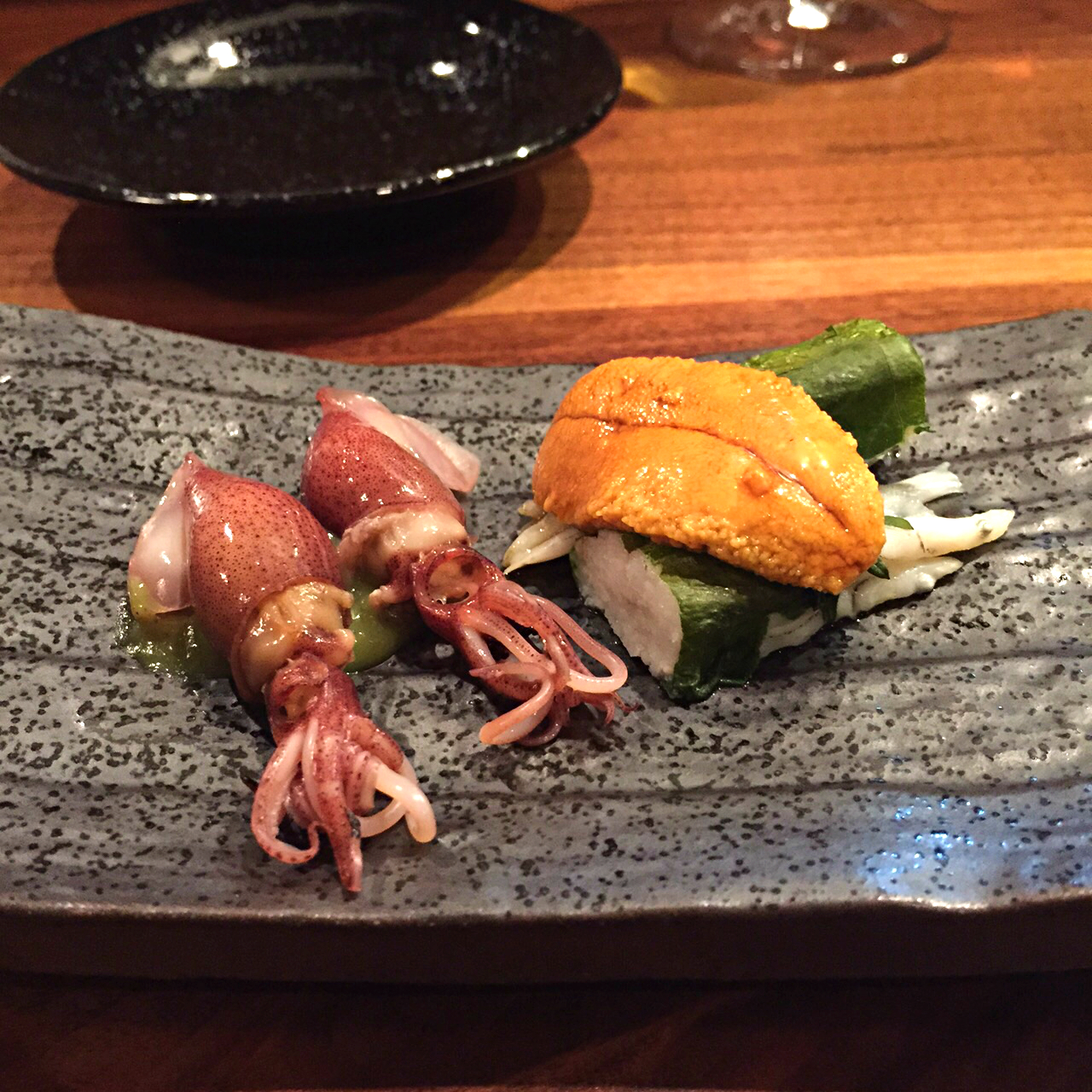 5. Oyster, quail egg, caviar, uni, yuzu. Heaven on a spoon!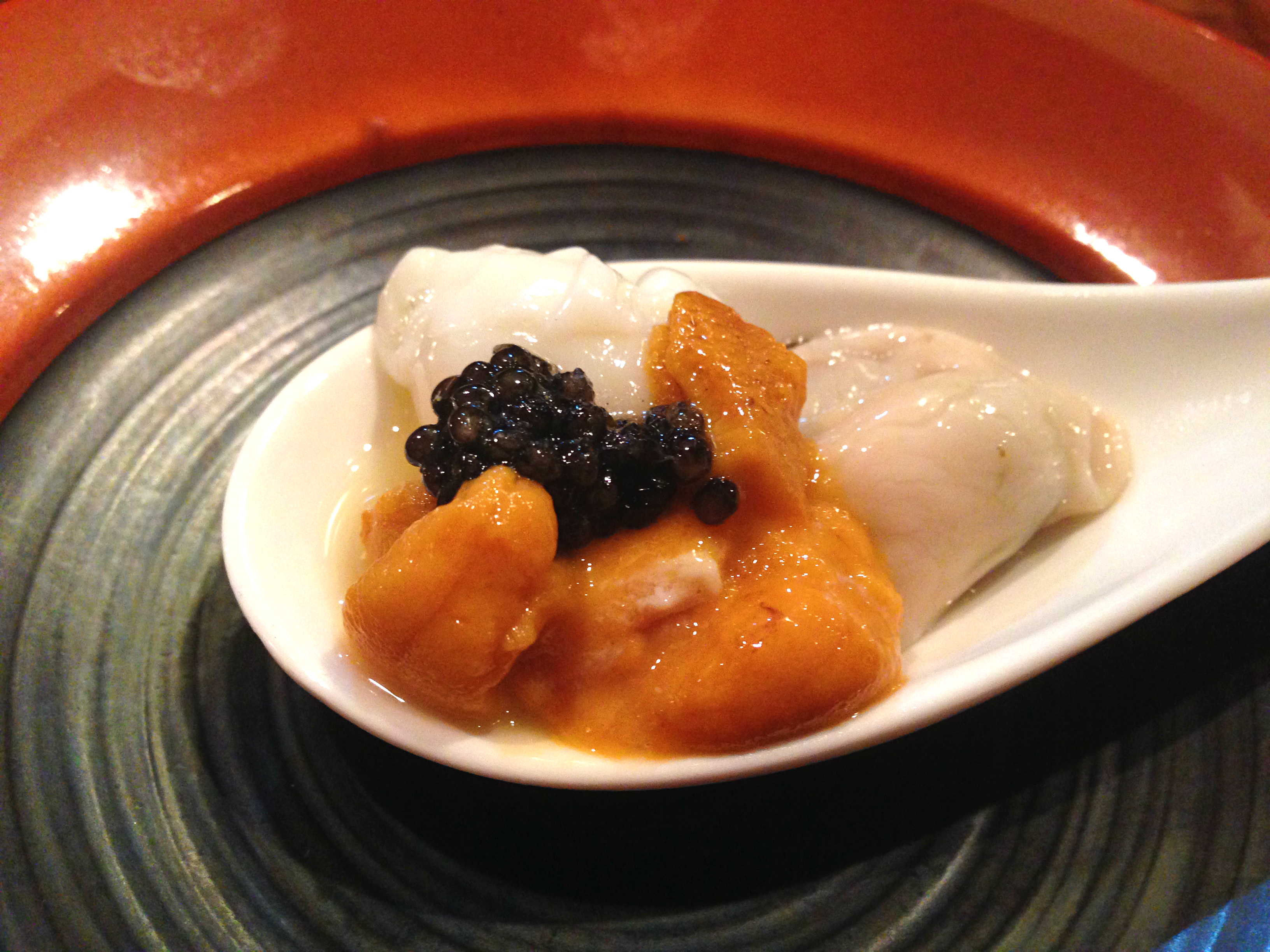 6. Scallop, evoo, yuzu, porcini salt, caper branch. Super fresh, meaty and tender scallop with a nice acidic contrast from the caper branch. The porcini salt added a bit too much saltiness.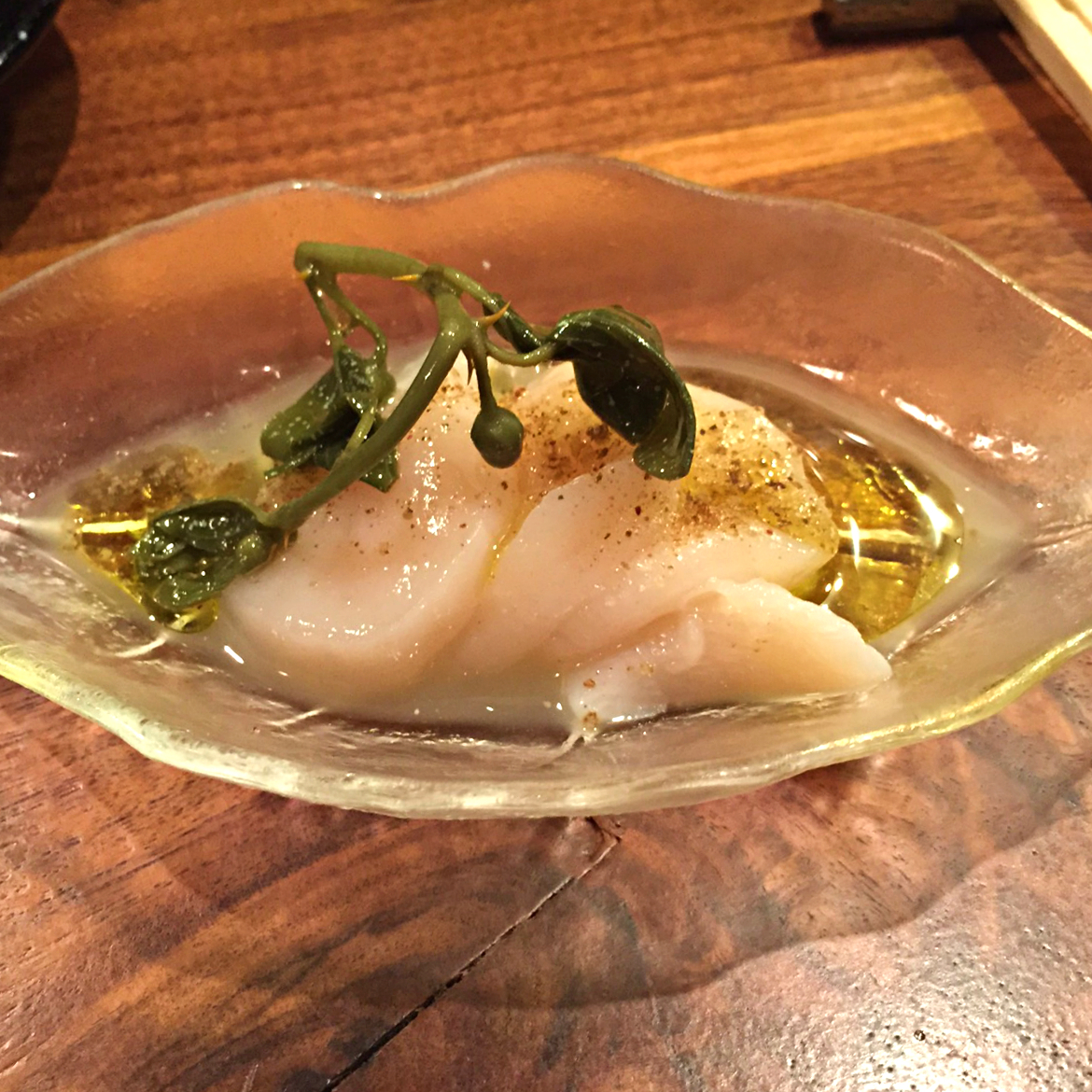 7. Japanese black throat sea perch (nodoguro), shiso. Fresh, firm, mild flavored fish. Fantastic knife work on the shiso!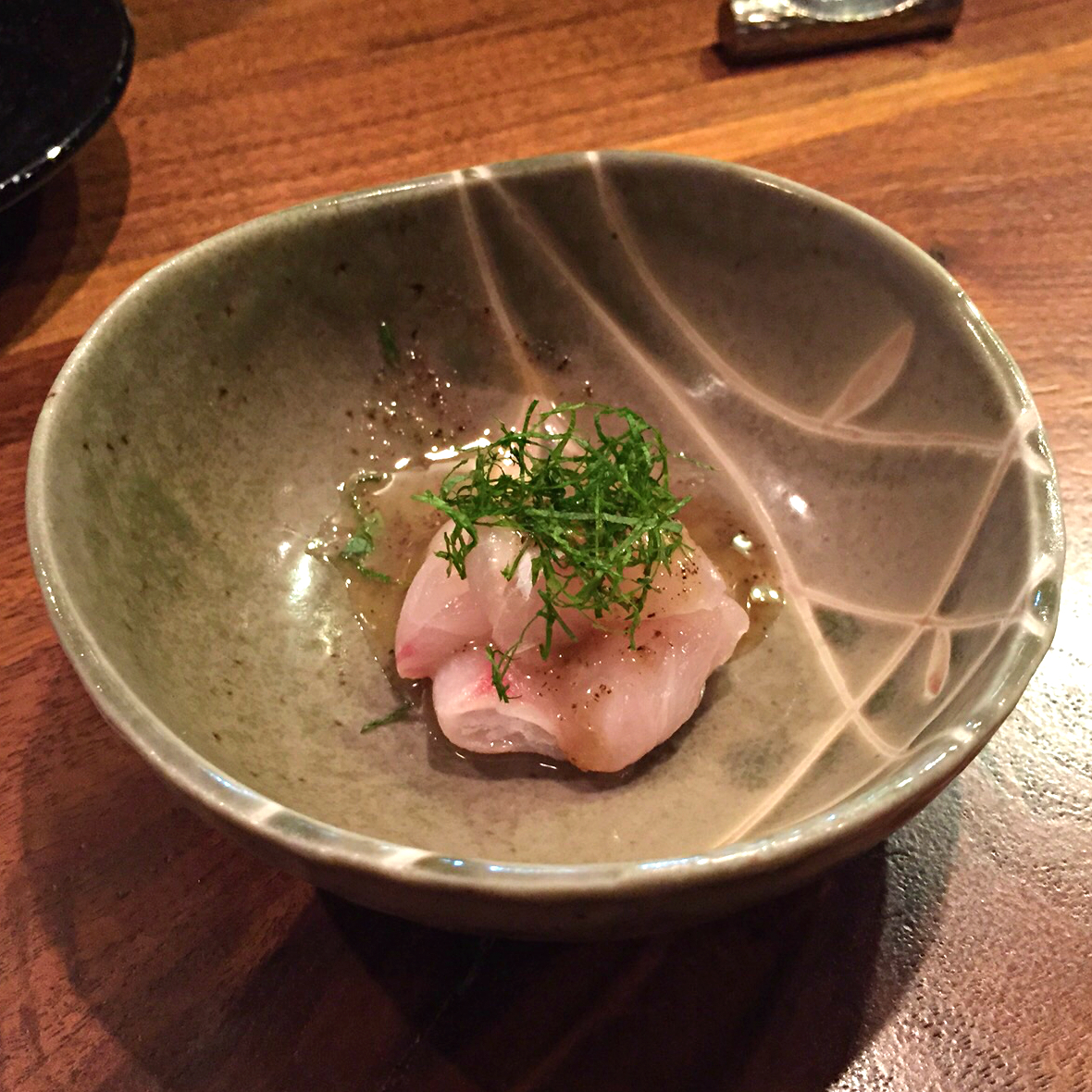 8. Marinaded Spanish bluefin tuna, pine nuts, caviar, chive. Possibly my favorite dish of the night, and the best tasting akami tuna I've ever had! Usually I find tuna quite bland and a bit mushy in texture. This was firm, meaty, silky smooth and buttery, and lightly marinaded in a umami-packed sauce.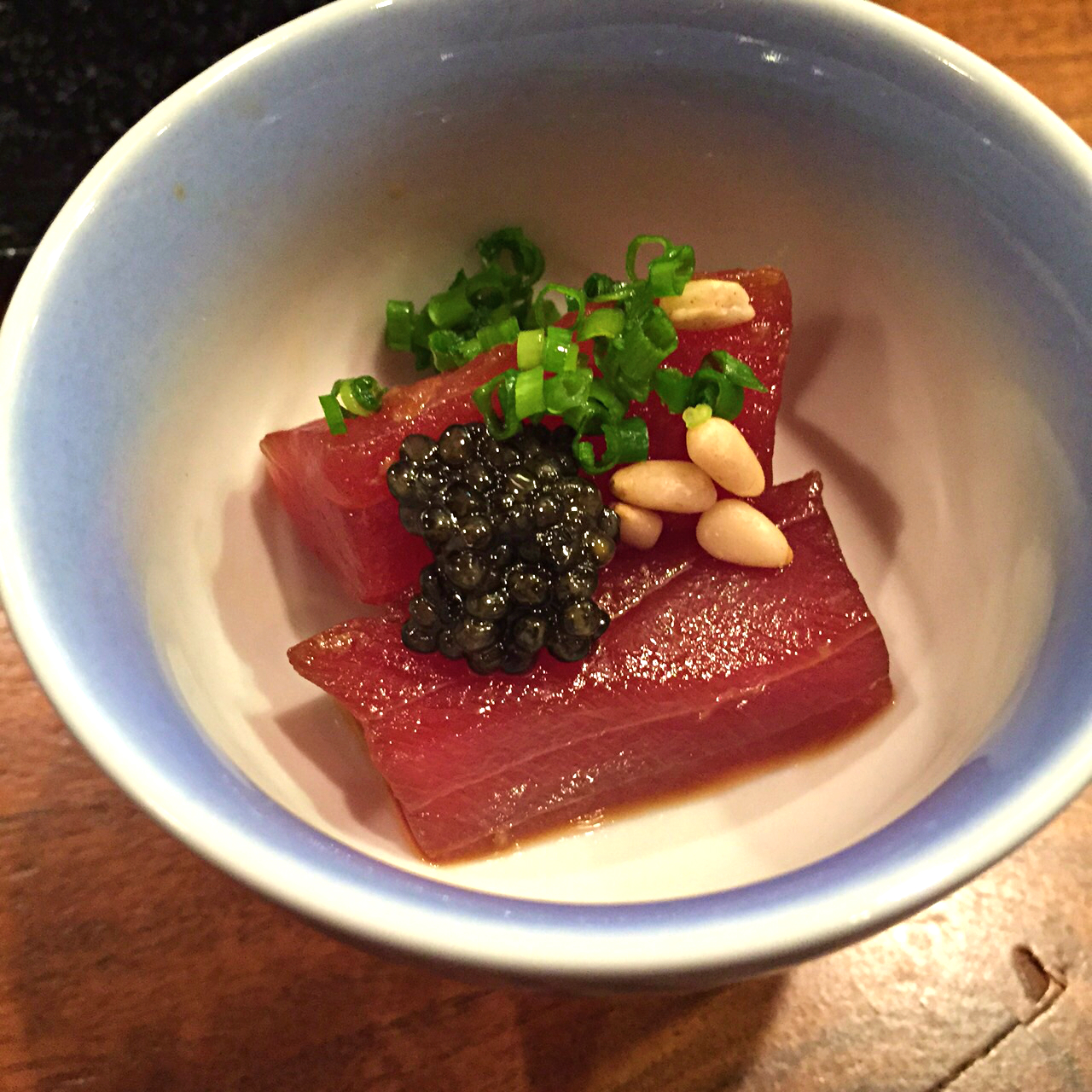 9. Red clam, cucumber, ponzu, sesame.  Ocean fresh flavor and lovely crunchy texture on the clam.  I wish there were more shellfish dishes like this, and fewer of the heavier dishes.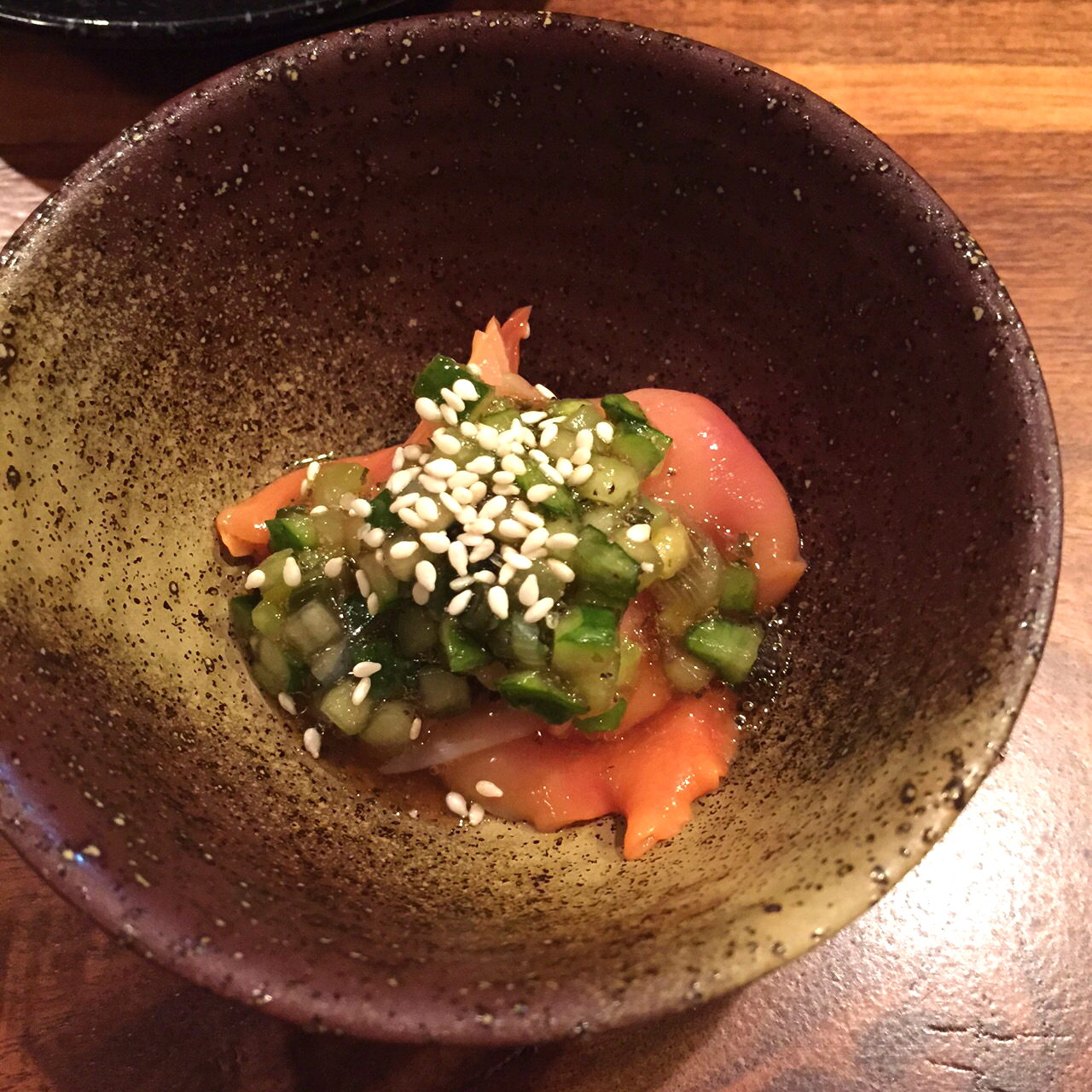 10. Yellowjack sashimi from japan, miso tofu sauce, chives. The Japanese vhives made an appearance in many of the dishes, and rightfully so! The chef's wife buys the Japanese chives from a farmer's market, and it's an incredible herb with a light grassy flavor, that's much milder than American chives.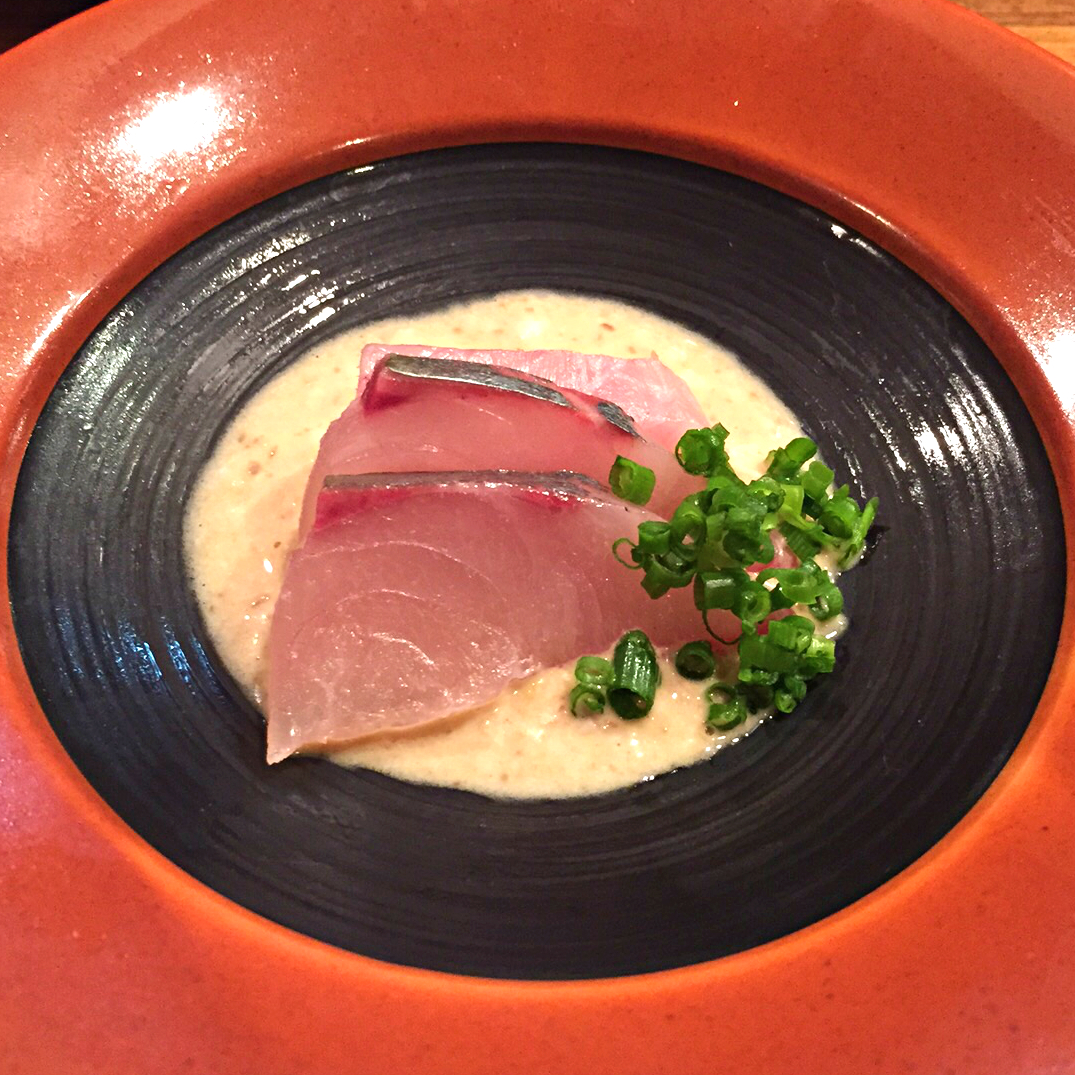 11. Torched wagyu tenderloin, yuzu kosho. Our first beef dish was quite tasty, with a nice contrast between the raw wagyu tenderloin and the torched bits.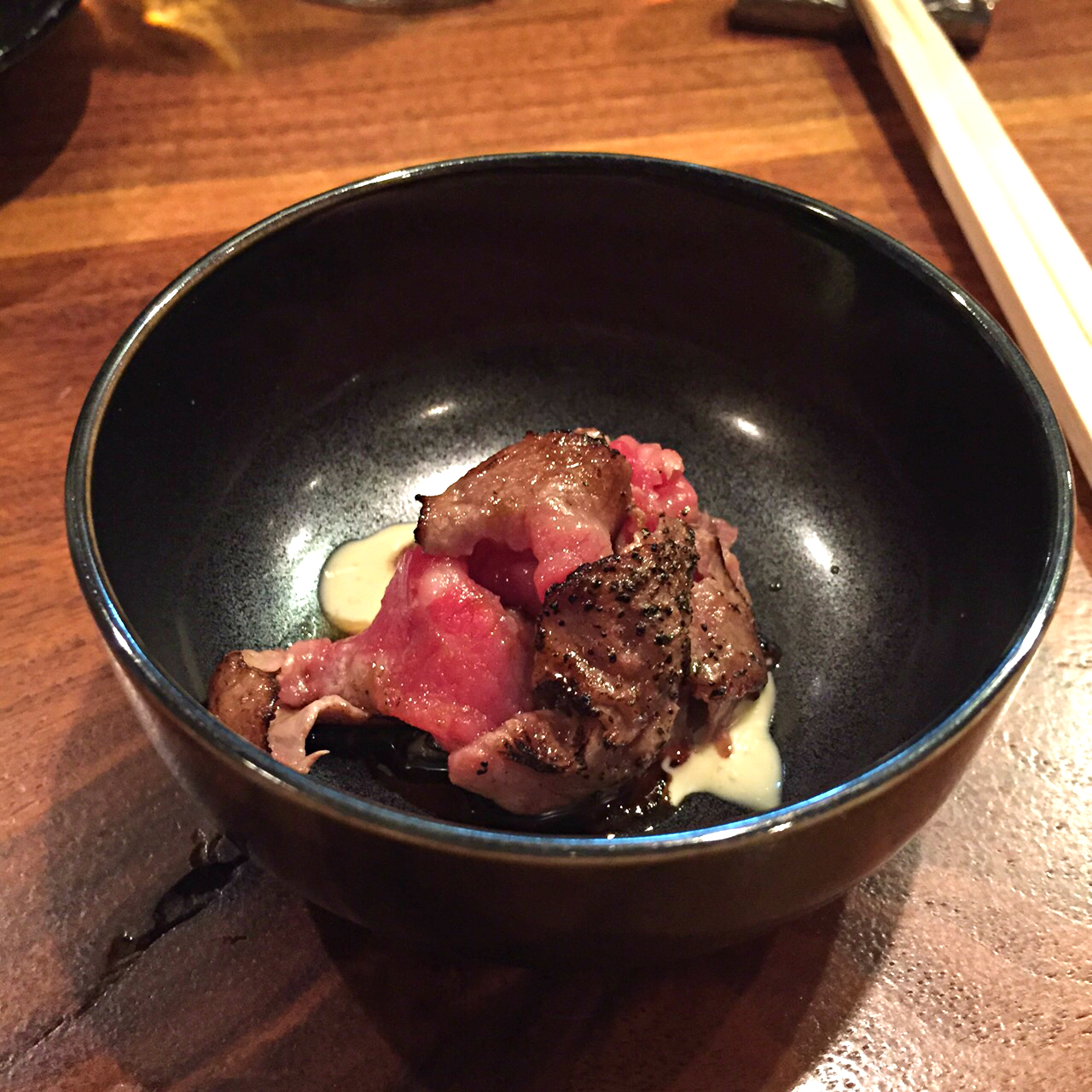 12. Foie gras terrine, blue crab, quail egg, toro, truffle cheese from Albani, Italy.  This is where the meal started to veer offroad. I didn't think there could be too much of a good thing, but here it is. The foie gras terrine and truffle cheese were so heavy, and totally overpowered the other ingredients, which were also quite rich. There was little matrimony of flavors or textures. Such a shame to waste such beautiful ingredients, but this dish was really hard to finish.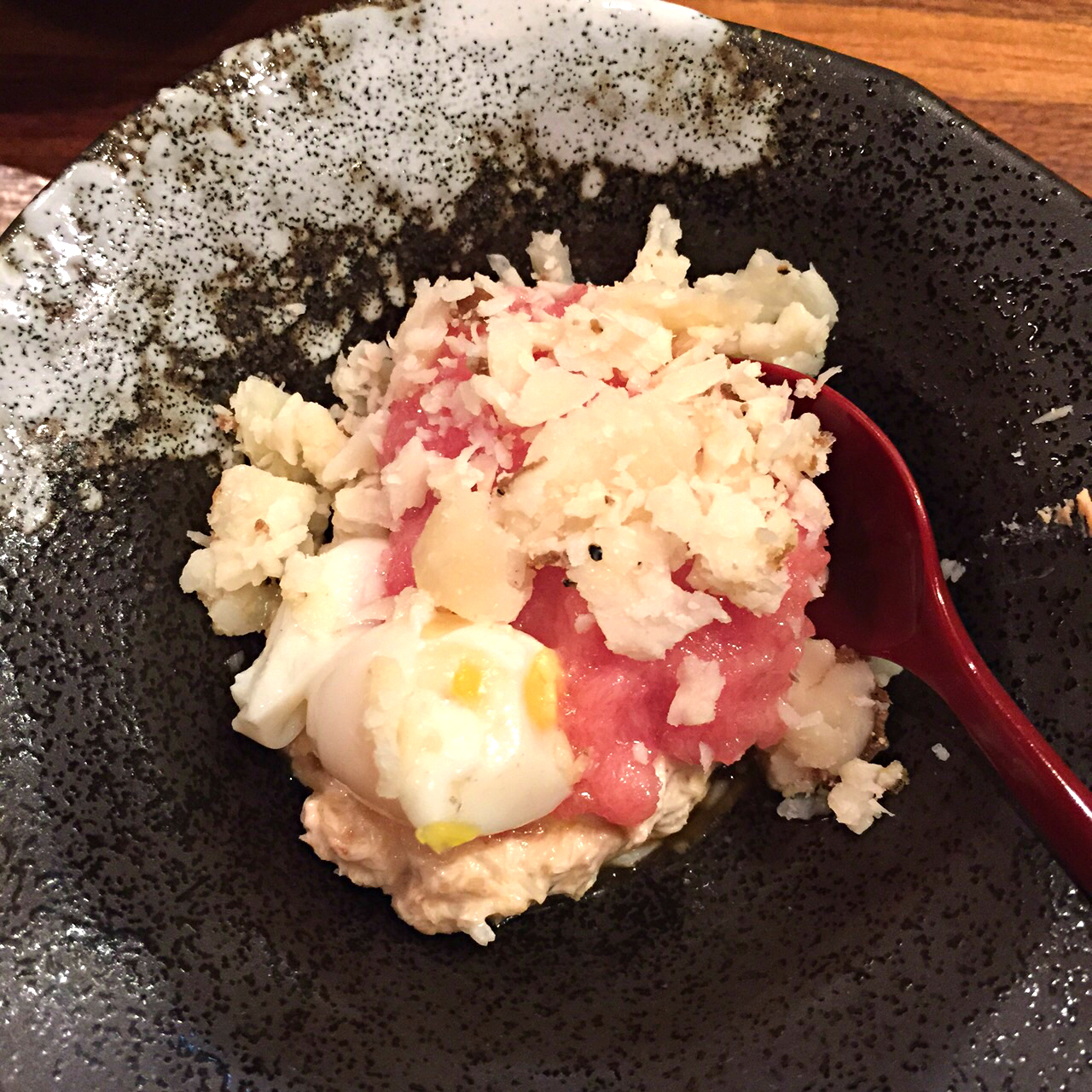 13. Steamed hairy crab. Each person was served a pretty sizable portion, and we had to bring most of ours home. The crab was served steamed, but didn't have the fresh sweetness you would expect from a steamed hairy crab. It was rather bland, and for such a large portion, could have really used a simple vinegar & ginger dipping sauce.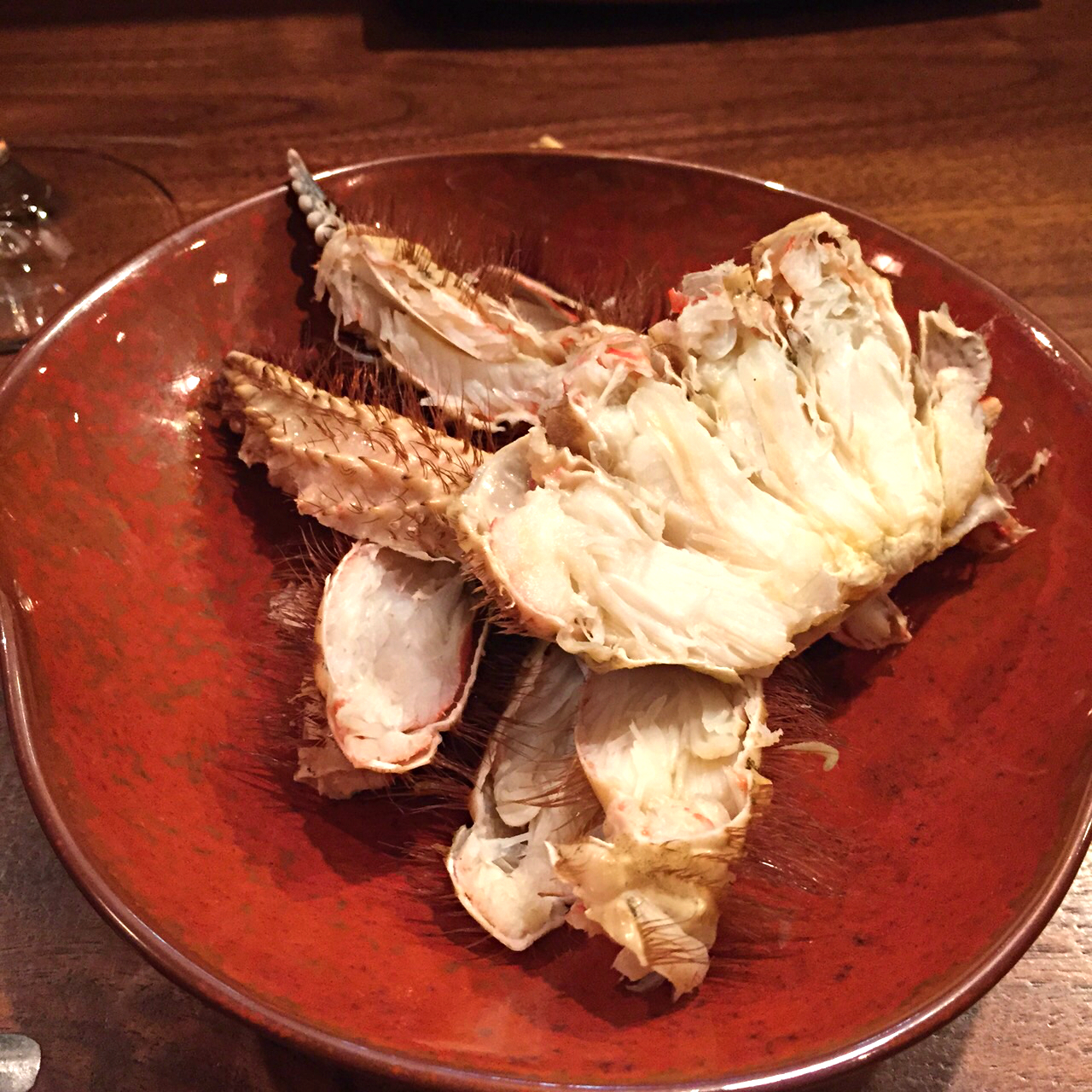 14. Foie gras terrine soup, Dungeness crab, oyster, tofu, Japanese chive. Interesting use of foie gras terrine. the soup was pretty good, but a bit salty.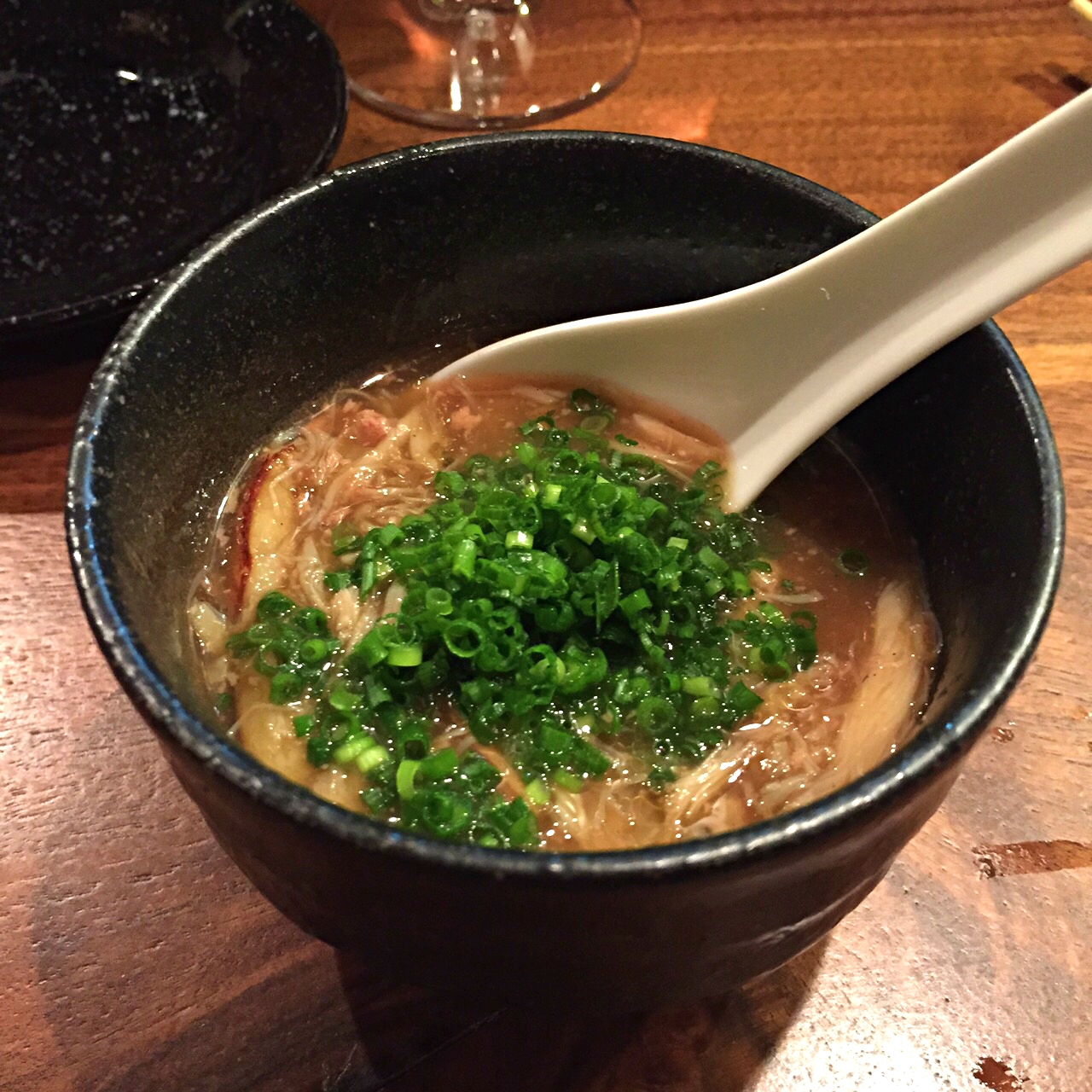 15. Japanese toast, glazed uni, white truffle paste, blue crab, frozen toro. This dish really blew my mind! I had no idea what frozen toro would taste like, but it really worked with the other ingredients. The Japanese toast had amazing flavor – I could have eaten 10 slices! The toro melted like frozen butter into the sweet uni and blue crab. Really inspired and delicious.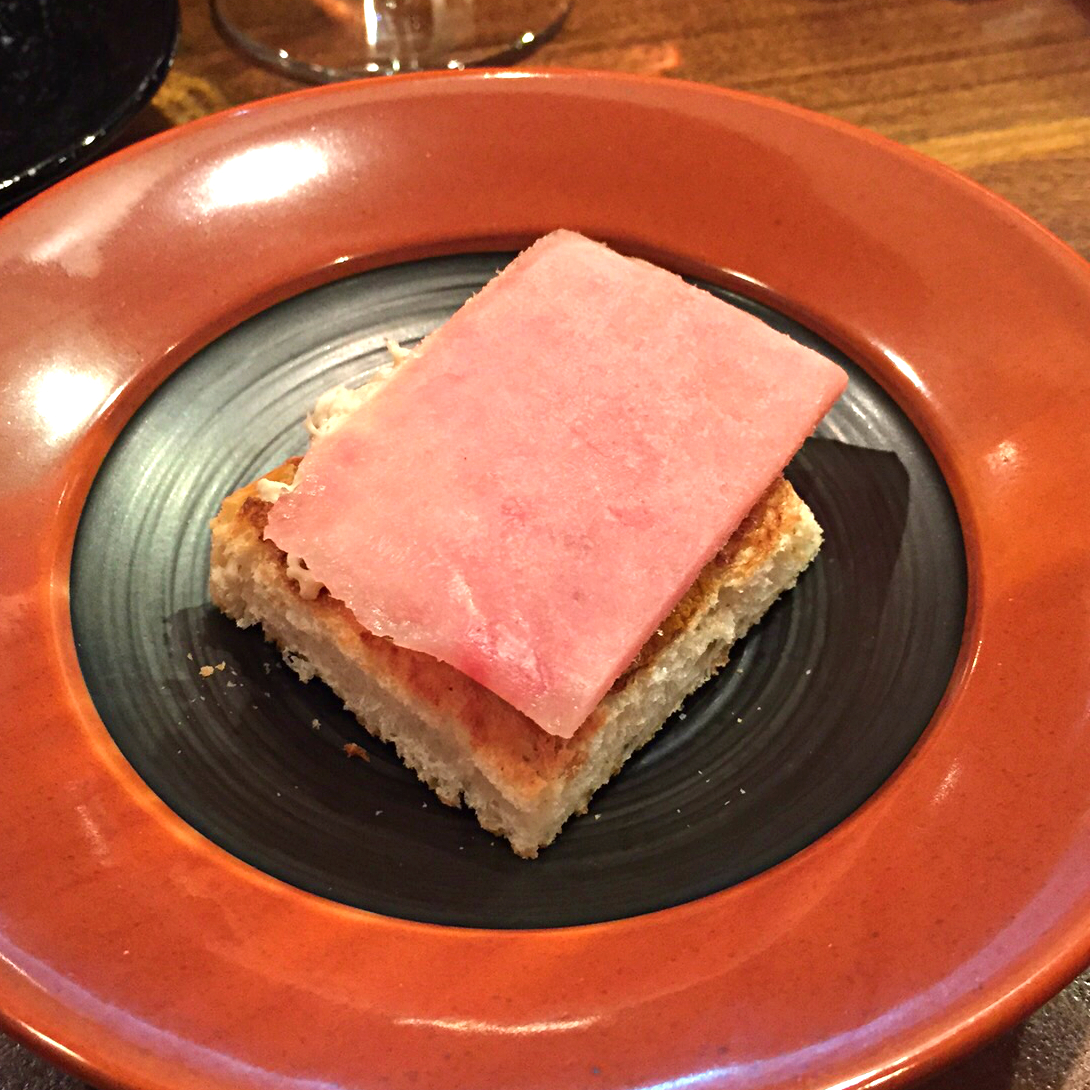 16. Black pepper wagyu beef. A pretty big portion of wagyu beef, sauced in plenty of butter and black pepper.  I was too full at this point to fully enjoy this dish.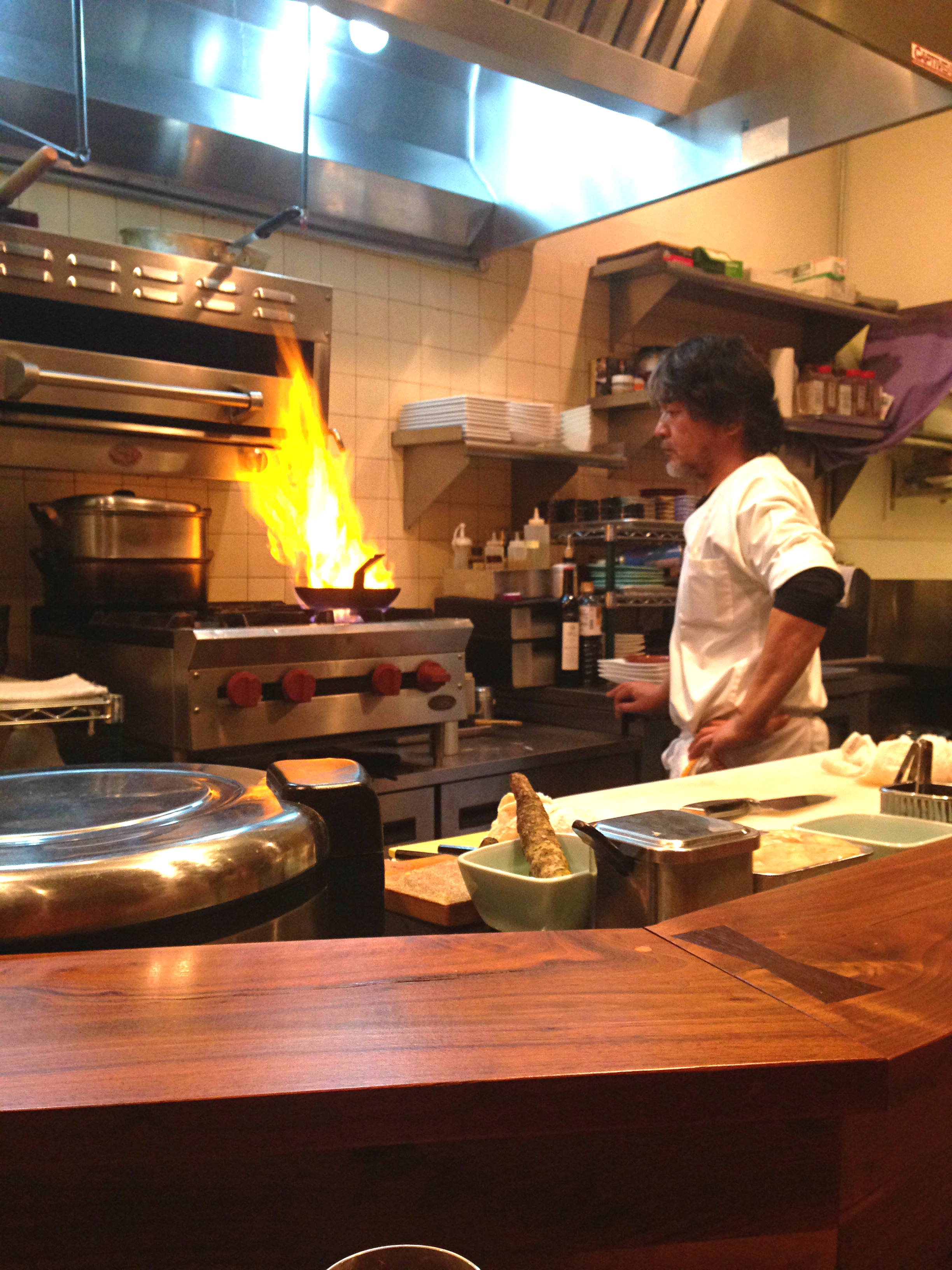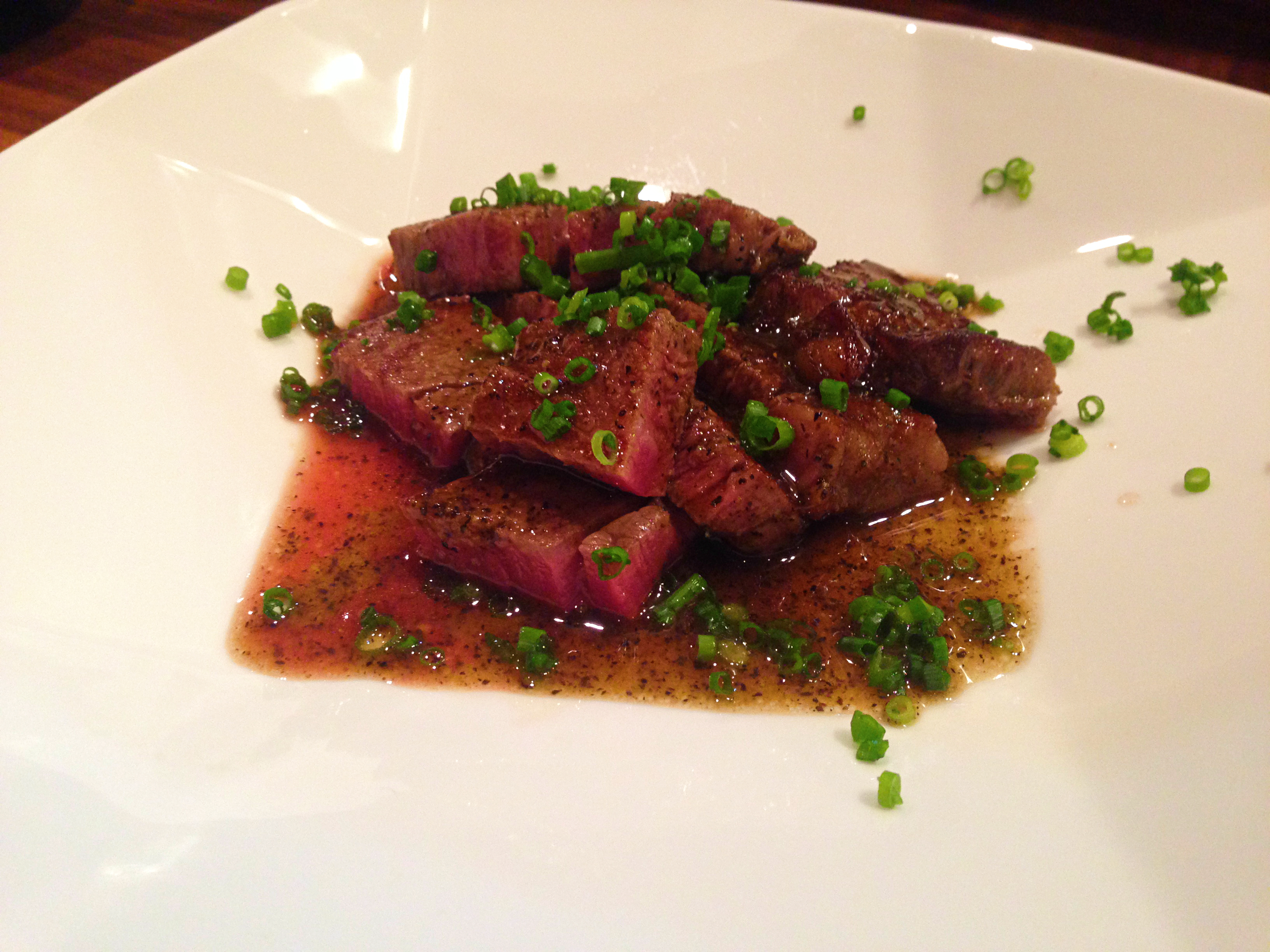 17-22. Nigiri course: akami, yellowjack, sea perch, chutoro, otoro with yuzu kosho.  The sushi was truly some of the best in LA, and I wish it had come earlier in the meal because I was so full! The fish was sliced perfectly, served with a small amount of rice so as to not overwhelm the mouth, and brushed with a beautiful nigiri glaze.
23. Toro, silver fish, shiso, uni handroll. Fantastic hand roll, but I was beyond stuffed and had a hard time enjoying this.
24. Green peach sorbet. Nice light palate cleanser to finish the meal.
Overall, the quality of fish at Yamakase was top notch, though some dishes were hit and miss. You get good value for the price, but since the price is so high, the chef ends up just stuffing you with way too much of what are perceived as "expensive" ingredients, such as foie gras terrine and truffle cheese (the two things that, if removed, would make this a much better meal). I wish the meal focused more on unique fish and seafood dishes, and less on the overly rich ingredients. It's worth a try for a first time, but there are too many other omakase and kaseiki options in LA to warrant a repeat visit.