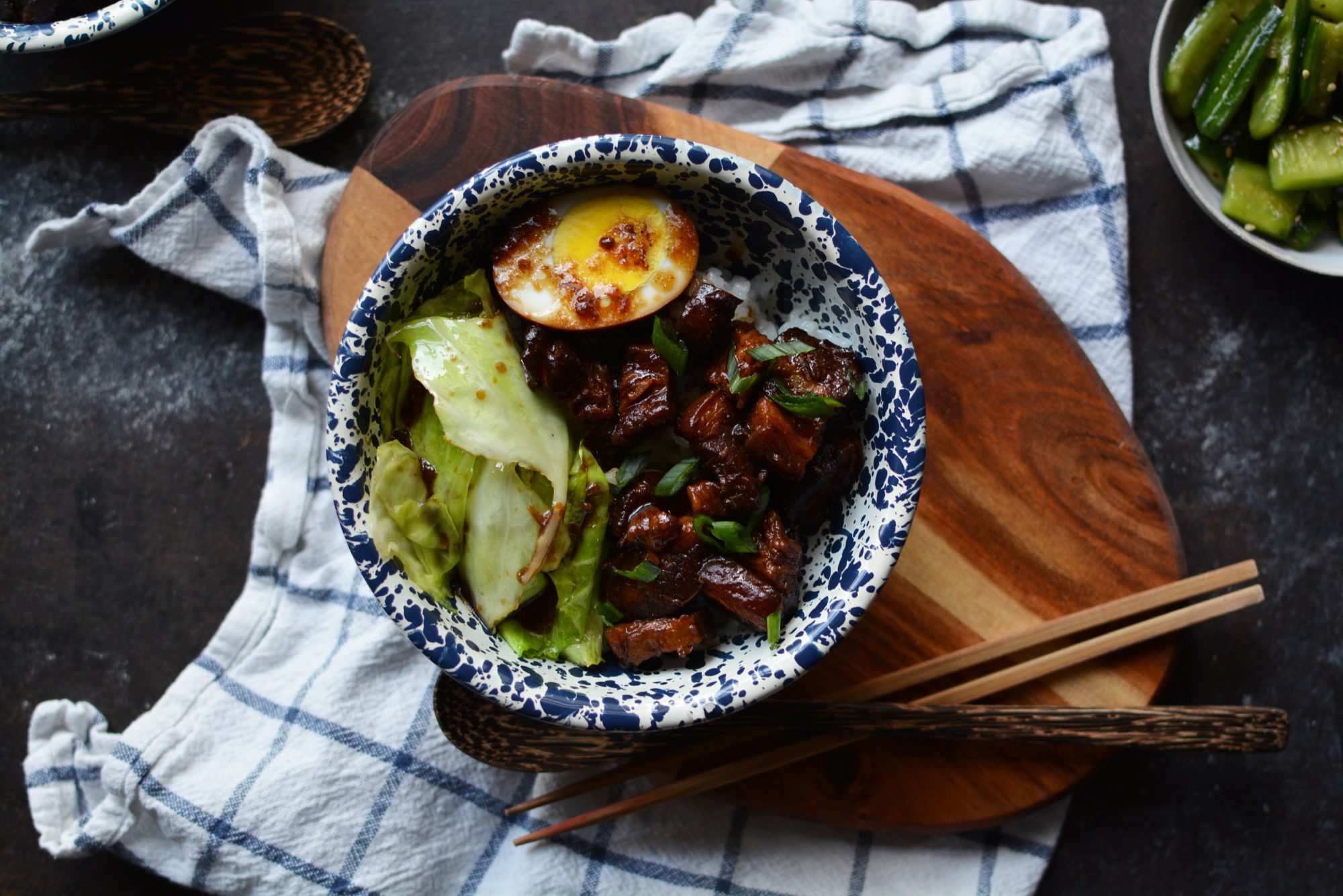 Lu Rou Fan (Braised Pork Belly on Rice)
I'll be honest, I didn't know what an instant pot was when my coworker came in raving about it one day. "It was the biggest selling item on Amazon prime day!" she flailed. "It does everything! It's a pressure cooker, slow cooker, rice cooker, and steamer!" A bit of googling tells me it also makes yogurt (huh?!) and connects to Bluetooth. The instant pot Facebook community has half a million followers (double huh?!).
Luckily, the nice folks at Cosori sent us an Electric Pressure Cooker 2 Quart Mini 7-in-1 Multi-Functional, Programmable Non-Stick Steam Rice Cookware – that's a mouthful! We set the cooker to test on one of our favorite Taiwanese dishes that would normally take a couple of hours to cook, but takes 30 min using the pressure cooker function in the Cosori.
The ultimate in Taiwanese comfort food is hands down the Lu Rou Fan 滷肉飯, which roughly translates to "braised meat rice". It's a bowl of rich, meltingly tender diced pork belly swimming in a collagen-laden sticky sauce, often served with braised hard boiled eggs, on a bed of sticky white rice. I'm drooling just thinking about it!
We used the recipe from Kelly Siew Cooks.
So what's the verdict? The Cosori is well designed, easy to use, and saves a lot of space from having a separate pressure cooker, rice cooker, and crockpot. It's a little less scary than the traditional pressure cooker which blows jets of hot steam all over the stove top. The mini size is good for meals for 1-2 people. For a family or dinner party, you would need a much larger version which holds more food. Overall, we like it because it means we can make meals on a weeknight that would normally take hours!
Serves 2-3 | 1 hour
Ingredients
1lb of skin-on pork belly, cut into small dice
3 cloves of garlic, chopped
40g Rock Sugar (roughly 1/3 cup)
1/4 cup light soy sauce
1/4 cup Chinese rice wine
1 small stick of cinnamon
1 tsp ground white pepper
1/4 tsp five spice powder
1/2 cup fried shallots (store-bought or homemade)
2 cups water
4 hard-boiled eggs, peeled
1 tbsp chopped green onion, for garnish
Ingredient Tips:
Chinese light soy sauce is best for Chinese dishes. Check out this Huffpo article on soy sauces – the "Light Soy Sauce – Chinese" is what I use at home.
Directions
Add all ingredients except eggs and green onion into the pressure cooker, and cook for 30 minutes.
Release pressure, and transfer to a small pot to reduce the sauce. Add hard boiled eggs to the pot, and simmer uncovered until the sauce reduces to a sticky consistency that lightly coats the back of a spoon. Season to taste.
Garnish with green onion, serve on steamed sticky white rice with some sauteed greens.