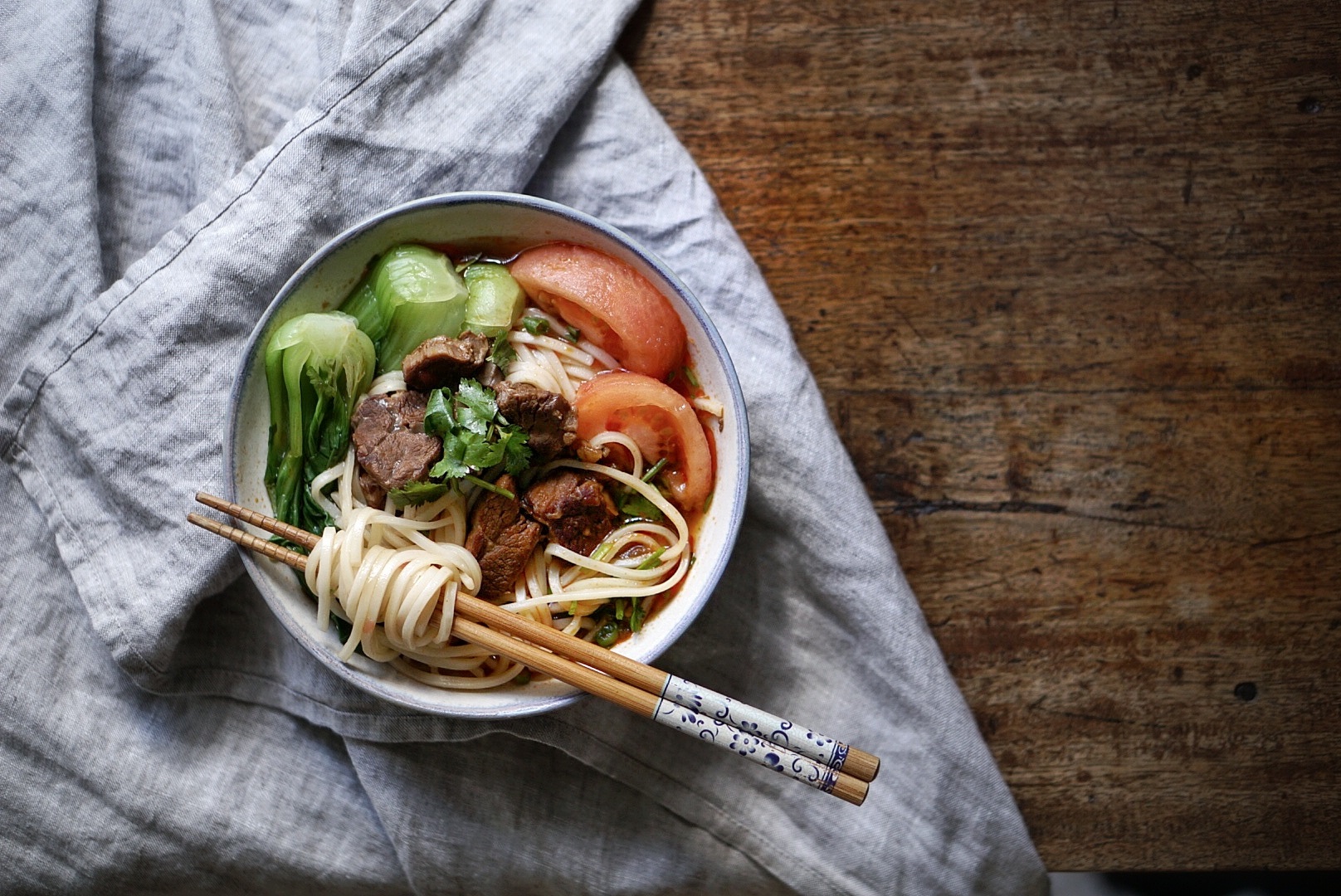 Tomato Beef Noodle Soup
I'm on a never ending quest to find the best beef noodle soup recipe (see beef noodle soup recipe version 1.0). It's the most satisfying meal in a bowl ever, in any of its endless forms. Clear beef noodle soup, spicy beef noodle soup, and my personal favorite, tomato beef noodle soup.
I love it so much, I went to a cooking class in Shanghai to learn how to make an authentic tomato beef noodle soup. This version has fall-off-the-bone beef braised in an aromatic soy based broth, with sweet and tangy hints of tomato, and chewy fresh noodles.
Serves 4 with leftovers | 3 hours
Ingredients:
2 lb beef shank or brisket, cut into 1.5 inch pieces
4 large plum tomatoes, cut into 1 inch pieces
8 baby bok choy
Small bunch cilantro
1 lb fresh wheat noodles
1 slices ginger
2 green onions
3 tbsp cooking oil
1 tbsp Sichuan bean paste (dou ban jiang)
3 tbsp light soy sauce
1 tsp dark soy sauce
1 tbsp rock sugar (about 1 pie
2 tbsp shaoxing cooking wine
2 tbsp tomato paste or ketchup
1-2 star anise
1 small piece of cinnamon
10-15 Sichuan peppercorns
Pinch of white pepper
Water or homemade stock (homemade beef, pork, or chicken stock all work)
Directions:
In medium pot over medium-high heat, stir fry the ginger and green onion until fragrant. Add beef and sear until all sides are brown.
Add Sichuan bean paste, soy sauces, sugar, star anise, cinnamon, sichuan peppercorns, white pepper, and cooking wine. Stir to mix, and then add tomatoes, and tomato paste or ketchup. Add water or stock to just submerge the meat.
If using a pressure cooker, cook on medium-low for 45 min. If cooking on the stove-top, simmer covered, on medium-low, for 2-3 hours. Check for tenderness at 2 hours, the meat and sinews should all be easy to chew. Adjust seasonings to taste.
To serve, place blanched greens and beef on top of cooked noodles. Ladle soup over the noodles. Garnish with cilantro.