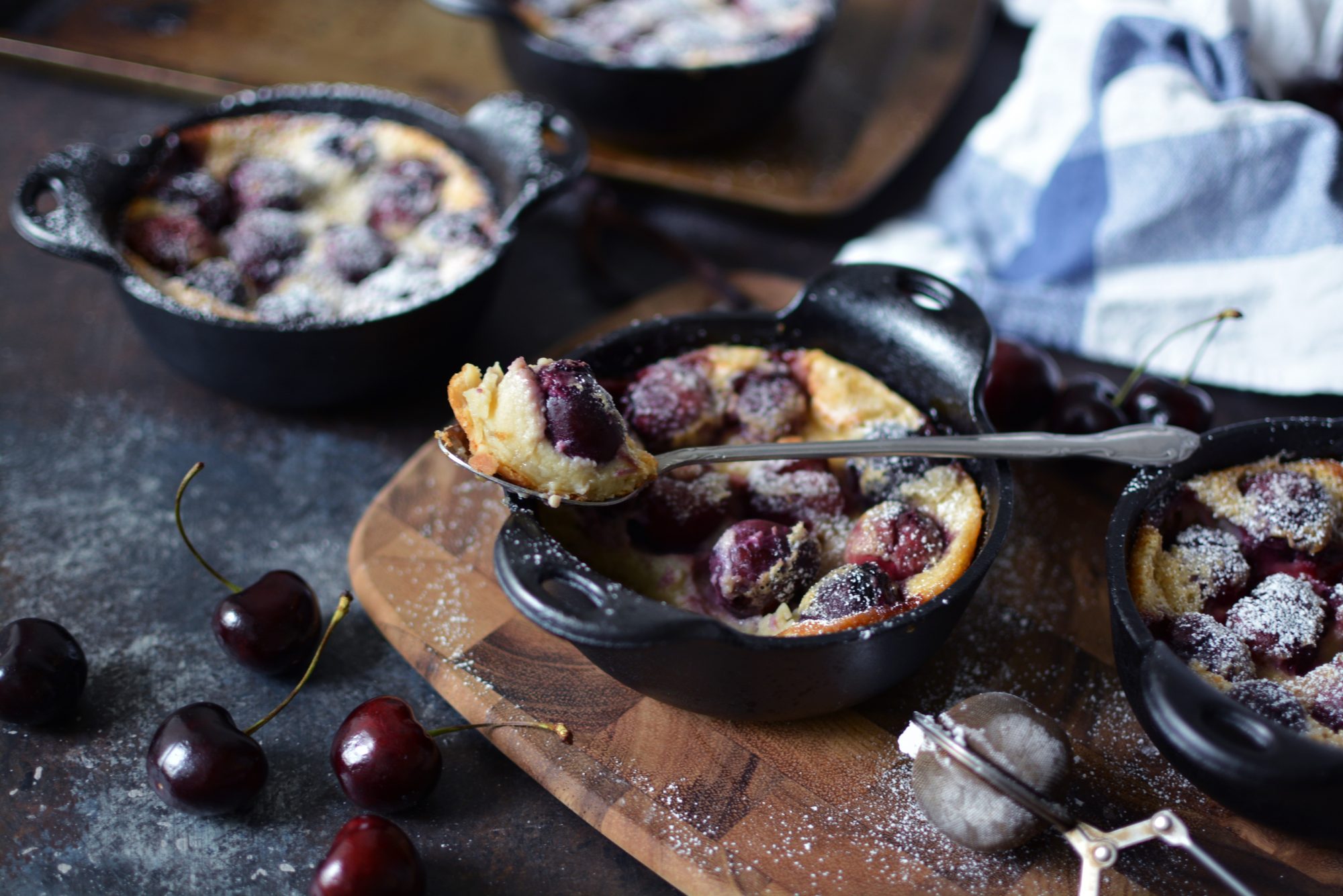 Cherry Clafoutis
It's nearly the end of May, and my local farmer's market has been overflowing with plump, juicy, sweet red cherries. I buy them by the bushel and could snack on them all day! It's hard to find a recipe that does justice to the already perfect little fruit, but the classic French dessert cherry clafoutis fits the bill.
Somewhere between the texture of a flan and a crepe, cherry clafoutis is an egg, milk, sugar, and flour batter baked over pitted cherries. It's an impressive dessert that is actually quite easy to make. Though cherry clafoutis is the classic version, you can try other stone fruits, berries, or apples.
There's a lot of debate over the ratios of milk, sugar, and eggs, but we've found that 1 1/4 cups milk, 1/3 cup sugar, and 3 eggs produces a great result. Try the recipe out, and reduce sugar or eggs if you want a less sweet or eggy finished product.
Serves 6-8 | 1 – 1.5 hours
Ingredients
1 1⁄4 cups whole milk
3 eggs
1/3 cup sugar
1 teaspoon vanilla extract, or seeds scraped from 1 vanilla bean pod
1 teaspoon finely grated lemon zest
Small pinch of salt
1⁄2 cup flour
3 cups sweet cherries, pitted
Powdered sugar and whipped cream, for garnish
Directions
Preheat oven to 350°F. Butter a 9″ cast iron skillet, or mini skillets or ramekins for individually portioned clafoutis.
In a blender, quickly mix the milk, eggs, sugar, vanilla, lemon zest, salt and flour.
Scatter cherries over bottom of skillets or ramekins. Pour batter on top.
Bake for about 30 minutes for mini clafoutis, or 50 minutes for large clafoutis. When finished, clafoutis should be puffed and lightly browned, and a knife inserted in center comes out clean. Let cool slightly.
Sprinkle powdered sugar on top and serve with a dollop of whipped cream.