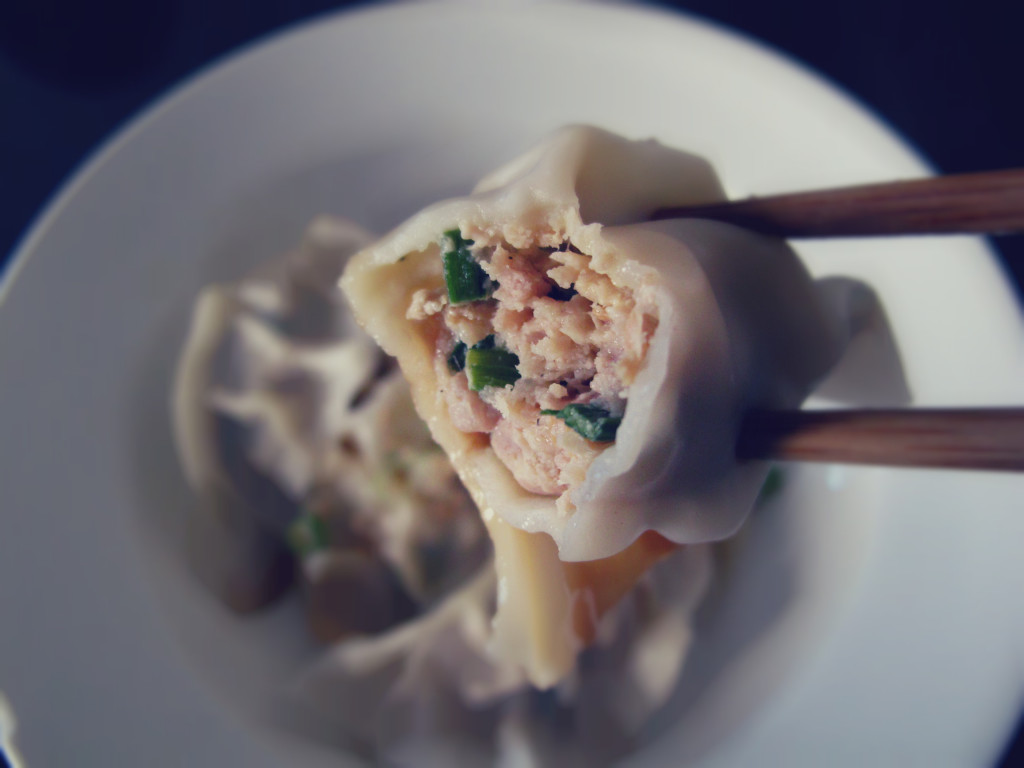 Pork Dumplings
Dumplings are probably by far my favorite things to eat. Since there are so many different ways there is never really a wrong way to make them. As a child, I used to sit in the kitchen with Remy, our housekeeper/chef (and after years of disagreement and training also my grandmother's great companion) and watch her cook. She's been with my family for over 15 years and holds the secrets to all our family recipes. Over the years my grandma has slowly trained her to cook all kinds of different Chinese dishes. I remember how difficult it used to be for me to help her assemble dumplings as my feeble fingers struggled to make those perfect pleats.  Today I'm featuring a dumpling recipe from the faint memory of those many times I've sat in the kitchen with Remy annoyingly peering over her shoulder and asking a million questions as she folded dumplings.
Cook Time: 2 hours  | Servings: Makes approximately 80 to 90 dumplings, around 6 to 7 servings
Ingredients:
1lb of ground pork
1lb of ground chicken
½ cup of finely chopped scallions
1 cup of finely chopped chives
1 cup of sesame oil
4 egg yolks
1 egg white
¼ cup of fish sauce
¼ cup of soy sauce
Salt and pepper
2 packets of dumpling skin
Directions:
In a large mixing bowl combine pork, chicken, sesame oil, scallion, soy sauce, fish sauce, salt and pepper. Let it sit in room temperature for about an hour. Add chives, egg yolk and egg white when you are ready to fold the dumplings.
The next part is rather therapeutic, the constant repetition of folding and pleating soon consumes you and before you know it you have heaps of dumplings. You'll need a stack of dumpling skins, your large bowl of meat mixture, a small bowl of water, a tray or some kind of container dusted with flour. Hold the dumpling skin in the palm of your hand, scoop half a tablespoon of meat (or however much the dumpling skin can hold), dip your index finger into the water and run your finger along one side of the dumpling skin. Next, fold the dumpling in half and pinch the wet and dry part of the dumpling skin together lightly. While you are pinching together the rim make sure you are pushing any air out. Fold around 5 to 6 pleats into the rim, each time pinching the pleats together. Arrange in the tray or container.
Once you have one down, I'd boil it and taste it just to check if you need to add a bit more salt. Add more seasoning depending on your preference. Continue folding. I normally like to put 5 to 6 of them in individual Ziploc bags and throw them in the freezer, this way they are ready to go. All you have to do is boil a pot of water and dunk them in for about 10 minutes. You can use basic soy sauce for dipping but I like to mix my own sauce. In a small bowl, I combine equal parts of soy sauce, white vinegar or Chinese red vinegar, and a dash of hot sauce and sesame oil. A good dipping sauce makes all the difference.