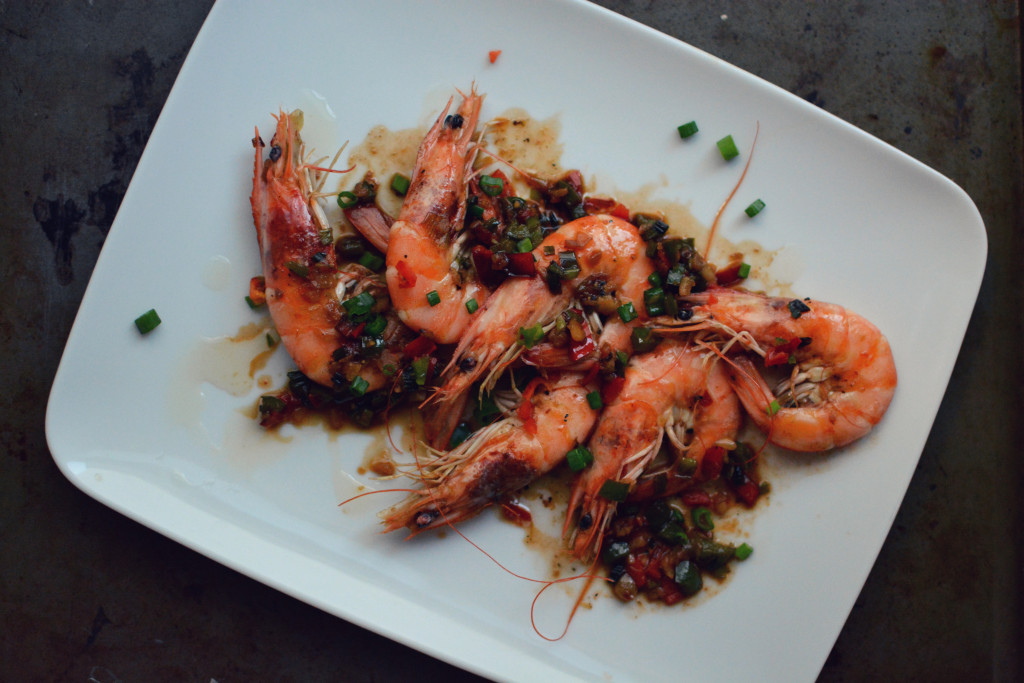 Asian Peel & Eat Shrimp
For a coastal city, Los Angeles is sorely lacking in quality seafood restaurants.  Unlike its Northerly sister cities Seattle and Vancouver, LA doesn't have the equivalent of a Rodney's Oyster House (Vancouver) or a Walrus and the Carpenter (Seattle).
Lately there's been a big trend in Cajun seafood boil restaurants, with Boiling Crab and Hot & Juicy Crawfish popping up everywhere.  These dive seafood restaurants are tasty, affordable, and a messy good time!  But if you don't care to wait an hour or more for your shrimp fix, try making these Asian Peel & Eat Shrimp at home.
We created this recipe using beautiful large fresh shrimp, with head, skin and tails on.  We pan fried these beauties in a sizzling hot pan with lots of garlic, green onion and jalapenos.  Then we doused them with a healthy splash of sake, and let the shrimp just cook through.
Serve with some thick, buttery grilled bread and Japanese mayonnaise for a finger-licking-good starter. Kewpie Japanese mayonnaise is superior to your average grocery store mayo.  It only uses egg yolks and a mix of acids, so it's much more rich and sweet than regular mayo.  The bread is great for mopping up the succulent garlicky shrimp juice.
This dish is super easy to whip up in a few minutes, and is versatile enough to prepare with whatever you have on hand.  Try the Spanish style Gambas Al Ajillo, loaded with garlic, paprika, chili flakes and lemon juice.
With an ice cold beer, it's simply bliss.  Ahhhh……
Ingredients 
1 pound fresh shrimp
3 cloves of garlic
2 jalapenos (more or less depending on your heat tolerance)
1 green onion
¼ cup Sake
2 tbsp. olive oil
1 tsp. butter
Salt & pepper
Directions
Wash shrimp and dry on a paper towel.  A dry shrimp will get a nice golden brown when fried.
Chop up the garlic, green onion and jalapenos.
Heat up a pan and add the olive oil and butter.  When the oil is hot, add the garlic, green onion and jalapenos, and fry until fragrant (30 seconds to 1 minute).  Add the shrimp and fry for a minute on each side.  Season with salt and pepper to taste.
Add a big splash of sake, and let the shrimp cook for another minute or two, depending on the size of the shrimp.  They are ready when they're pink.  You don't want the shrimp to overcook.  They will continue to cook a bit once you remove them from the heat, so don't worry about taking them off too early.
Serve the shrimp with the pan juices.  Don't forget to give your guests a bowl for the shrimp peels, and a pile of napkins!
Written and photographed by Tracy Chow & Jennifer Yu
He has conducted research on the development of mathematical thinking and cognition in children,
collegewritingservice.org/
examining the implications for instruction and assessment in early education