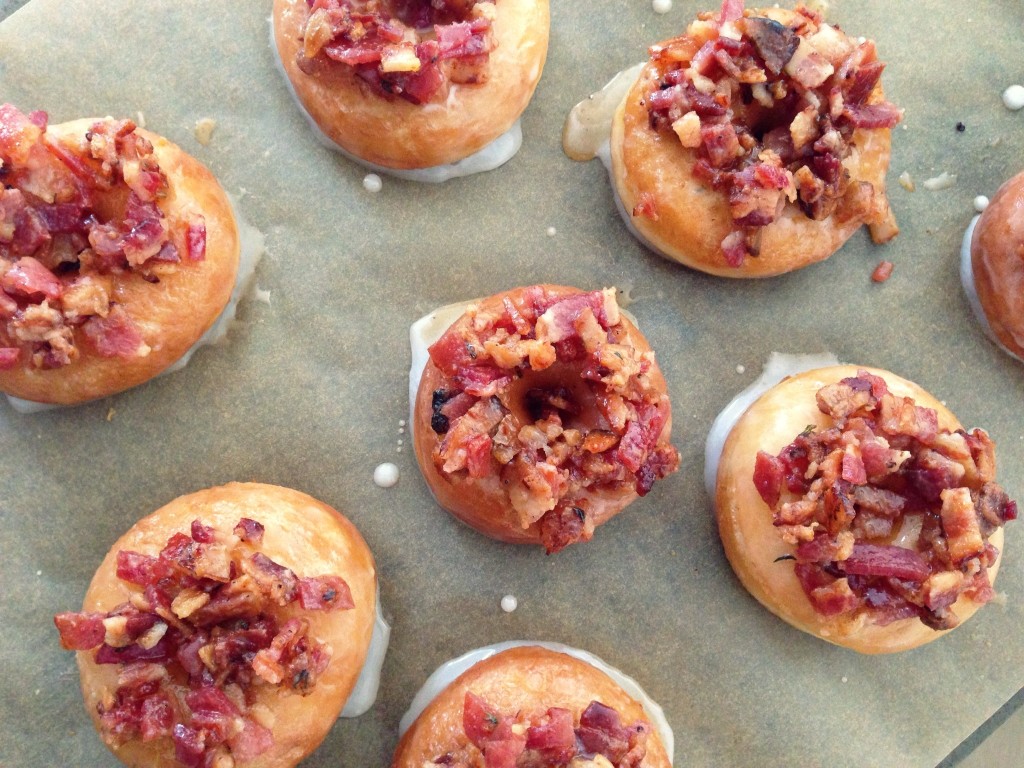 Bacon Maple Glazed Thyme Donuts
In a time of cold pressed juice cleanses, low carb, and paleo diets, frying up a batch of goodies in a well-worn cast iron skillet is a welcome reminder of simpler times.  In the spirit of tradition and classic American gastronomy, we pay homage to the humble donut – an irresistible seductress that can make even the most disciplined eater cheat on their diet.
Beignets, churros, zeppole and vada – every culture has its own.  No matter what you call it, the luscious dough, fried to a golden crisp and served warm with sweet or savory toppings, is undeniably delicious.
Our culinary crystal ball conjured up a vision of an airy golden halo, crowned with smoky bacon crisped in the oven with sugar and thyme.  We whipped up a batch of buttery dough, let it puff up to a glorious pillow-like texture, and spent a leisurely Sunday afternoon frying up batches of the golden deliciousness.
Savory and sweet, soft and crispy, these glazed bacon & thyme donuts fill the soul with songs from the past, and are certainly not for the faint of heart.  When it comes to donuts, there is only one rule – eat with your hands, fresh & warm out of the fryer.
Prep time: 3 hours | Makes 18 small donuts 
Ingredients:
Yeast risen donuts:
1 packet of rapid rise yeast
2 tbsp of luke warm water
3 cups of flour
1 cup of milk
2 ounces of room temperature butter
3 yolks
2 tbsp of sugar
1 1/2 tsp of salt
Bunch of fresh thyme leaves
Enough of canola or peanut oil to fill your pot 2/3 of the way up
Bacon maple glaze:
2 tbsp of maple syrup
1 package of thick cut bacon
Brown sugar for dusting
3/4 cup of milk
2 cups of powdered sugar
Directions: 
Make thyme butter in advance by combining butter and thyme leaves – I used about 1 tbsp of fresh thyme leaves. Pop in fridge overnight and allow to rest at room temperature before using the next day.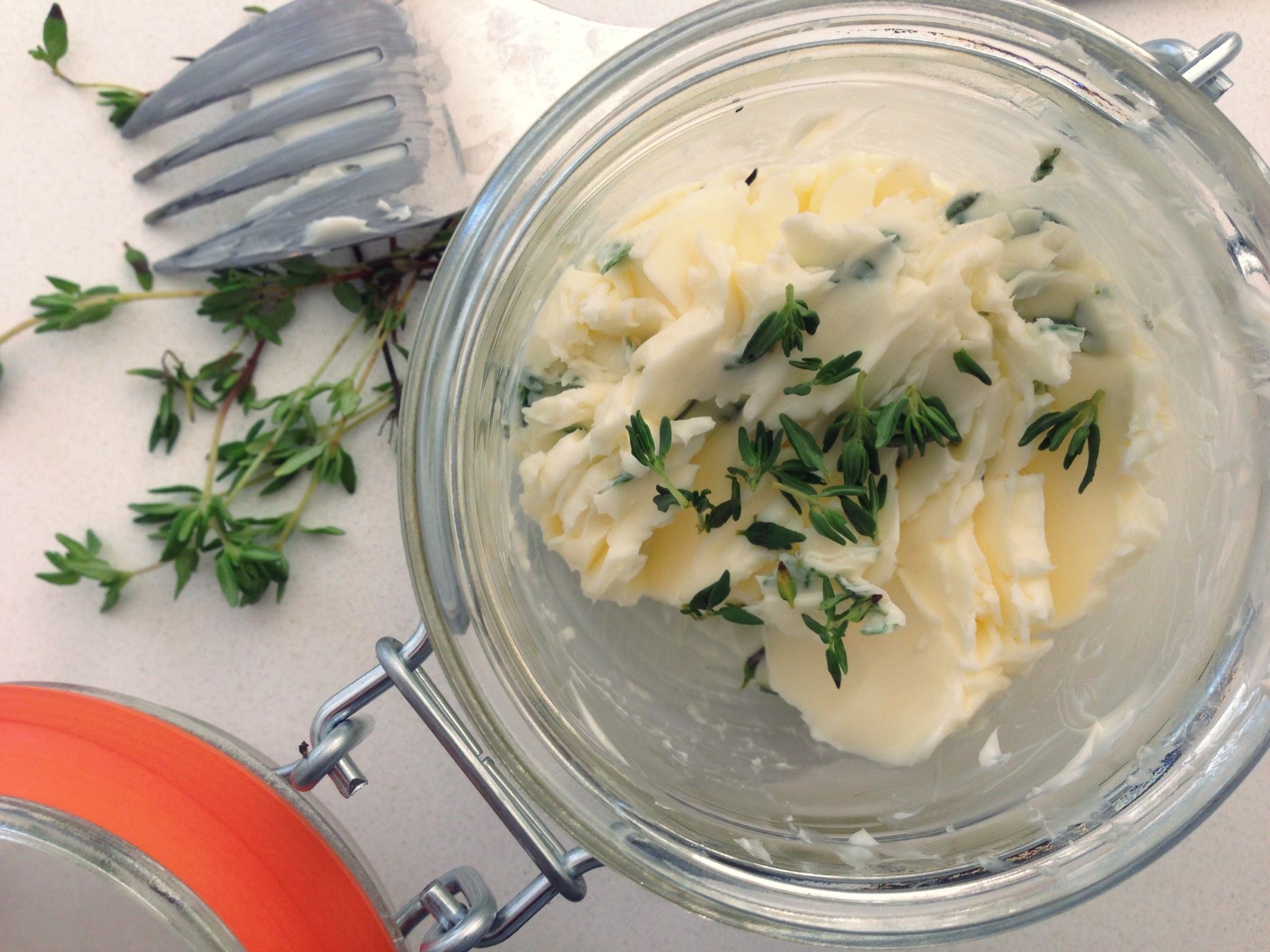 Mix a pinch of sugar with the 2 tbsp of luke warm water and sprinkle packet of yeast over sugar water. Yeast loves sugar so sprinkling a bit of sugar in will allow the yeast to grow! Let it sit for 5 minutes. You will know that the yeast is still active if your mixture is foamy and bubbly.
In your kitchen aid mixer, combine all dry ingredients and then mix in wet ingredients along with the activated yeast. Using a dough hook, run the kitchen aid until your mixture is smooth – 5 to 10 minutes. To test your dough use the window pane method, stretch a small ball of dough with your fingers and if you're able to stretch the dough out thin and light shines through you know it's ready. If it breaks apart you need to continue kneading.
Once your dough is ready, line a sheet pan with parchment paper and lightly flour the surface. Lay your dough out and press down to about 1/2 an inch thick and cover lightly with plastic wrap. Set aside for about 1.5 hours (or you can set it in the fridge overnight). When the weather is cold, keep the dough in the mixing bowl to raise because yeast thrives in warm temperature and then press it out to an 1/2 inch.
While you're waiting, starting preparing your bacon maple glaze. Lay bacon out on a lined sheet pan and dust with brown sugar and fresh thyme. Pop in the oven at 375 degrees and bake until nice and crispy. Cut into quarter inch pieces or smaller depending on your preference and set aside. In a medium mixing bowl. combine milk powdered sugar and maple syrup. Strain with a fine mesh strainer to remove any clumps. Mix 2 tbsp of the glaze with bacon just to hold the bacon bits together. Set aside the remaining glaze to dunk donuts.
After 1.5 hours, cut out with cookie cutters. You can either buy donut cutters or use a regular cookie cutter for the donut and a pipping tip for the donut hole. Set aside and let it raise for another half hour. If you set your dough sit in the fridge overnight the next day just cut out the donut holes and let it raise for an hour before frying.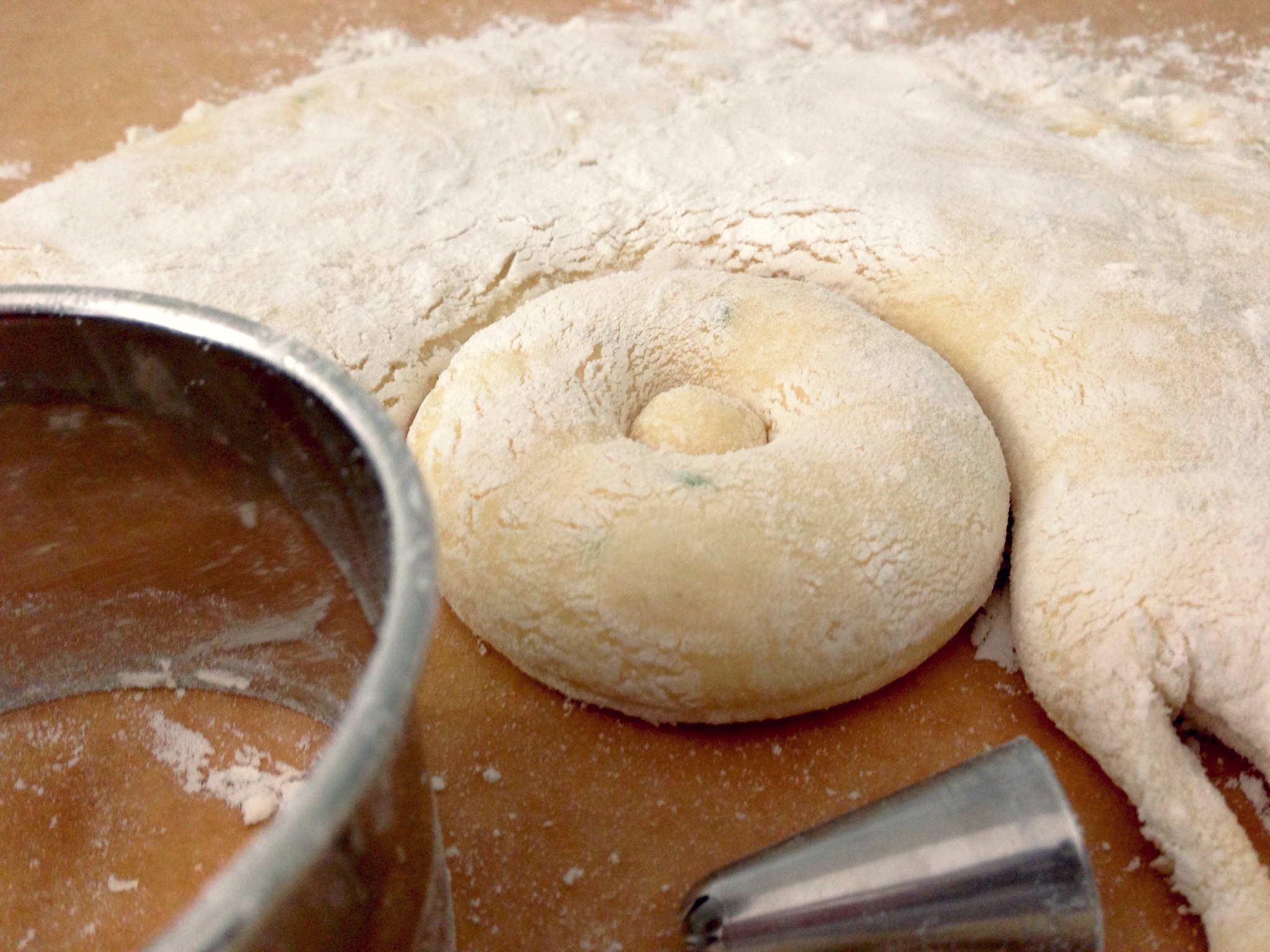 Heat oil to 350 degrees. Your oil should remain between 350 – 375 throughout the frying process, if you can keep the temperature at 350 the entire time that would be ideal but it's okay if it goes a little over just make sure not to burn your donuts. Fry a handful of fresh thyme in the oil just until fragrant and remove before it burns. Fry donuts on each side for about 2 minutes and flip only once. You want a light golden brown color.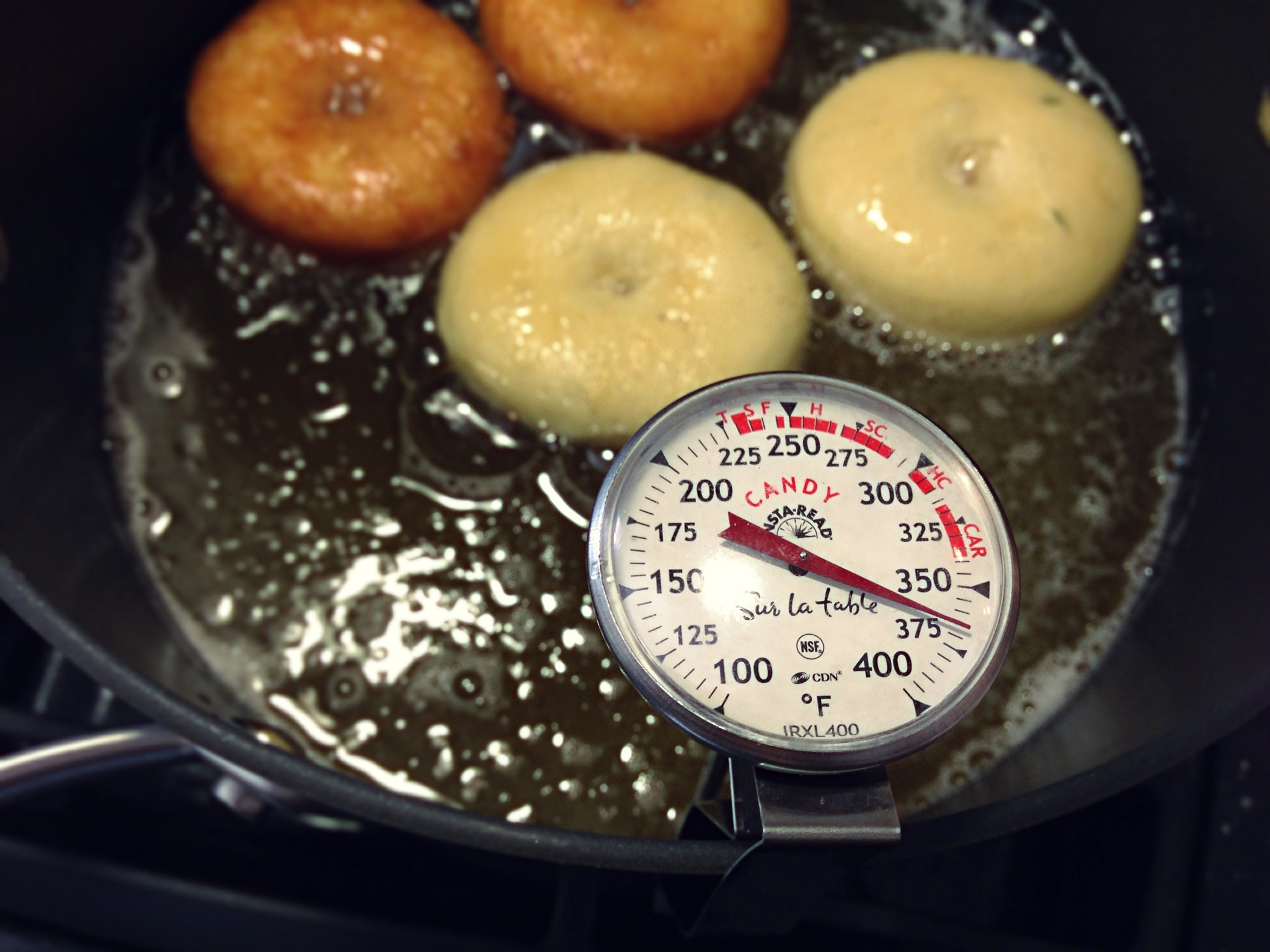 Dunk donuts into the maple glaze so both sides are coated, set on a lined sheet pan and top with as much bacon as you wish! Continue until all donuts have been glazed and baconized. The donuts also taste amazing plain, and don't forget about the donut holes!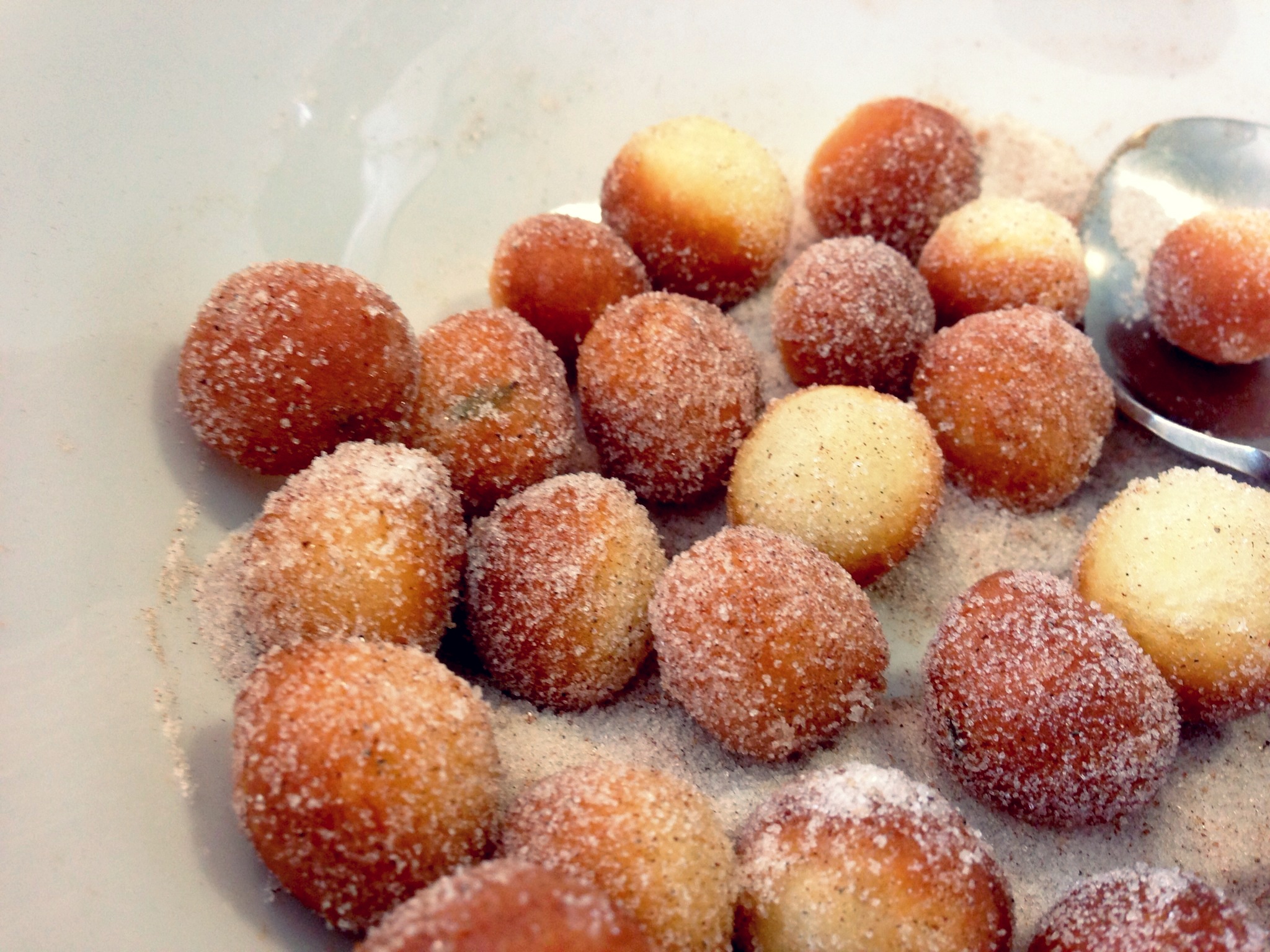 *Recipe adapted from The Gourmandise School
Written and photographed by Tracy Chow & Jennifer Yu
In the research methods course, barbara
help me do my homework
and her team of tas have begun to emphasize argumentation in their writing assignments, so that students gain the ability to integrate, to think beyond what theyre summarizing and form an argument