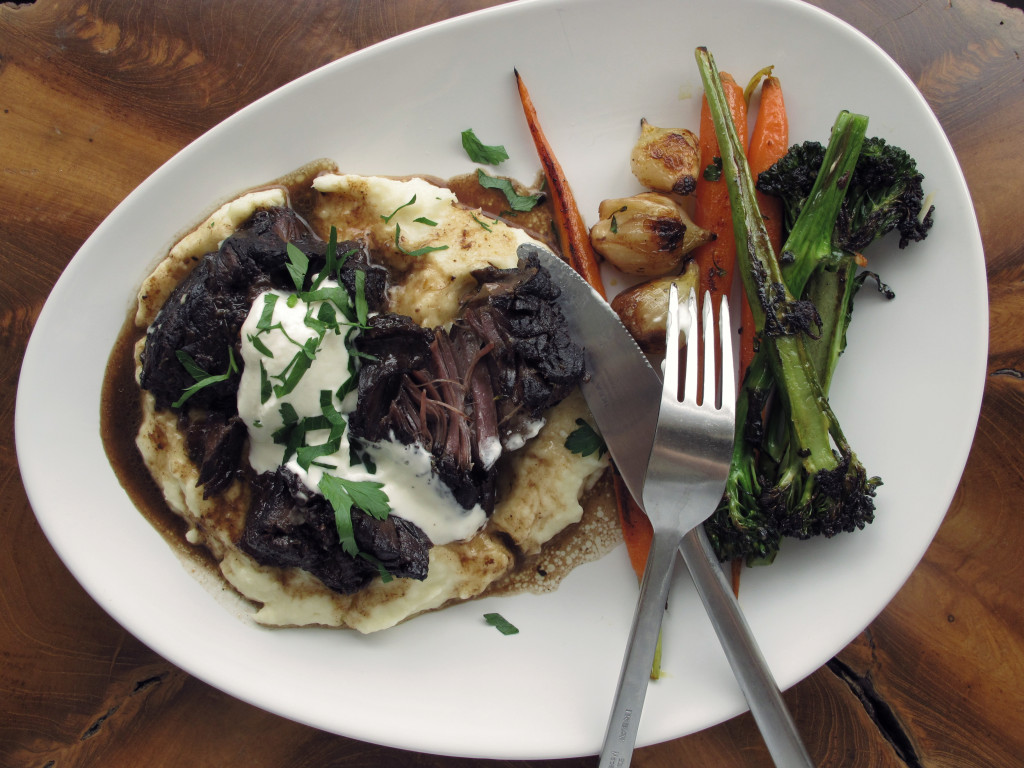 Braised Short Rib with Parsnip Puree
At varying points in life, we come across those that quickly become a permanent counterpart to ourselves; the reason for our soul's existence and happiness.  It might be your best friend in first grade, who shared their crayons with you.  It might be your first love, the one you harbored a secret crush on all through freshman year at college.  For a chef, it happens when you find your culinary partner in crime.  Collectively, you become brave enough to forge culinary territories unknown, and go places no chef has gone.  No gastronomic battle is too great when two hands become four, masterminded by a single Epicurean consciousness.
For us, this happened during our first dinner party  for a piece featured in an iPad magazine article.  Since then, the featured dish has become the secret weapon of our culinary arsenal.  We refer to, of course, the humble braise.  Nurtured caringly by a cheery red Dutch oven, it is born from the oven steaming hot and tantalizingly aromatic, outshining all others when it lands on the dining table.  We prepare it time and again using various adaptations of proteins, stocks, vegetables and herbs, without fail, to a chorus of "oohs" and "ahhs".
For the semi-pro home chef, the possibilities can run as wild as your gastronomic imagination.  Our personal favorite was a braised pork cheek dish we created for a birthday dinner; with the meat sourced from the ever dependable Marconda's butcher in LA (tip: you can email them to place an order in advance…HALLELUJA!!).
For this particular occasion, we went with a classic braised short rib using a hearty Cabernet Sauvignon, meaty beef stock, caramelized mirepoix, and an earthy bundle of thyme, bay leaf, and garlic.  We served it on top of a bed of creamy, sweet, melt-in-your-mouth parsnip puree.
As with any braised dish, the final touch that brings it all together is the sauce.  We dislike the word gravy.  It reminds us of the corn starch laden, flavorless glop that comes out of a paper foil package in the grocery store.  Just add water, oh my god no.
In contrast, we adore jus, the braising liquid that remains when you lift out the succulent morsels of short rib after hours of slow braising.  Give that a quick reduce on the stovetop (with a little butter & flour if you must), skim off the fat, and you have yourself a magnificent "gravy" that is more precious than gold.
To add the final cadence to a magnificent symphony, we finished off each plate with a little spoonful of horseradish cream, made simply with crème fraiche, prepared horseradish, salt, and cracked black pepper.
Braised Short Ribs
Servings: 8-10 | Cook and prep time: 5 hours 
Ingredients:
6 lbs of flanken style short ribs
A bunch of parsley
1 onion, peeled and diced
3 celery stalks, diced
2 carrots, peeled and diced
3 garlic cloves, sliced
2 bay leaves
1 bottle of 750ml dry red wine, such as Cabernet
4 cups of beef stock
7 sprigs of fresh thyme
Horseradish Cream:
¾ cups of crème fraiche
1 tbsp of horseradish
Kosher salt and freshly ground black pepper to taste
Directions:
Preheat oven to 350 degrees F.
If you bought your ribs in an entire slab, cut into 4 separate pieces with a piece of bone secured to each cut of meat. Season ribs generously with salt and pepper.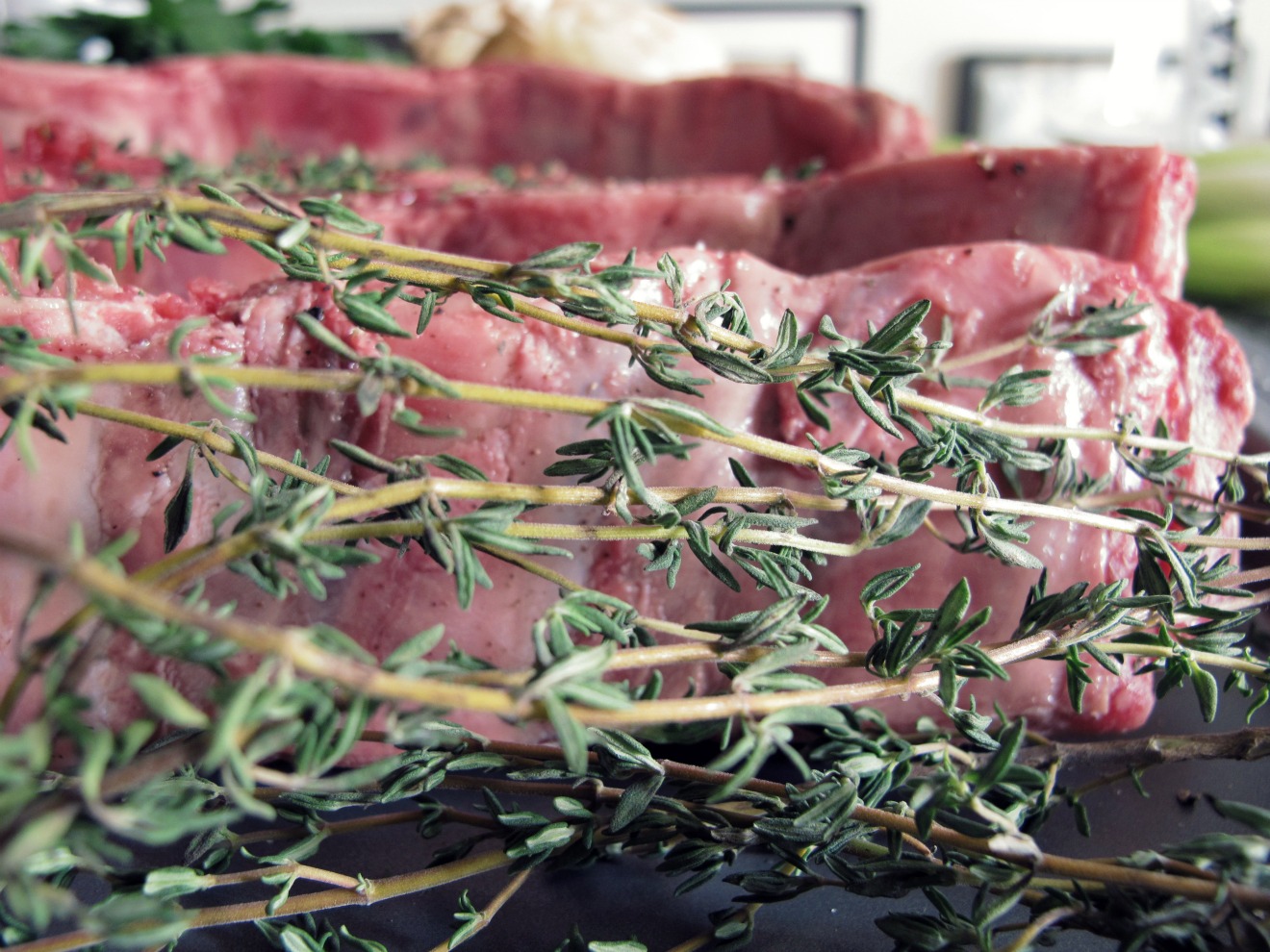 In dutch oven, heat the oil and pan fry each side of the short rib until browned. You will have to brown your short ribs in batches to get a nice sear (and flavor!). Do not crowd the meat. Transfer ribs to a baking dish in a single layer and set aside.
Add diced onions, carrots, celery, thyme, bay leaves and garlic to dutch oven and cook until lightly browned and soft, 10-15 minutes. Add short ribs bone up and tuck in snuggly with the vegetables. Add entire bottle of wine. Bring to a boil over high heat, and reduce liquid by half. Add enough beef stock to just submerge the short ribs, and bring to a boil. Tuck sprigs of parsley around the short ribs, cover and place in oven for 2-3 hours.
After the 3 hour mark, you can either finish the dish, or if you're cooking for the next day, allow the dish to cool and place it in the fridge overnight. Braised dishes actually taste better the next day, when the flavors have had a chance to meld together.
Now, remove as much excess fat floating up at the top as you can with a spoon. Remove the short ribs from the liquid. Set the meat aside. Strain the liquid, remove all vegetables and squeeze as much of the liquid out as you can. Reduce the liquid on the stove until it's slightly thicker and has the saltiness of a good gravy.
In the meantime, prepare horseradish cream by combining crème fraiche and prepared horseradish and add salt and pepper to taste.
Assemble with a scoop of potato parsnip puree, 2-3 pieces of short rib sitting on top, a drizzle of reduced sauce, and a garnish of horseradish cream and chopped parsley.
Parsnip Puree
Ingredients:
2.5 lbs of parsnips
2 large potatoes
1 cup of heavy cream
3 sprigs of fresh thyme
2 cloves of garlic, peeled
1 tsp of salt
4 tbsp of butter
Directions:
In a large pot, bring water to boil and adding 1 tsp of salt. Peel parsnips and potatoes and cut them up into large chunks. Boil parsnips and potatoes for approximately 20 minutes or until there is no resistance when pricked with a knife or fork.
In a small pot, heat heavy cream, fresh thyme and garlic. Set aside, and remove thyme and garlic.
In four batches, puree potatoes and parsnips along with 1 tbsp of butter and ¼ cup of the infused thyme heavy cream. Continue until all potatoes and parsnips have been pureed. Season with salt.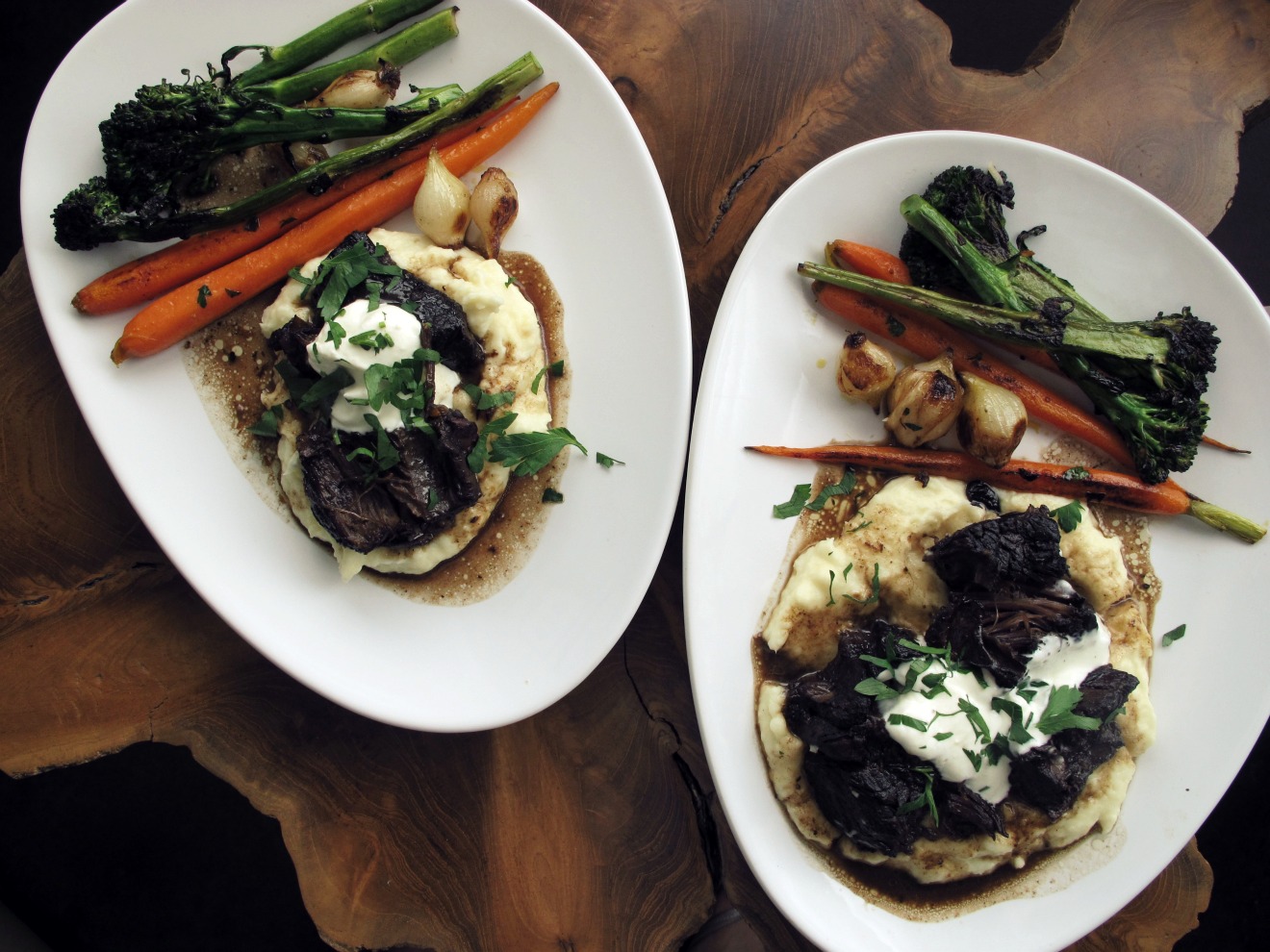 Written and photographed by Tracy Chow & Jennifer Yu