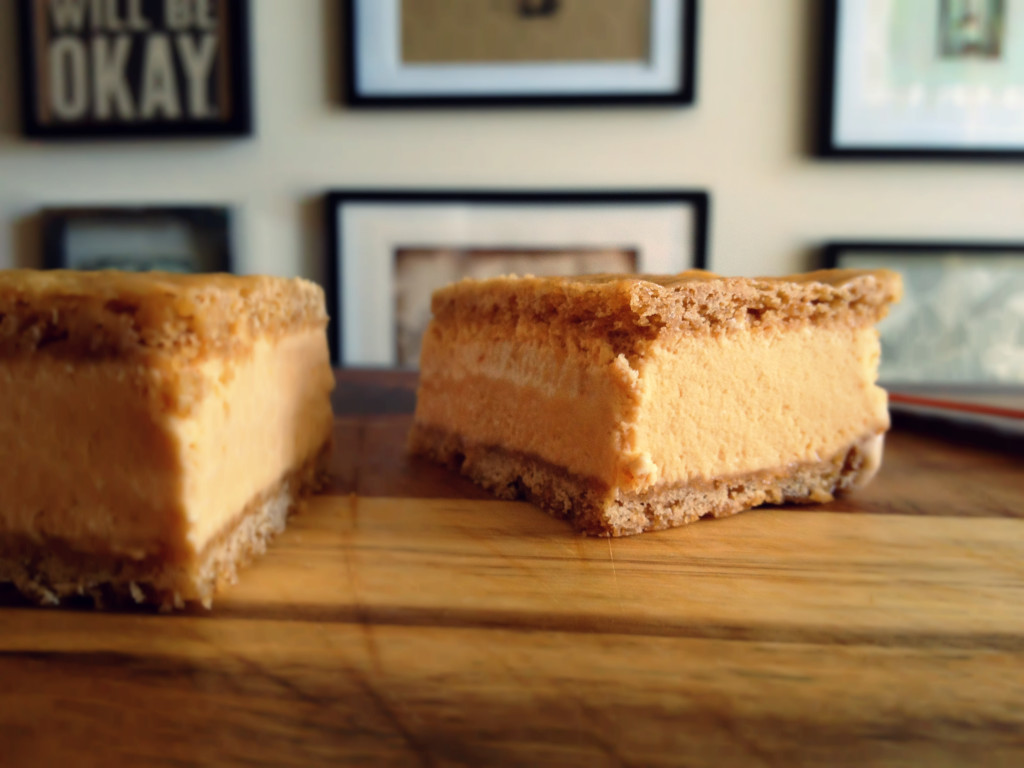 Brown Butter Sea Salt Caramel Ice Cream Sandwiches
It's that time of year again where we bust out the ice cream maker and churn out an abundance of creamy yumminess. My first venture into ice cream this season was an ice cream sandwich, which we've never made before. We decided to re-use an ice cream recipe we tried before so we knew that at least with the ice cream there was no going wrong. For the cookie, we used a brown butter cookie recipe found on Epicurious. We were a bit skeptical about it at first – it tasted bland and we weren't sure whether we undercooked it or not. Turns out it was perfectly chewy and when sandwiched with the ice cream it produced the perfect amount of sweetness without giving you a toothache. This brown butter cookie will be seeing a lot of different ice cream flavors this summer 🙂
Ingredients for cookie:

2 cups of all purpose flour

1/2 tsp of baking soda

Pinch of salt

1 cup (2 sticks) of unsalted butter, cut into 4 pieces

1 cup of packed golden brown sugar

4 tbsp of golden syrup

4 large egg yolks

Ingredients for ice cream:

1 cup of granulated sugar

1 ¼ cups of heavy cream

½ tsp vanilla extract

½ tsp flaky sea salt

3 eggs

1 cup of half and half

1 cup of 2% reduced fat milk
Directions
Make salted caramel ice cream in advance.
Preheat oven to 325 degrees. Line two 11 x 8 inch casserole dish (that's what I used but of course it makes perfect sense to using a baking pan, if you're using a baking pan make sure it's at least 2 inches deep – do not use a cookie sheet) with parchment paper (or aluminum foil) and grease with butter. Make sure your parchment paper hangs over the pan by at least 1 inch.
Whisk flour, baking soda, and pinch of salt in medium bowl. Melt butter in medium skillet over medium heat. Cook until milk solids at the bottom turn golden brown, stirring often, for about 5 minutes. Transfer browned butter to small bowl.
Place sugar and syrup in a large bowl and pour browned butter over. Whisk until combined (in the recipe it said that the mixture may not be smooth, however my mixture was smooth). Transfer dough to baking pan or dish and press into an even layer. Depending on how big your pans are the depth of your cookie will differ. I think your cookie should not be any thicker than 1/4 inch.
Bake for about 13 minutes. Watch your cookie carefully, you do not want to over bake it. Your cookie will most likely look undercooked and very fluffy. Take it out and let it sit and it will deflate and you'll be left with a very chewy cookie. You don't want a hard cookie for an ice cream sandwich – it makes biting into you extremely difficult and messy.
When your cookie sheet is completely cooled scoop in your pre-made ice cream. I made my ice cream an hour before I made my cookie sheets so it was easy to layer in. If you made your ice cream a couple days in advance let it sit out just until it's easily spreadable. You want to leave one of your cookie sheets on the parchment paper in the pan and layer your ice cream on then carefully place your second cookie sheet on top. The parchment paper will make it extremely easy for you to lift your ice cream sandwich out. Peel off the paper and cut into pieces! Place in freezer overnight and cut into squares in the morning!